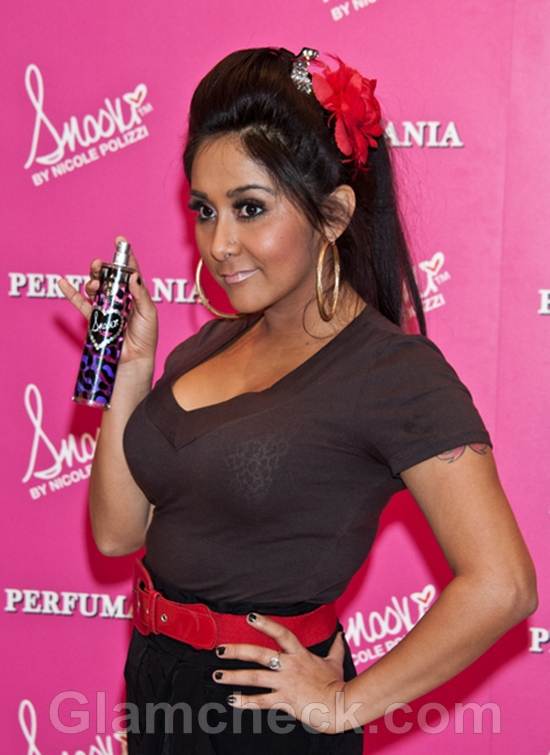 Snooki's back. And she's launching her new perfume called, not surprisingly, Snooki. Nicole Polizzi's new fragrance made its debut at the Perfumania at Jersey Gardens Mall in Elizabeth, New Jersey on December 1.
The 24-year-old dressed rather conservatively for the launh. Wearing waist-high black pants with a V-neck brown shirt and a red belt, the Jersey Shore star's style was far from the loud and obnoxious ensembles that she usually favors. But there were traces of her wild side even so. The shirt was slightly sheer, making her leopard print bra quite visible. She wore very-high heeled brown wedge shoes to finish off the outfit.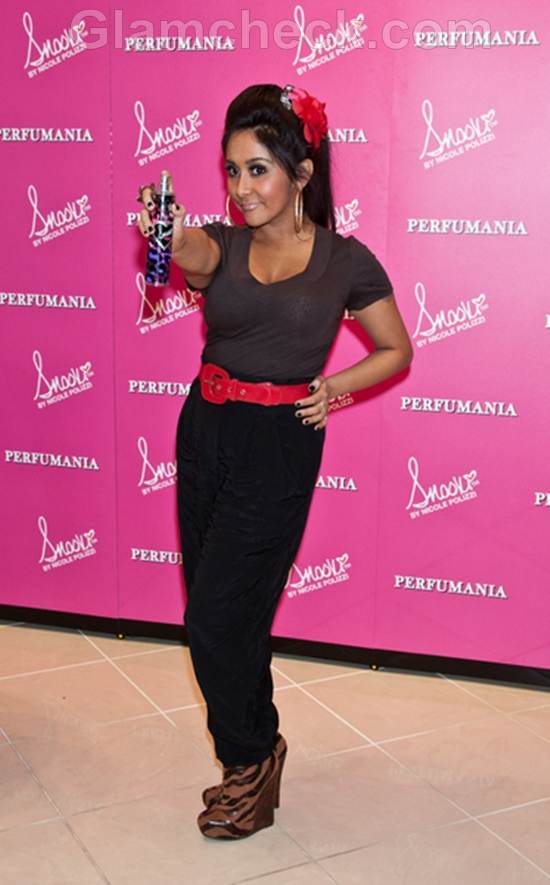 But, of course, no Snooki look is complete without the hair and jewelry, which again were surprisingly understated. She wore only a nose ring, a diamond ring on her left hand, and large gold hoop earrings. Her hair was actually quite pretty, pulled back in a simple do and held there with a clip and a large red flowered hair accessory. Her makeup, which is normally dramatic, was mostly natural barring her dark eye makeup.
Without all the hoopla and craziness that she all her previous ensembles have embodied, we can finally see the pretty girl underneath. We love it and we hope it stays, but maybe it's nothing more than a 'look' for this Chilean attention-seeker.
According to the literature about the perfume, Snooki has notes of kiwi, wood, and lychee. For now, the fragrance will only be available at Perfumania for $45 per 3.5 oz bottle.
Image: P R Photos