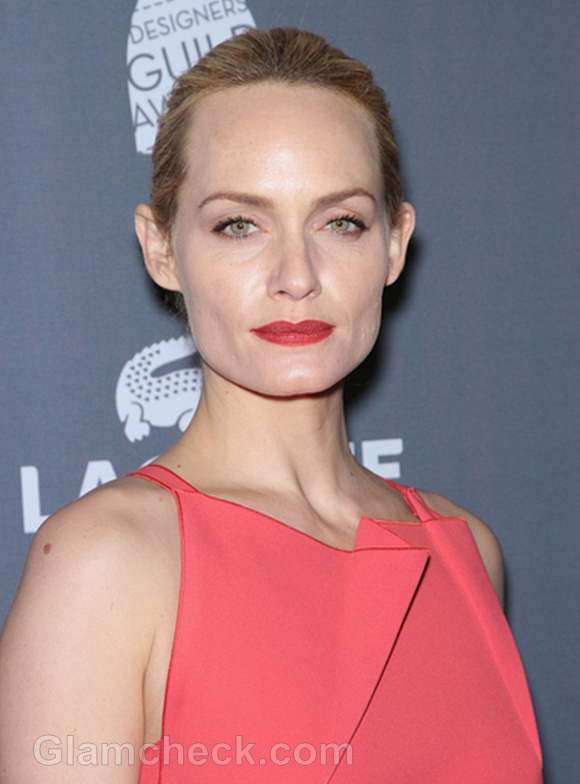 Where has Amber Valletta been? We haven't seen much of the gorgeous model/actress in awhile. Well, whatever she's been up to, it's done her good. The 38-year-old blonde beauty made a rare appearance at the 14th Annual Costume Designers Guild Awards with presenting sponsor Lacoste at the Beverly Hilton Hotel in Beverly Hills, California on February 21. And what an appearance it was!
Clad in a to-die-for coral Roland Mouret Mordecai stretch-crepe dress, Amber definitively stole the limelight in the burst of color she brought to the event. The sleeveless, knee-length number had a contemporary feminine cut that brought a dignified elegance to the towering beauty's persona. It also had an intricate cutout detail on the back which contributed to the oomph factor.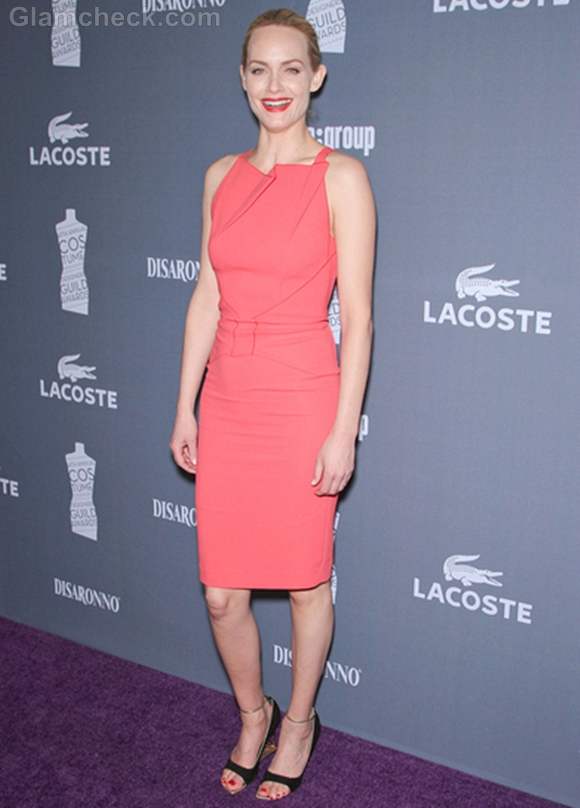 The dress was complemented by black peep-toe heels with a gold ankle-strap that looked quite ordinary from the front. But if you took the trouble to take a closer look at the heel of the shoe, you would be pleasantly surprised and absolutely delighted! The wedge heel had intricate gold detailing that made the shoes look like something that should be displayed on a pedestal. Another to-die-for piece of an already uber stylish ensemble.
Amber pulled her hair back in a neat low up-do and finished her look with mascara and matching coral lipstick.
Get The Look
Don't ever try to mute variants of the color red. Coral, rust, raspberry, tomato – they are all made to be flaunted, so wear these colors with some zing. If you want to fade away in the shadows or not stand out, then this coral or any shade of red is definitely not for you.
When wearing shades of red, go all out with matching lipstick and glamorous accessories. Make sure you pick a pair of heels that will be commented on and fix your hair up like you want to paint the town red, pun intended.
But there are thousands of shades of
so ensure that the color you wear does your skin tone full justice instead of overwhelming you or washing you out.
Image: P R Photos