We know you've been waiting as long as we have for this big day so let's get right into the Oscars 2012 Best Dressed Celebrities.
Li Bing Bing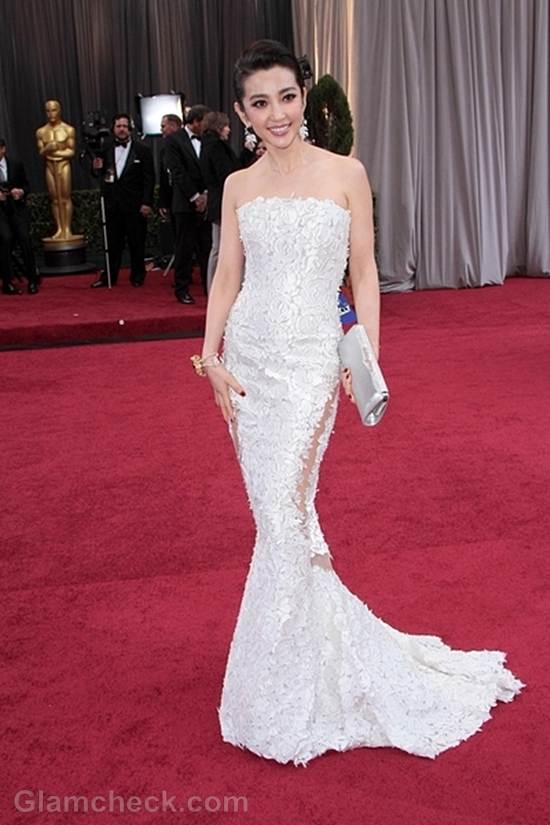 Chinese actress Li Bing Bing arrived to the Oscars with her dear friend Wendi Murdoch. But while Wendi's red carpet look bombed, earning her a dubious position on our Oscars 2012 Worst Dressed list, Li fared far better as she makes her way into the Oscars 2012 Best Dressed Celebrities list. The stunning Asian beauty wore an incredibly gorgeous strapless mermaid dress with a train. The all-white textured number from Georges Chakra Couture 2012 had a slim, sexy sheer panelling snaking its way from thigh to hem. She accessorized her magnificent red carpet dress with dangle earrings in a maple leaf design by Cindy Chao, a gold cuff and a Lana Marks custom-designed clutch purse. Li's ensemble oozes elegance and glamor. A sure-fire winner by anybody's standards.
Louise Roe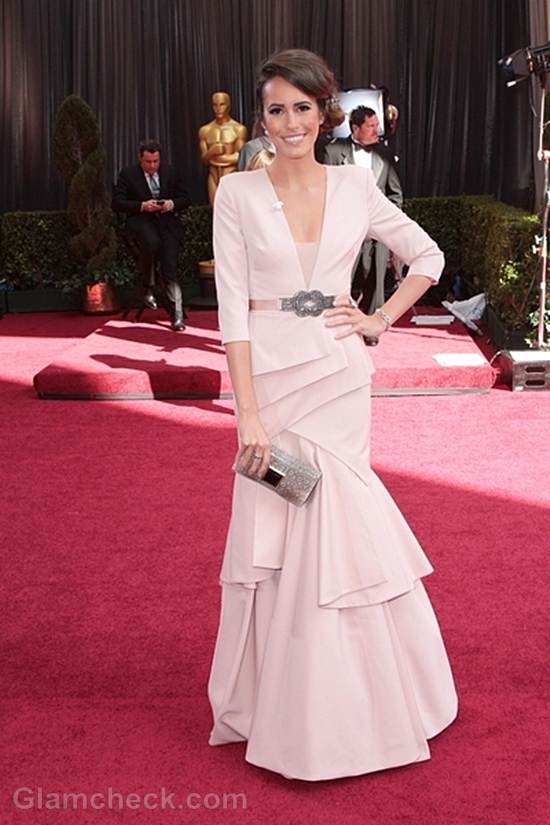 Although she took a risk with her red carpet outfit, we think it really paid off. Brit model and TV presenter Louise Roe sported a delectable pale pink number by Black Halo. The full-length gown featured arm-length sleeves, a pleated skirt and an embellished belt. Her hair in a simple but elegant chignon allowed the dress to remain the focus of the ensemble.
Sophisticated, formal, understated – this was an unexpected but welcome entry into our Oscars 2012 Best Dressed Celebrities list.
Michelle Williams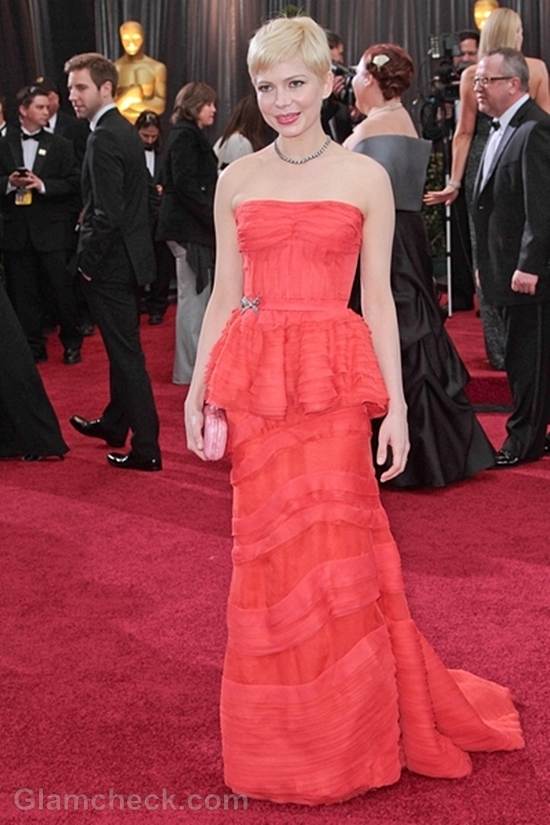 She's not usually one to go all out and steal the limelight so we were quite surprised to see Michelle Williams in one of the most vibrant outfits of the evening. Her floor-sweeping coral Louis Vuitton gown featured a ruched bust-line and a peplum skirt. This super-cute dress suits her pixie haircut and makes a bold red carpet statement. We hear you, Michelle, loud and clear. Also, check out that blush-colored crocodile clutch purse by Bottega Veneta – absolutely adorable.
Milla Jovovich
Here's one we always look forward to – red carpet or not. Milla Jovovich wowed us immediately in her Elie Saab Fall 2009 Couture. Embellished and full-length, the off-shoulder white gown with the exaggerated shoulder gives her Oscar look a dramatic element that is perfectly suited for the big night. She looked sophisticated, but also 100% sensuous. Love the hot red lips and the retro waves. What a sexy combination!
Penelope Cruz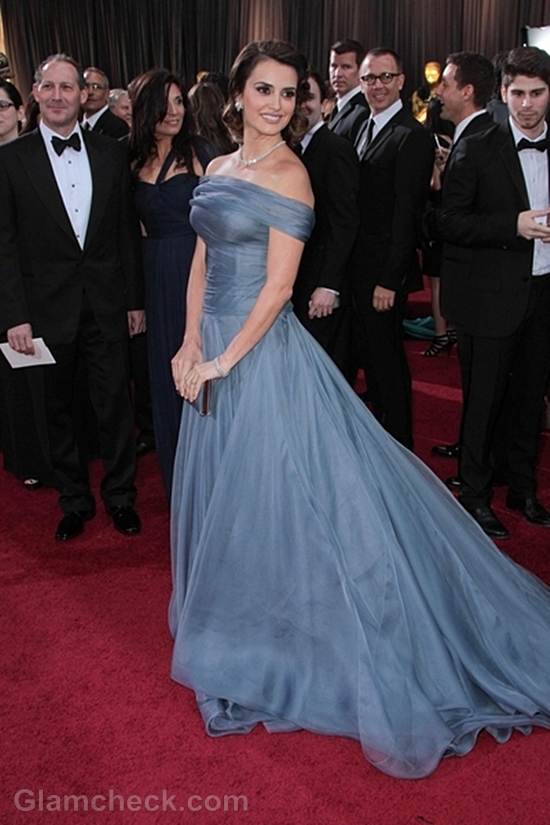 Spanish beauty Penelope Cruz does it again. She was instrumental in bringing Hollywood's golden era to the Oscars 2012 red carpet in a stunning blue/grey Armani Prive gown that looked ethereal against her olive skin. The off-shoulder straps and fitted bodice gave way to a cascade of pleats on the skirt which swept to the floor. The effect was almost liquid, like waves of the ocean. Finishing with a faux bob and jewels by Chopard, Penelope looked like a reigning queen with really good taste in clothes!
Rooney Mara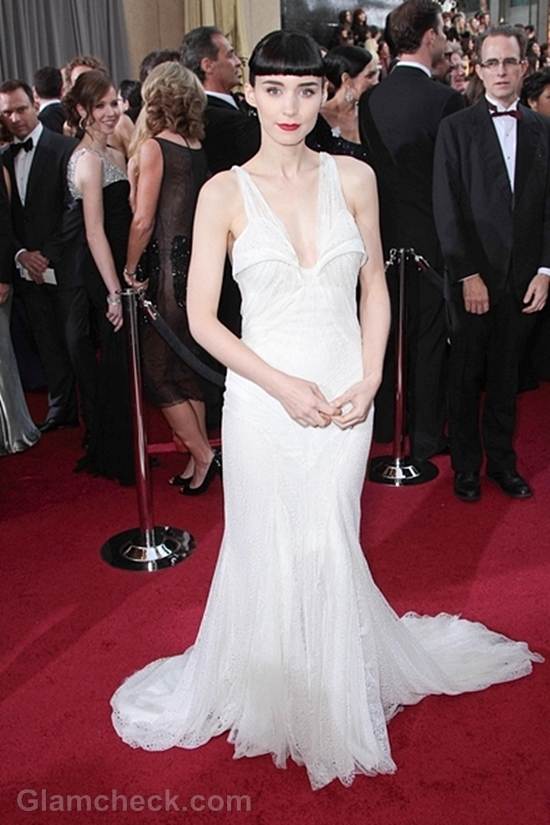 We've been on tenterhooks about Rooney Mara's red carpet look almost as much as Angelina Jolie's. While we weren't surprised by her choice, we're definitely still quite delighted that she lived up to expectations. Rooney wore full-length white gown from the Givenchy Couture Spring 2009 collection which featured a plunging neckline and sheer straps. She finished with red lips and her signature blunt bangs.
Shaun Robinson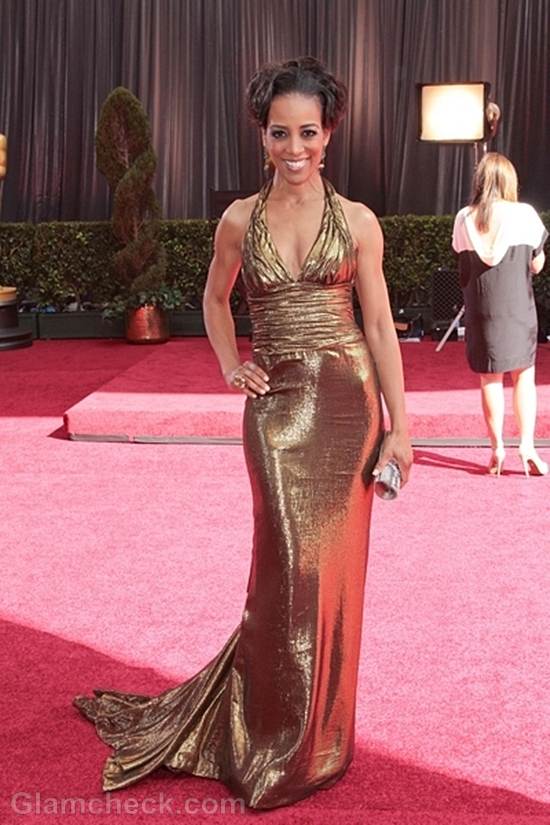 Gold and silver are difficult colors to pull off. But Shaun Robinson proves that all it takes is attitude. The diva sported a full-length, halter neck gold gown with aplomb. See, now that's what we're talking about. You're taking on the red carpet at the Oscars so you better be bringing all you got. Kudos, Shaun, for embodying the spirit of the festive night.
Wendi McLendon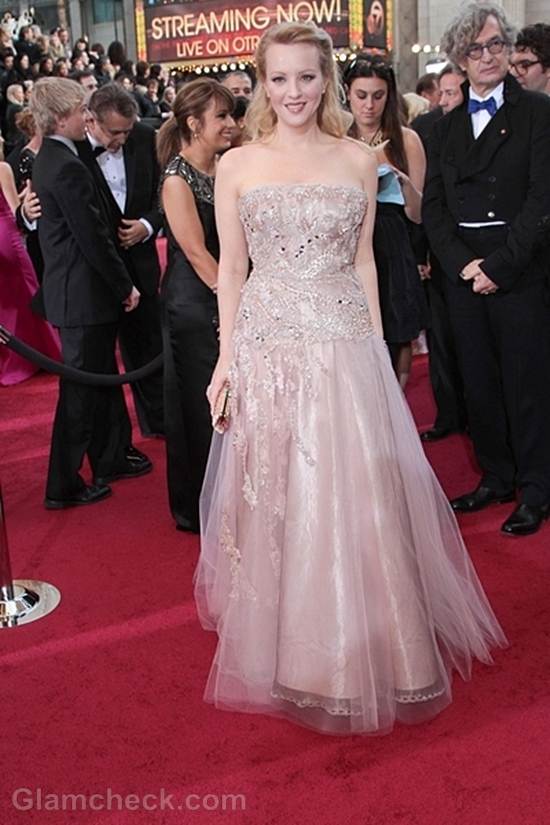 Wendi McLendon-Covey looked like royalty in a nude off-shoulder princess gown with an embellished bodice and chiffon skirt. Pale shades were quite popular at the event, but few pulled it off with the same grace and elegance as Wendi.
Emma Stone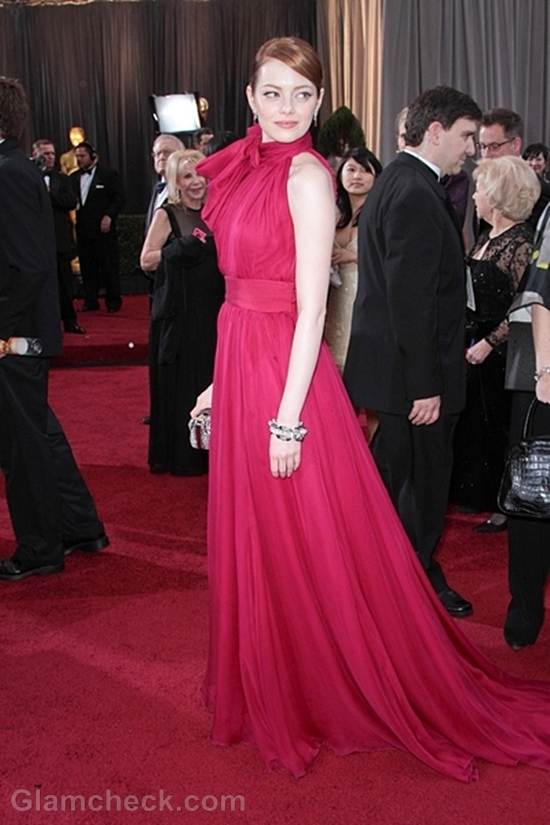 We love Emma Stone on the red carpet. Whether it's an awards show or a movie premiere, the actress rarely disappoints. Sporting a flamboyant red gown from the Giambattista Valli Spring 2012 Couture collection, the redhead did not let us down. The dress featured a high neck accentuated with a bow and the cinched skirt gave way to a flowy skirt that swept the floor. She accessorized the dress with a silver clutch and jewels both by Louis Vuitton, earning her a coveted spot on the Oscars 2012 Best Dressed Celebrities list.
Jessica Chastain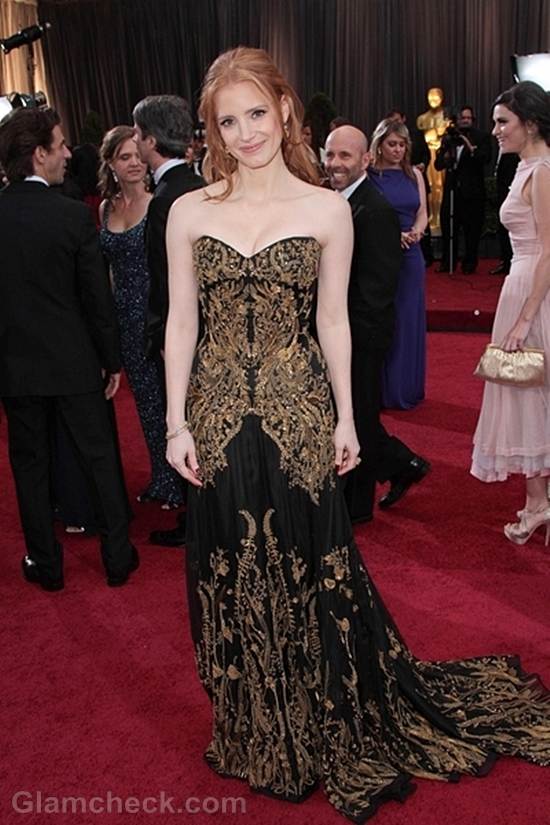 Should I go safe with black or should I be dramatic with gold? Why not both, thought Jessica Chastain as she slipped into an Alexander McQueen creation specially designed by Sarah Burton. So she brought to the Oscars red carpet an incredible black off-shoulder dress with gold embroidery on the bodice and along the skirt and train. The embroidery on this organza corset gown was done with metal thread and gold bullion. And the result was stupendous! Were officially impressed, Jessica.
Judy Greer
Here's one celeb we didn't think would even be attending the event. And we thought even less that she would feature on our Oscars 2012 Best Dressed celebrities list. But there she was making heads turn in a figure-hugging racer gown by Monique Lhuillier. The full-length dress was black with thick vertical bands of silver running down the front and back. A little athletic, yes, but quite lovely.
Angelina Jolie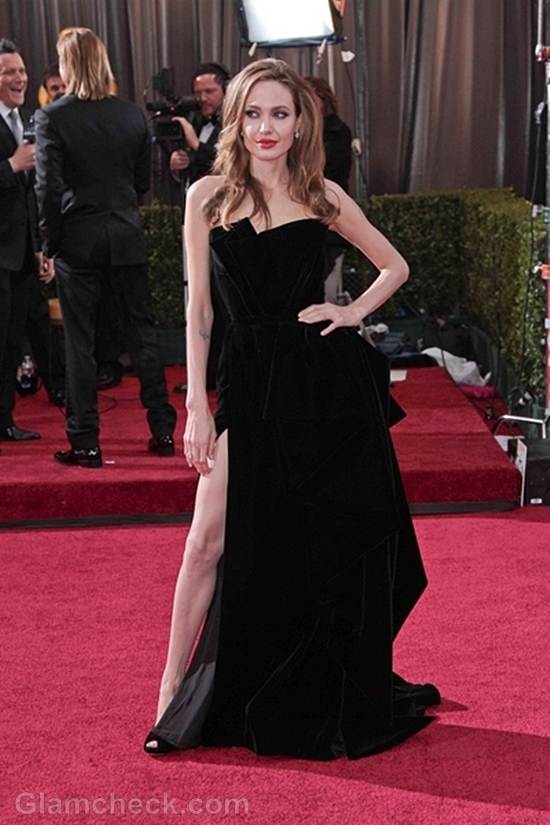 No Best Dressed list would be complete without the iconic Angelina Jolie on there somewhere, I tell you, this woman is beautiful enough to make the gods jealous. She could wear a gunny sack to the Oscars and still give every other celeb a run for her money. We knew, of course, that Angelina would stick to either black or white. But we weren't prepared for the display of skin from this usually conservative dresser. The brunette beauty wore an off-shoulder, luxuriously velvet, jet black gown by Atelier Versace with an asymmetrical neckline and a thigh high split which showed off a lot of leg. The jet black was a perfect contrast to her pale white skin. Her pout reddened to perfection, you'd be hard-pressed to find any celeb better looking than this one.
Brooke Burns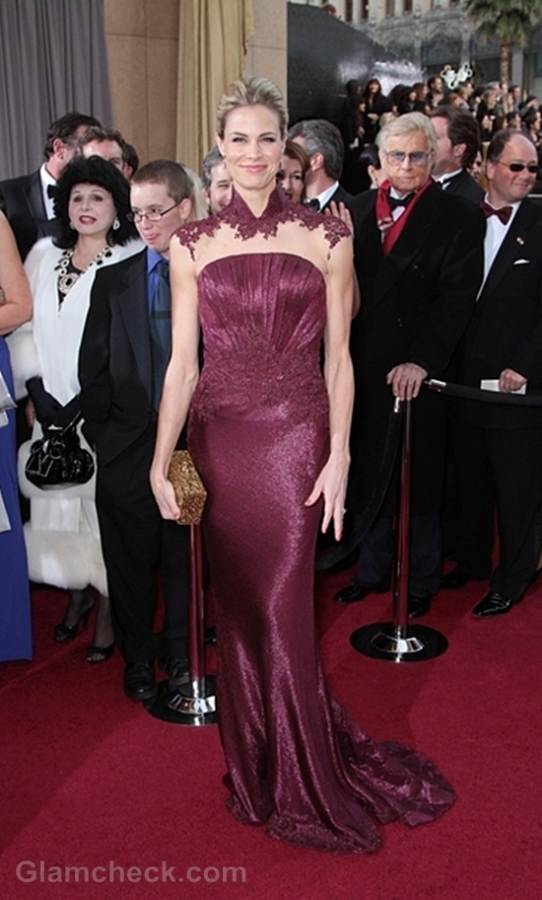 Baywatch babe Brooke Burns showed us her elegant side at the Oscars. The former model made a glamorous entrance in a full-length magenta dress with a sheer neckline that featured magenta embroidery on the shoulders. Paired with a gold clutch purse, this is one rocking red carpet look that will be difficult to outshine.
Cameron Diaz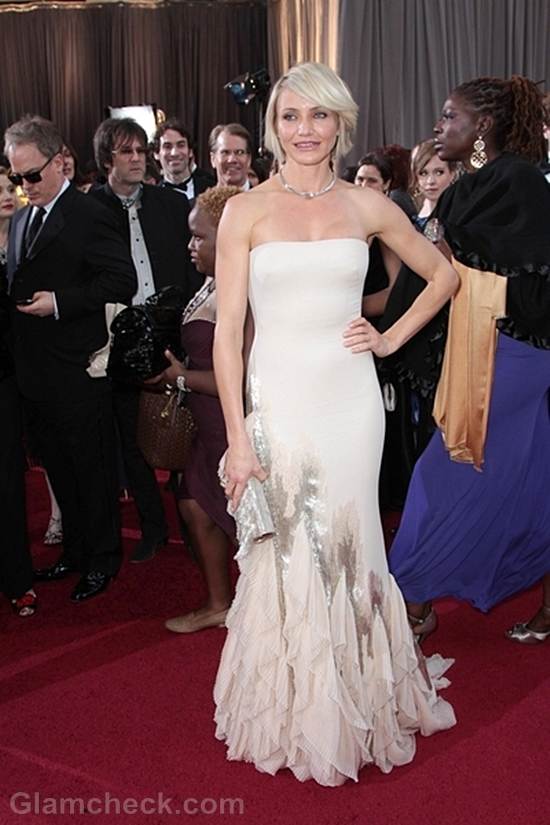 Cameron Diaz is gorgeous. With her fun attitude and her ever-ready smile, she'd bring more to the red carpet in a simple frock than all the other celebs do in their couture. But worry not, she did indeed wear couture. The beautiful blonde wore a pale nude evening gown by Gucci Premiere. The off-shoulder, figure-hugging silk dress had a full chiffon skirt with frills and silver accents. This is a sexy but sophisticated creation that perfectly off-sets her new bob. Not to mention how well it highlighted her fantastically toned arms.
Which of the ladies featured on this list is your favorite for Oscars 2012 Best Dressed Celebrities? Do you think there's one that trumps the rest? Or do you maybe feel that we've made some bad choices here? Speak up. Leave a comment if you have a strong opinion either way.
Image: P R Photos