Finally, the moment we've all been waiting for since the clock struck midnight on New Year's Eve and we drunkenly welcomed 2012 – the much-awaited Oscar Awards which were held this year on February 26 at the Kodak Theater in Hollywood, California.
The stars never disappoint us at these big awards shows. They know we're watching with bated breath so you can expect some humdingers in every category of red carpet fashions. From the best to the worst, they brought it all. And we're going to bring it to you right here.
Let's start with the worst dressed celebrities this time, shall we? Get the bad stuff out of the way so we can drool unhindered at the red carpet hits in peace later. So here we go, in no particular order, the Oscars 2012 Worst Dressed Celebrities.
Lea Thompson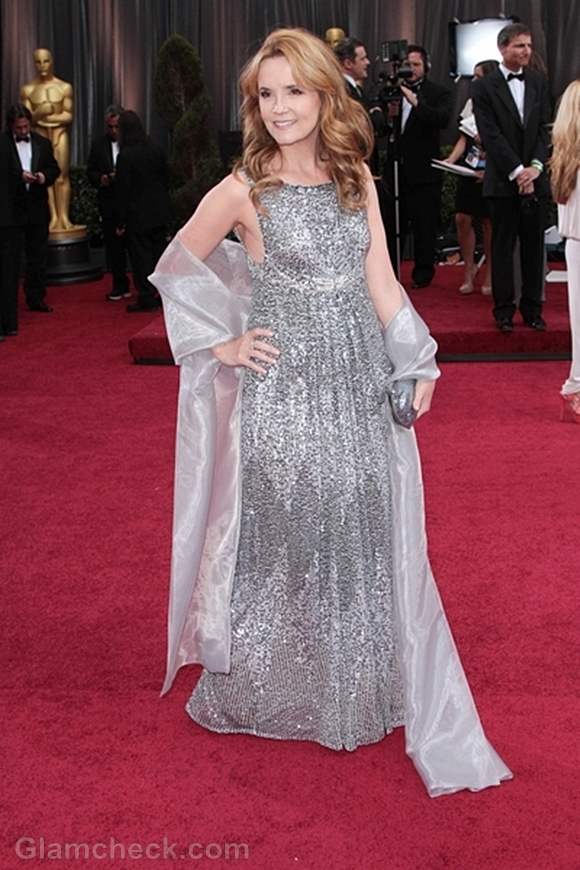 Lea Thompson wore a fully-sequined, empire-waist floor-sweeper that had no definition, no cut, no design really. It was just all sparkles and shine. And what's the point of that?
This beautiful redhead has always had a great figure. So we're wondering why she chose to drown it out in this glittery sack. It has no shape or form and the nicest thing that we can say about it is that the silver suits her hair and skin tone perfectly. If it was just tucked in a bit at the waist or if there was much less fabric, it could have been salvaged somewhat.
About that dove grey shawl that she has draped over her arms, she claimed in a Twitter post a few days ago that she was stitching it herself. We're not concerned with who stitched it. It just should not have been there in the first place. It contributes nothing to the ensemble but takes worlds away from it.
What makes this ensemble to the Oscars 2012 Worst Dressed Celebrities list is that there's simply too much fabric all over. The shawl is so big it might as well be a blanket, while the dress is too long and un-shapely. No, no, no and no. Moving on…
Rose Byrne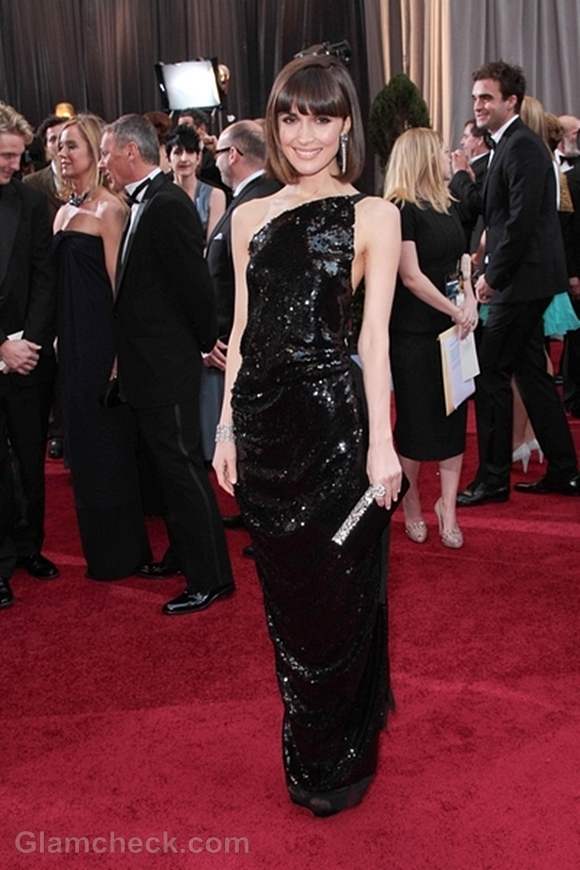 Is 'shapeless' a new trend that we haven't heard about? Here's another actress making her way to the Oscars 2012 Worst Dressed Celebrities list because of a gown that lacks the oomph for the biggest event of the year. Rose Byrne wore an off-shoulder, full-length sequined black gown by Vivienne Westwood which had a draped feel from waist to hem – and not in a good way.
The fluidity of the fabric is evident, but it does not have a striking design and it's definitely not finished well. The cut should have been more modern, more fitting.
But her look is not all bad. We're in love with her new sleek haircut with the blunt bangs. That's not something a lot of us can pull off because it has a decidedly retro feel. So you've got to hand it to her for making it look effortlessly sexy and timeless. And take a look at her black peep-toe pumps – simply gorgeous.
Wendi Murdoch
Clad in a Rodarte gown, Wendi Murdoch's Oscar look was too fussy and mismatched. The gown is a potpourri of different styles that just do not blend well together. In an effort to infuse glamor and red-carpet worthiness into the outfit, the design has gone overboard and lost its way. The halter-neck bodice is sequined, the draping around it satin, while the full-length skirt of the gown is velvet. And errm, what's with those purple earrings and that little pink purse? Is she going to the prom after? Anyway, there's too much texture, too many styles, too much going on, so where do we look? Away, I tell you, just look away.
Sandra Bullock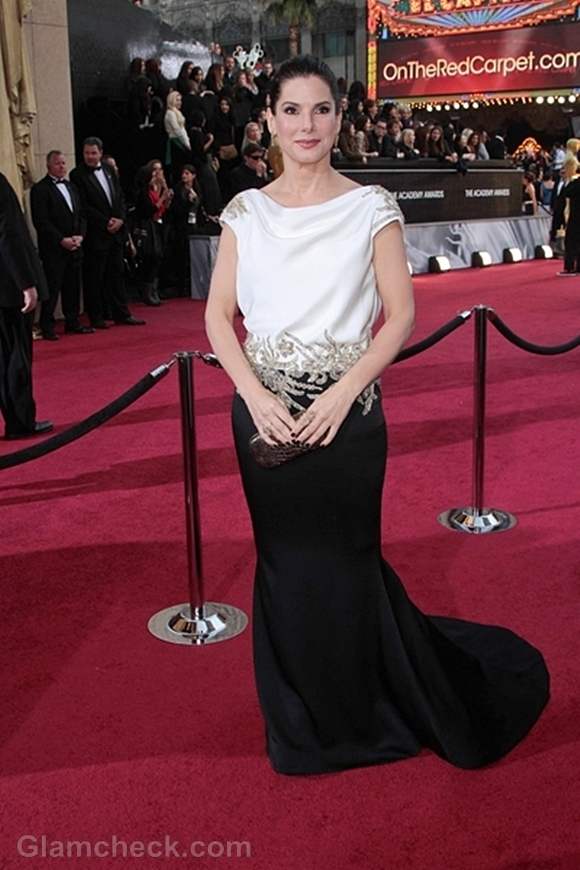 Sandra, we love you and we're really sorry that you ended up on the Oscars 2012 Worst Dressed Celebrities list. It breaks our hearts to say we're justified.
The beautiful brunette's full-length Marchesa gown had a lot going for it actually. The white satin bodice and black skirt are a classic combination. The waist and shoulders had exquisite silver and gold embroidery that brought a quiet, confident glamor to the dress. But again, like with most of the other celebs on this worst dressed list, the fitting was terrible. It just hung on her loosely and made her look like somebody's 60-year-old spinster aunt. Considering that she's one of the sexiest women alive, that dress stole a lot from her on a very important day.
Also, this style is kinda severe for the fun-loving, down-to-earth Sandra. It's a little dull and does not reflect her effusive, warm personality. In short, the dress is just not right for her. Anyone have an old aunt who can take this off Sandra's hands?
Anne-Sophie Bion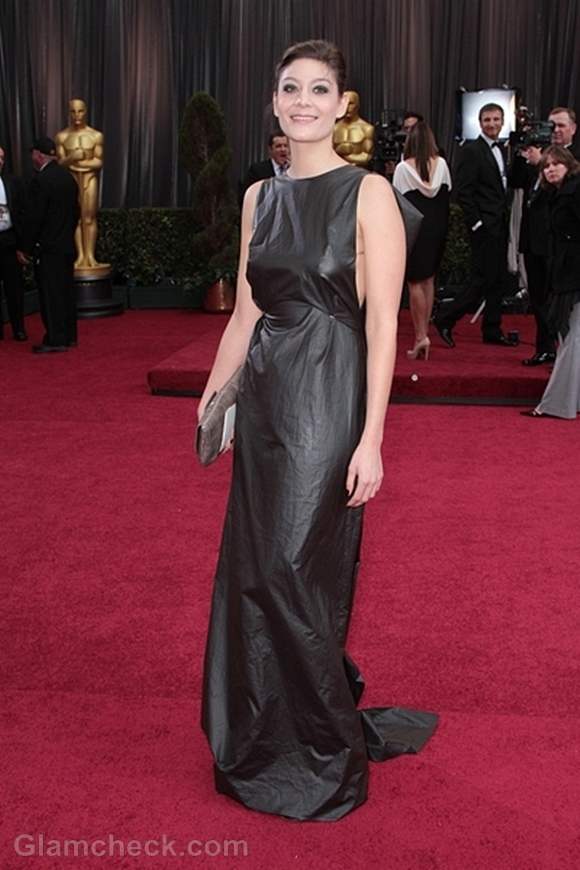 She may be extremely talented, but she seems to lack all fashion sense. Anne-Sophie Bion's dress is supposed to be eco-friendly and looks like it was designed from garbage bags. (We're still waiting for confirmation if this is actually true.) I mean, really, what is it? If you're going to choose to make a statement on the red carpet and it bombs miserably, then you can expect nothing less than to be featured as one of the Oscars 2012 Worst Dressed Celebrities…ever.
Jane Seymour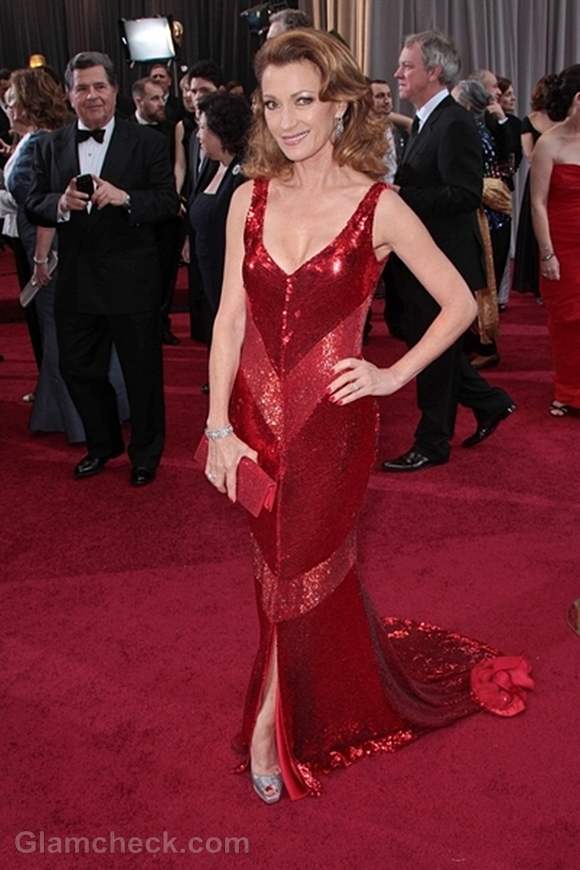 The most stunning 61-year-old we've ever seen, we don't know how Jane Seymour manages to look so young and so wonderfully vibrant. But her outfit was a disappointment at the Oscars this year. She wore a floor-sweeping, sleeveless, red sequined gown with a plunging neckline and retro chevron stripes.
It's not the red per se that we have a problem with. She looks absolutely stunning in the colour. But the red sequins make her look far too old. Leave the red glitter to a younger crowd. Jane has an amazing figure, which this dress does nothing to highlight. It just makes her look droopy all over. Her breasts look saggy and the glitter highlights the wrinkles on her skin.
Check out her silver peep-toe heels though. Pretty, no?
Arianne Phillips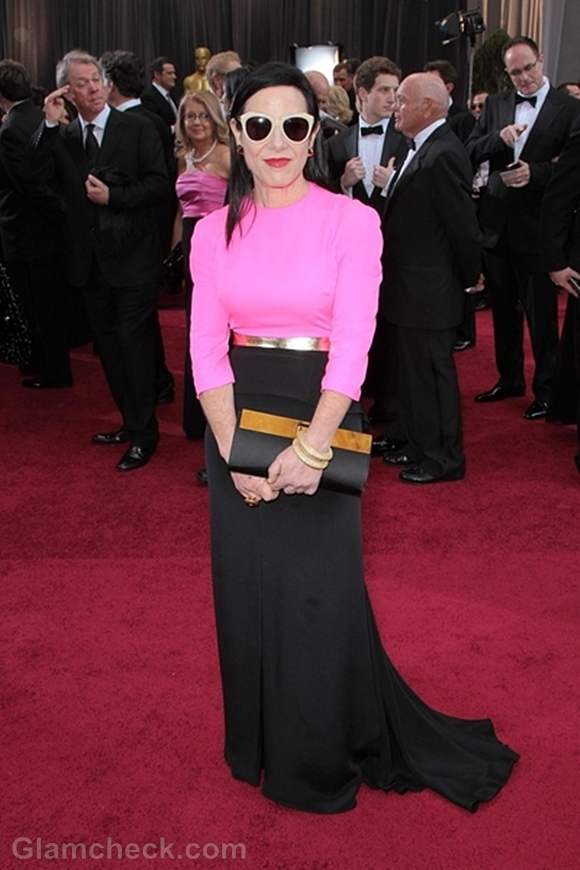 Color blocking hits a low with Arianne Phillips' Oscar outfit. For a gifted costume designer, she sure disappointed on the red carpet. She wore an arm-length Barbie Pink blouse with a dumpy black skirt. Her waist was accentuated by a gold belt and she wore a pair of white-rimmed sun glasses to accessorize her outfit. We don't know what type of 'costume' this is supposed to be. And we did not expect such a busy outfit from pop icon Madonna's costume designer.
And again with the out-of-shape skirt. Why were some of Hollywood's most beautiful women dressed so sloppily? Especially when they knew the whole world would be watching. Some things we'll never know…
Kate Mara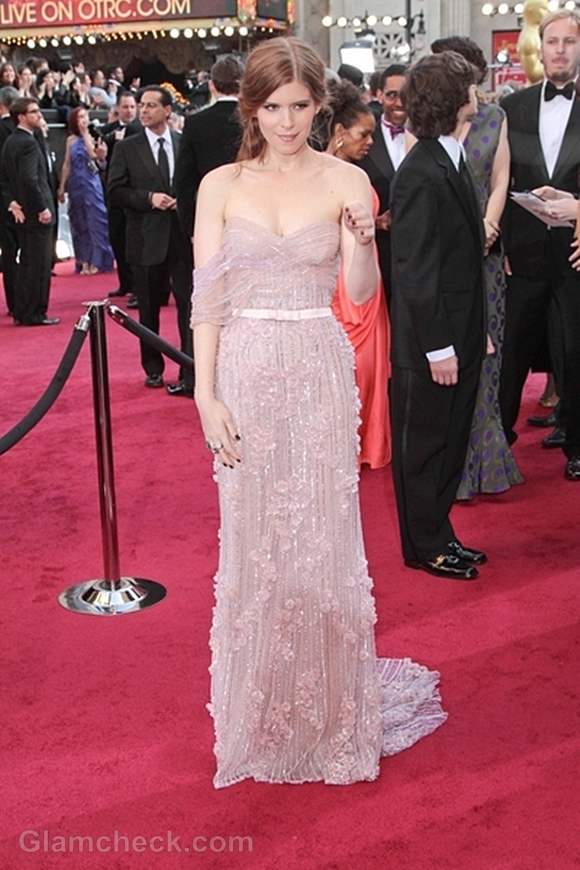 Rooney Mara's older sister wore a pastel pink gown from the Jack Guisso Spring 2012 Couture collection. There's nothing wrong with it – it's a lovely colour, very "in", the floral appliqués are pretty and thank God it fits her well.
But still, it's boring. You don't look at this outfit and go 'ooooh, I love this!!'
No, you think 'hmm, it's pretty' and then you want to move on to something else that makes an outstanding impression rather than a forgettable one.
Dawn Hudson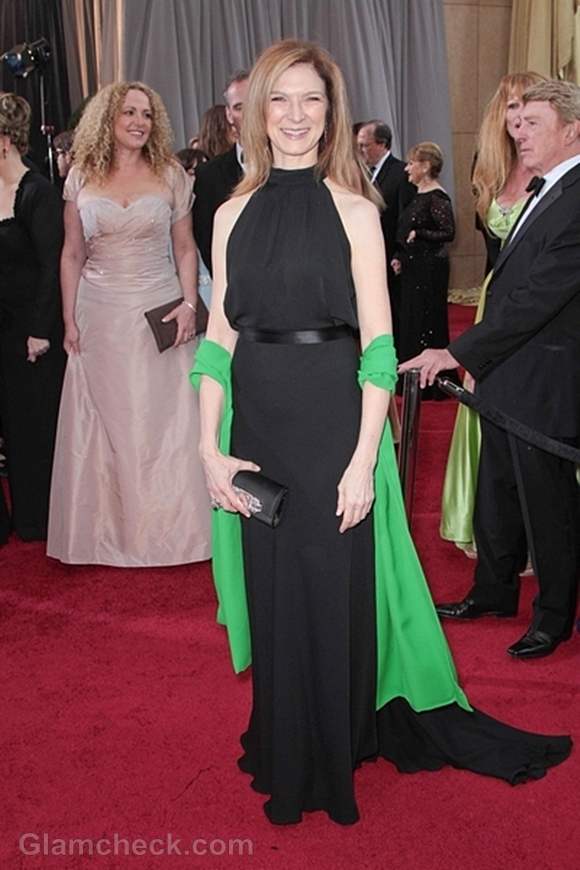 We're tired of boring black and whites on the red carpet, though we have to admit it's the safe way out. And some of our style-disabled celebs would do well to stick to safe. Some though will choose to bring a burst of color to the red carpet and we're usually quite delighted with the attempt. But Dawn Hudson had us eating those words.
She did both – wear a safe black full-length gown with a high neck and ribbon belt plus accessorize her dress with a parrot green stole. The dress on its own is decent enough and would have been only passable, forgotten as soon as we laid eyes on one of the other ladies on the red carpet. But with that stole, we'll remember her for perhaps a few moments longer as we note down how not to dress.
So there you have it, the Oscars 2012 Worst Dressed Celebrities. These were bad, really bad. But we have to say that it's not as horrifying as some of the outfits we saw at the Golden Globes last month. And when you see the Best Dressed at the 2012 Oscars, you'll agree that they beat all other red carpet fashions in history. Stay tuned.
Image: P R Photos