Actress Charlize Theron attended the Big Screen Achievement Awards as part of CinemaCon 2012 which was held at Caesars Palace Hotel and Casino in Las Vegas, Nevada on April 26. The stunner wore an alternative version of the little black dress that had our jaws dropping.
What she wore:
Black paneled dress
Yes, we know Charlize wears a lot of black dresses, but this one is unique as it is an optical-illusion take on the little black dress from Dion Lee's Fall 2012 collection. The knee-length dress featuring a halter neck was divided into panels by strips of sheer fabric running vertically down the front. It's sassy, but Charlize's inherent poise makes it look sophisticated.
She accessorized the outfit with simple gold stud earrings and open-toed ankle-strap heels by Giuseppe Zanotti.
Hair & Makeup:
Blown out, shoulder-length blonde hair, dark eyes, soft pink lips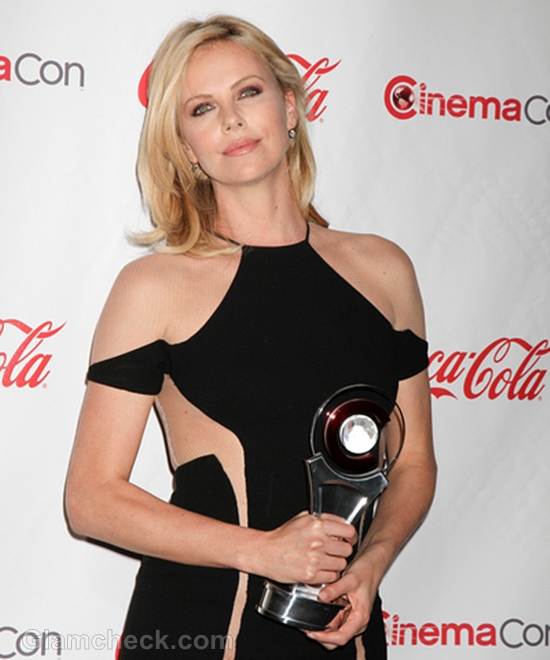 Blown out, shoulder-length blonde hair, dark eyes, soft pink lips.The blonde beauty's hair was blown out and left loose with an asymmetrical parting. A touch of soft pink on her lips and kohl-lined eyes completed her red carpet look.
Get the Look
The little black dress will never go out of style. The simpler the cut and design of the dress the better because it means you'll be able to carry off the fashion even years later and on as many occasions as possible. That does not mean though that you always stick to 'too simple' as that can make you drown out in the crowd. Instead, pick a unique design like the dress Charlize has on – it is simple and has clean lines so it will stand the ravages of fashion time but it is distinct enough to make you look and feel special.
Image: P R Photos