Apart from the latest scores you can now get some cool style tips from sportscaster Erin Andrews as evidenced by the snazzy outfit she wore to the New York City premiere of "What to Expect When You're Expecting" at the AMC Lincoln Square Theater in New York City, New York on May 8.
What she wore:
Gray jeans and top, rust jacket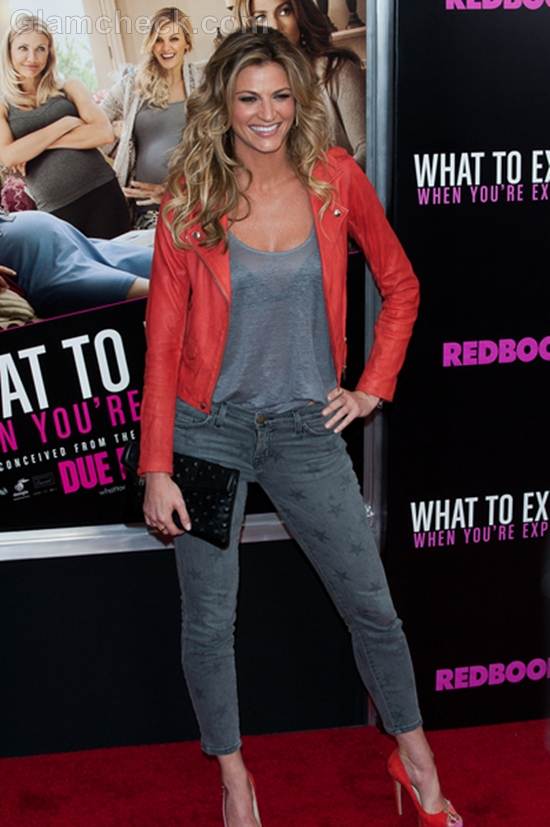 Erin put together a casual but stylish outfit, with the colors grey and rust dominating the ensemble. She paired her ash grey jeans featuring a starry print with a low-cut sheer grey top showing off a black bra underneath. The top was carelessly tucked into the jeans – half in, half out  – in a relaxed, casual attitude without looking shabby.
It would have been way too much grey for our liking except that she broke the monotony beautifully with a gorgeous rust-colored leather jacket, finishing off with orange peep-toe heels and a black envelope clutch purse. She looks like a trendy motorcycle chick who knows her way around fashion as well as she does her bike's gears.
Hair & Makeup:
Curly hair; natural makeup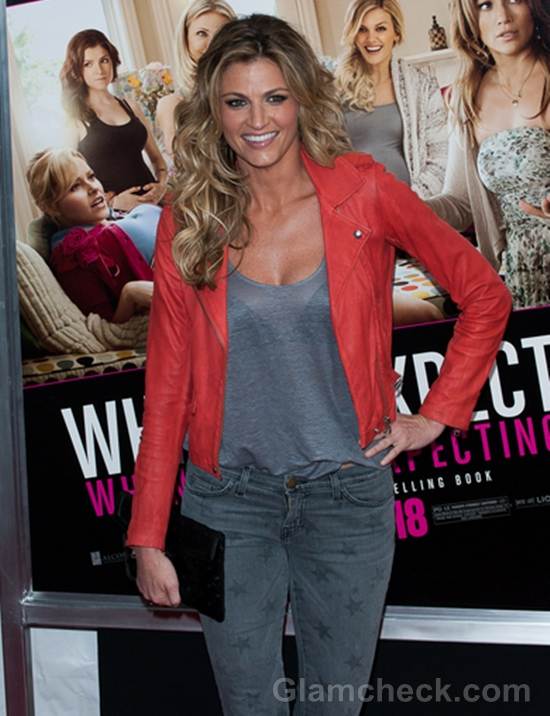 She has really lovely highlighted hair which was curled and left loose to fall abundantly around her shoulders. Dark eyes and a subtle lip color completed her look.
Get the Look
Yes, it is her jacket that stands out as the focal point of this ensemble and that's because she's worn the right bra so that her sheer top does not steal the show in a bad way. Sheer tops can make you feel sexy without having to show skin so it's a good choice for when you want to exude confidence, for example, on a date. Just make sure you wear a well-supported, good quality bra to round off your look.
Image: P R Photos