Actress Eva Longoria made her way to Berkeley Square Gardens in London on May 29 for the Glamour Women of the Year Awards 2012. The Latino beauty's colorful ensemble was fun, spring-inspired and right on trend.
 What she wore:
Orange dress by Victoria Beckham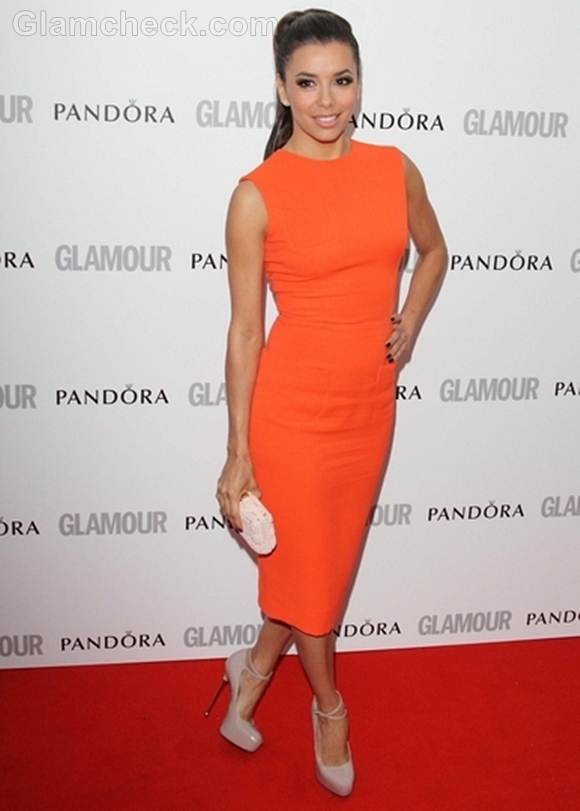 Eva wore a bright orange dress with silver zipper detailing down the back. Sleeveless, figure-hugging and tea length, the color was a perfect complement to her dusky skin tone. However, this is honestly not the most glamorous look for the red carpet of an awards show that applauds, well… glamor. But she's been making awe-inspiring appearances in fabulous outfits for the last few days so maybe she just wanted to tone it down a bit, eh?
What we loved most about her outfit were her reeeeaaallllly pale pink ankle-strap pumps by Brian Atwood that are simply to die for. The final piece of her ensemble was a clutch purse by Ferragamo.
Hair and Makeup:
Ponytail; dark eyes
The Desperate Housewives star put her hair up in a glossy, wavy ponytail. This seems to be the go-to for the style diva of late as she sported a ponytail just the day before at the Global Gift Gala. She completed her look with dark eye makeup and a hint of pink on her lips.
Image: P R Photos