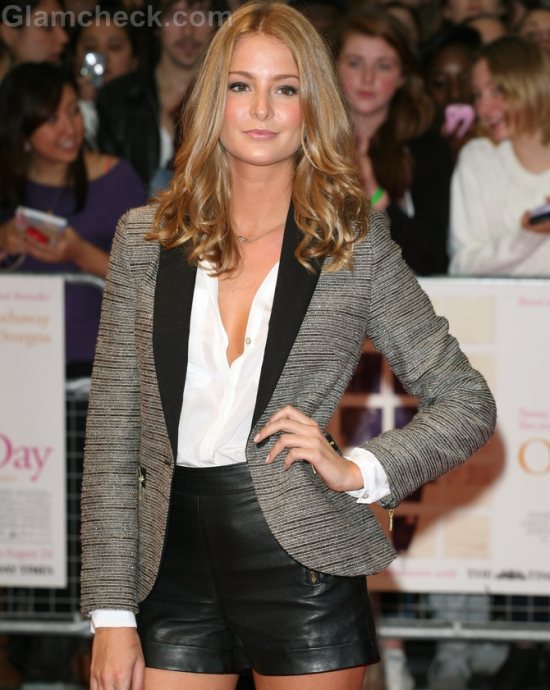 Pretty Millie Mackintosh looked ravishing at a recent event. The Made in Chelsea star is known for her meticulous dressing style, and she did not disappoint.
Millie wore leather shorts – the one material that makes any woman look naughty. The black high waist shorts were paired with a crisp, white, full-sleeved, button-front shirt that was left open almost to the waist, and a well-cut gray and black blazer with the white shirt peeking out at the cuffs. A pair of black sling-back heels completed this uber smart look.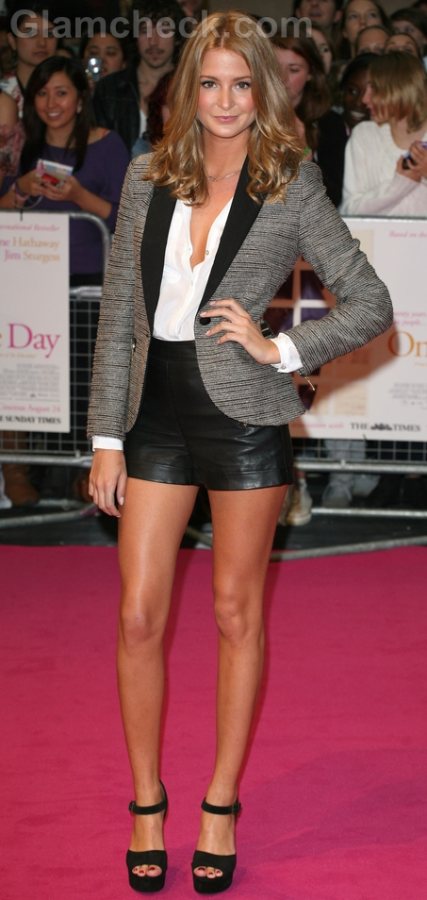 Although she left her hair loose with curls at the ends, they looked anything but messy. Her makeup was natural with barely a touch of color to let on that she was even wearing any. The well-groomed makeup artist was flawless from head to toe.
Get The Look
You might not have been able to wear shorts to a formal do not so long ago. But as our celebs have proven time and again, shorts can look chic and still be very appropriate for any event. A lot of celebs have been sporting shorts of late. Right from Selena Gomez to Nicole Scherzinger, all the ladies with great bods have donned shorts at concerts and premieres. If you are comfortable with it, you can wear shorts to parties and dinners, day or night.
But the reasons that celebs look so good in shorts is not their well-toned legs, it's because they wear shorts for their body type. For example, if you are bottom heavy, you would look better in low-rise shorts. High waist shorts like Millie's would just make your rear look bigger than it is.
Do not forget to wax your legs the day before you plan on wearing your shorts. This is so that any redness has a chance to ease off. If you choose to shave, do it on the same day you will be wearing the shorts otherwise you risk stubble! For a casual look, pair your shorts with a T-shirt and flat shoes or sandals. For a formal event, get shorts that have a solid color and perhaps some shimmer and team them with a glamorous blouse.
Image: Shutterstock