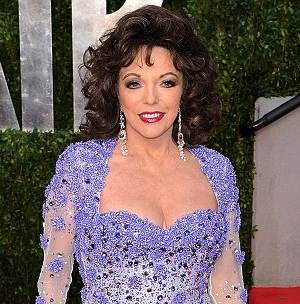 The Oscar night was complete with some drama of its own. Joan Collins was among the guest list at the Vanity Fair Oscar Party at the Sunset tower in Los Angeles. The star studded event was full of celebrities in their most flashy attires and Joan was no exception. She came to the event in a designer lavender dress with full sleeves and loads of sequins attached. Little did she know that her carefully selected outfit for the night will not let her enjoy the event as she would have expected.
For seven hours Joan could manage to walk around at the venue in this fitted dress but it was only around ten in the night when she started feeling uneasy and mentioned she wanted to get some fresh air. Her outfit perhaps did not allow her lungs to expand much for comfortable breathing. She mentioned this to her husband Percy and wanted to get out of the place in their Limo but Percy decided on heading straight to the hospital lest the situation became worse and called an ambulance instead.

Joan admitted the reason she felt suffocated was not the presence of so many people at the event but her choice of dress. There is no information about who designed the outfit but it sure gave Joan a tough time. She said she made a wrong decision to go for a very tight gown and suffered something called a Victorian swoon, common among ladies of that era because of their tight corsets.
Joan has recovered from it now though, and thankfully is fine enough for another celebrity event. But hopefully the next time she will be extra careful not just about how her outfit looks but also if she will able to survive the night in it!