The 65th Annual Cannes Film Festival being held at the Palais des Festivals in Cannes, France is a fashion-lover's delight. These past few days have been so full of good style and amazing outfits that we're out of breath from all the breath-taking fare. At the premiere of "On the Road" on May 23, one celebrity that stood out beyond all others – even the cast of the movie itself – was actress Milla Jovovich.
What she wore:
One-shoulder lilac gown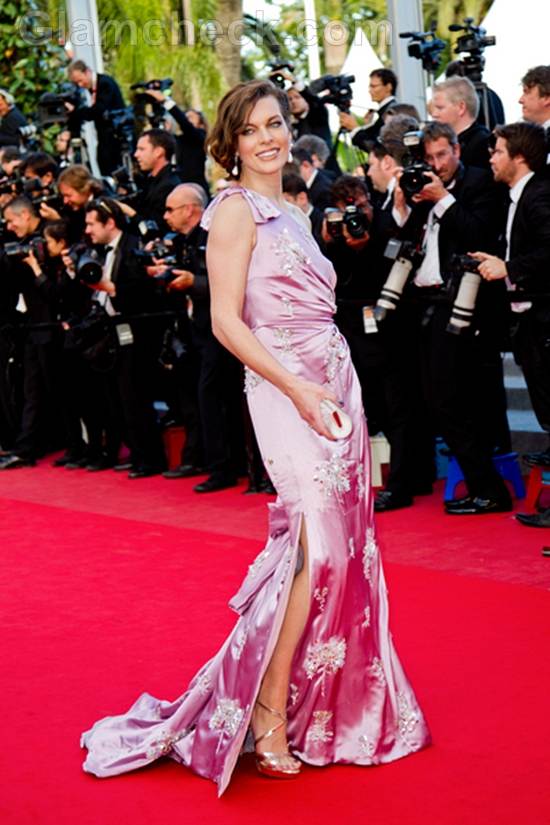 The Resident Evil star wore a glamorous satin gown in a shade of lilac that bordered on pink. Would you just look at how this shade makes her green eyes pop! It's magnificent!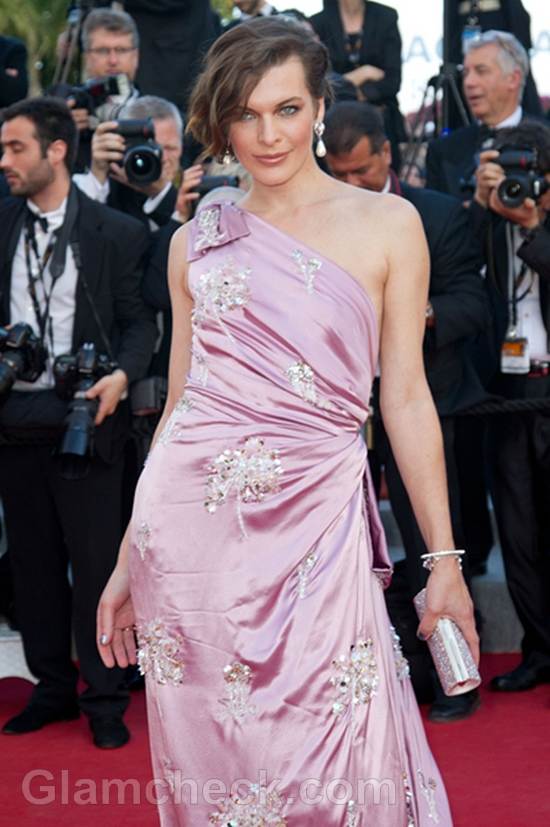 The one-shoulder strap featured gathered detailing on the shoulder and gave way to a deep asymmetrical exposure on the back, which also ended on her hip in gathered detailing. Sequined silver embroidery in a floral design accentuated the slinky fabric. Finally, a knee-high slit flowed out into a short train revealing gorgeous silver strappy heels.
Milla accessorized the outfit with a matching lilac sequined clutch purse, dangle drop earrings and a silver charm bracelet.
Hair and Makeup:
Side-swept hair; glamorous makeup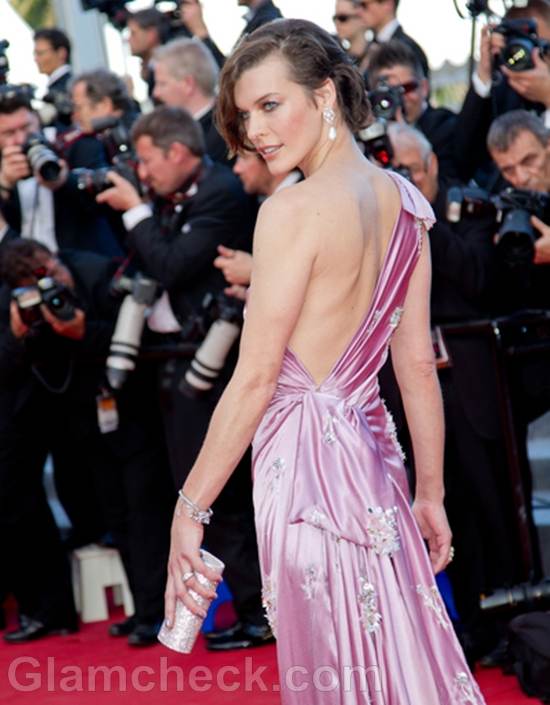 Love Milla's bob but love even more how she styles it. This time around, she swept her wavy brown hair on the right from a deep parting on the left. The tresses that fall over her eyes give her a very seductive look.
Also check out her silver manicure – totally to-die-for. She finished off her stupendous red carpet look with black eye liner, mauve lips and matching blush.
We are officially in awe!!
Get the Look
Have you noticed how Milla always photographs so well? It has nothing to do with her outfit or hair and makeup. She used to be a professional model long before she turned actress so she uses her past skills to pose and show off her best side to the camera every single time. The other ladies on the red carpet don't have a chance with her around. Take a course for wannabe models if you have to and learn how to work the camera the way Milla does. This will make you feel confident and sexy in addition to ensuring that you look like a bombshell every time a shutterbug turns the lens on you. After all, fashion is 50% attitude.
Image: P R Photos