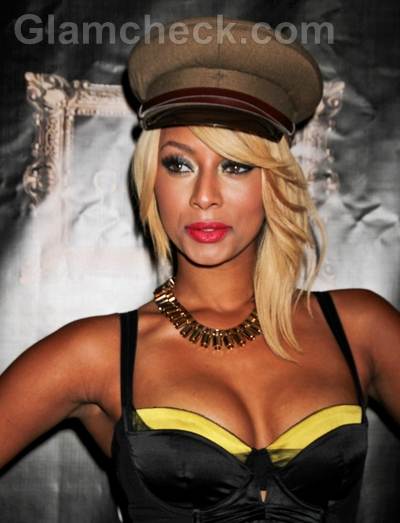 The Gallery Nightclub in Las Vegas saw Keri Hilson playing hostess for an evening event. The singer had done her own interpretation of a cop – a sexy one at that, with the outfit that she sported.
Maybe, it was the hat that made me draw that particular comparison, but the fact remains that Hilson's outfit had a sexy quotient.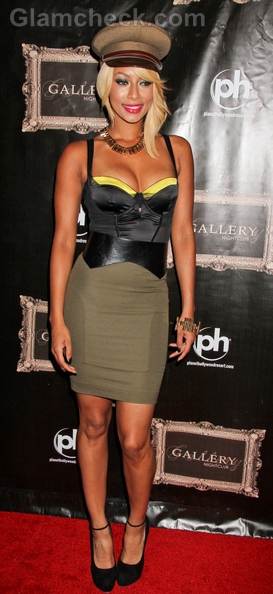 Keri Hilson wore a black corset top with a plunging neckline, underneath which she wore a yellow bra that was clearly visible and added color to the ensemble. She paired this with a tight fit olive green short skirt. The smartly chosen clothes accentuated her shapely body.
She wore black pumps with strap around the ankles, and its color went hand in hand with her top. Her hair was kept side swept in bangs. Keri Hilson's eye makeup is usually dramatically done up and she pulls it off smoothly. We like the way she has played up her eyes here by giving them a smokey effect and also highlighting it with a touch of gold. The coral red lips also add to the smouldering effect.
The piece de resistance was however the khaki and maroon colored hat – that added the oomph factor to the ensemble. And of course, you can't miss the bullet row style necklace. Whether it was a cop or gangster look that Keri was aiming for, the fact remains that she totally rocked the style.  
Image: P R Photos