Oh how we love people who create trends! Keri Hilson has been setting fashion trends with her every appearance on the red carpet and we truly love how she manages to outdo her previous stylish self each and every time!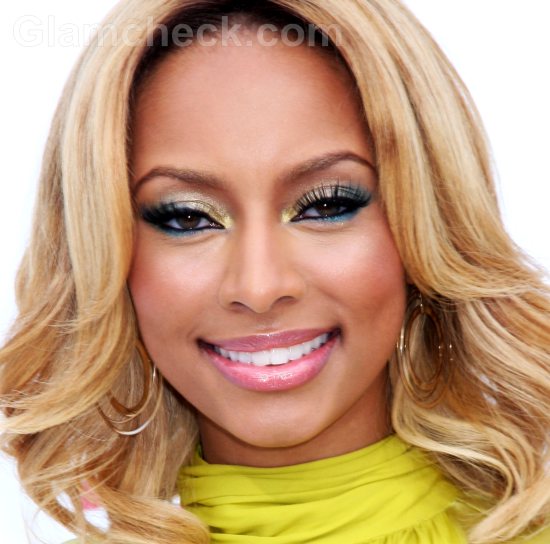 If you are fond of eye makeup, Keri Hilson eye makeup is one which you should surely watch out for! It is a melange of colours – bright gold, dull gold, turquoise blue and of course neutral and done in absolutely stunning manner! Great for a special event, this look is sure to get you admiring glances from one and all.
To achieve the look of Keri Hilson eye makeup :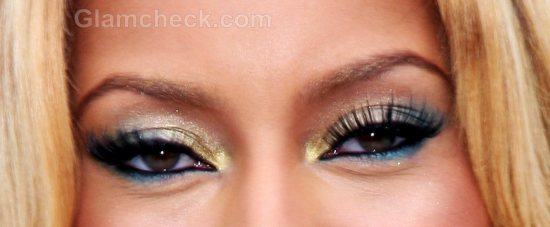 Keri Hilson Eye Makeup
Apply a primer to your eyelids and under eye area as well (apart from your face) as the makeup does tend to last longer.
It will be good if you could mentally divide your upper eyelid into three zones – the inner, middle and the outer – this will help you apply the three different colours more easily.
Using a bright gold eye shadow, apply it to the inner third of your upper eyelid.
Apply a slightly darker gold after that, roughly around the centre of you upper eyelid.
The turquoise blue shall rest towards the outside of your eyelid.
You could opt to use a neutral shimmer such as a brown shade on the crease of your upper eyelid to give it a glossy effect, which is "oh-so-it" these days.
Remember the colours have to slowly graduate from one shade to the other and should not be very clearly marked zones as this may end up looking chalky and funny.
Using the similar shade of blue, underline your lower eye lash line, going thicker as you move away from the inner to the outer edge.
You could use false eyelashes or if you are blessed with thick long eyelashes, use curlers and apply a coat or two of mascara in a colour matching the natural shade of your eyelashes.( do refer to our separate article on How to apply mascara)
I am sure with the super sexy and super chic Keri Hilson eye makeup revealed, you would love to try out this look. You could look for individual colour products or, these days, it is common to find dual or even three tone eye shadows in the market. It will be a good idea to match the eye shadow colour to the ensemble you plan to wear so as to have some sort of continuity.
A word of caution though, carrying off this kind of makeup in broad daylight may not be an easy task – you could end up looking like a colourful mess. However, come night and arc lights, and you sure will love the dramatic effect this Keri Hilson eye makeup creates.
Image: Shutterstock