Burlesque dancer and singer, Miss Polly Rae looked every bit a silver screen starlet, she is at the opening night of "Ghost the Musical" held at the Piccadilly Theatre, London on the 19th of July.
The 'Hurly Burly' girl exuded classy sexiness in the 40's inspired retro look. Miss Polly Rae wore a Black pleated Halter dress in silk blend. The knee length, halter dress had a plunging V neckline that exposed her cleavage. Her tiny waist was accentuated with a draw string tied loosely in front.
The starlet carried a matching round clutch bag with a tinge of gold which gave a very nostalgic demeanour to the attire. She wore a pair of black peep-toe Christian Louboutin pumps with the signature red soles.
Makeup, Jewelry and Hairstyle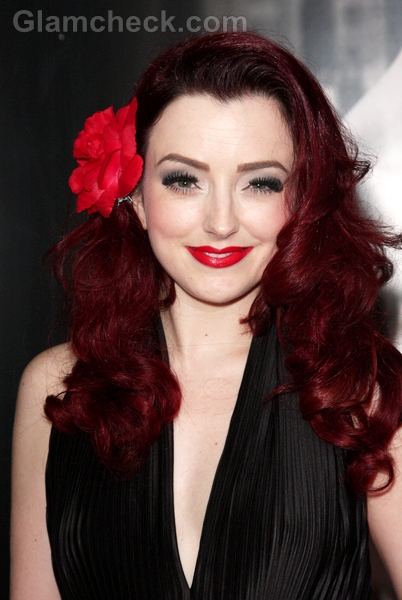 Miss Polly Rae chose to keep the style clean and did not wear any jewellery besides a bright red flower adorning her hair. She let her Auburn hair fall freely in structured waves held by a flower pin-up on one side, behind her ear. The flower added colour to the whole look and complemented her scarlet lips.
Don't forget to read a separate article on flower hairstyles for more ideas.
The look was flawlessly conquered by impeccable smooth skin, dark eyes and red lips. The smokey eyes were accomplished by heavy liner on the lid and layers of mascara to get the dramatic effect, with eye-shadow on just the creases. Miss Rae kept the under eyes pale and clean, so as to not go over-board. The pale skin was flattered with just the right hint of colour. Matching red was used for the finger and toe nails to complete the look.
Miss Rae fancies the retro look like a lot of her contemporaries. She masters the look with ease and never goes wrong with it. It is always understated yet vibrant and classy.
Image: P R Photos