Actress Scarlett Johansson wore Valentino to Spike TV'S 2011 Guy Choice. The black short dress, that had a diagonal line of white ruffles ending on the side, clung at the right places and showed off the petite actress's perfect frame.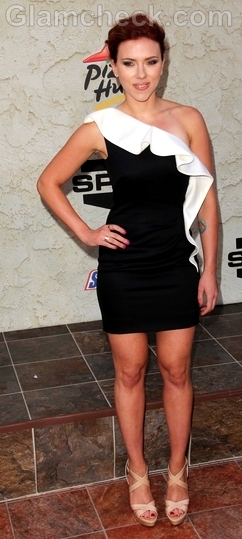 Scarlett Johansson in Valentino at Spike TV'S 2011 Guy Choice :
The choice of hairstyle is not, however, the best. The up-do was chic in its own right but did nothing for the actress apart from adding age and harshness to her face, making her look older than her 26 years. It was also not in tandem with her playful dress. Scarlett Johansson could have tied a ponytail, left it open or played it up with soft and loose curls.
The lacking hairstyle is made up with elaborate make-up that puts focus on Scarlett Johansson's eyes. Her peepers are lined with a heavy hand of kohl and mascara. Black eye shadow has been applied in even tones from the middle to the outer corner of her eyelid.
Just beyond this we see some winged brown eye shadow that give her eyes an upward elongated look. This has been topped with some barely there blush on the apples of her cheek and a touch of nude pink gloss.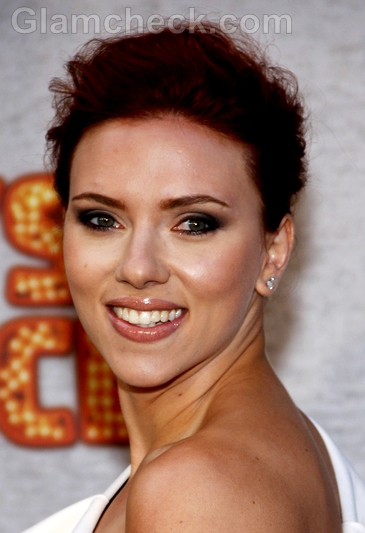 The accessories have been kept simple, which is a good move considering the eye catching dress. A pair of solitaires for the ears and rings on her fingers completes the jewelry. Strappy beige heels adorn her feet, and her toenails sport a dark red hue. Her finger nails are dressed in a pink shade.
On the whole, though the attire and accessories are great pieces on their own still something seems to be missing from the look, maybe it is the hairstyle or the hair hue. Whatever the reason be, we have seen Scarlett Johansson look better than this and, in all probability, will surely continue to do so.
Image: P R Photos