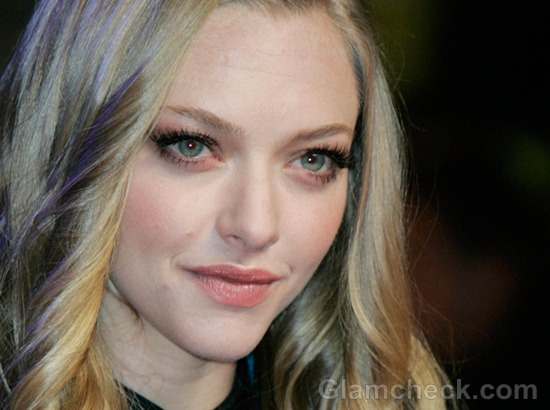 Actress Amanda Seyfried chose to wear a strikingly pretty blue for the UK premiere of her latest movie In Time which was screened at the Curzon, Mayfair in London on October 31. But the outfit itself was something of a disappointment.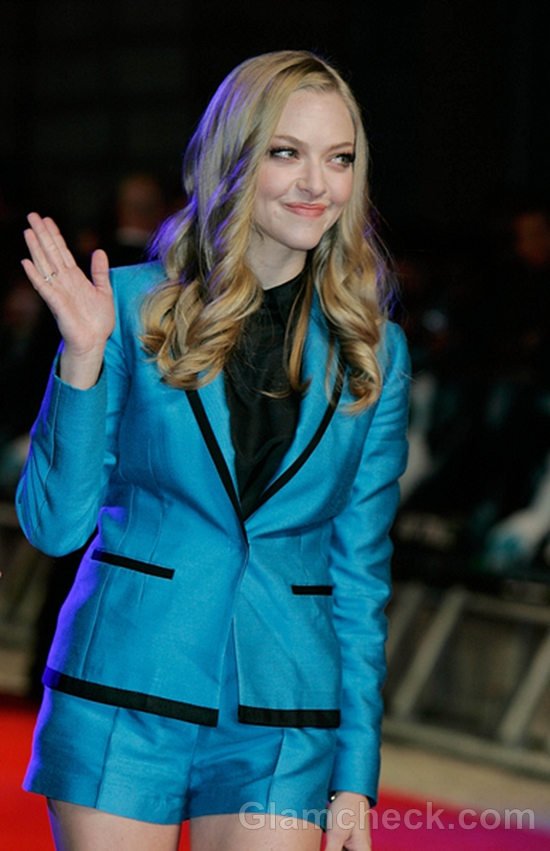 Amanda donned a pair of seriously short blue shorts with a matching blue blazer from H&M. She wore a black collared shirt underneath the suit, supposedly to match the black trimmings of the blazer. But really that black shirt just did nothing for the outfit. It looked and felt too pat and predictable.
The suitwas crumpled and not in a casual way either. It fits badly – like it was made for someone bigger. And she should really have chosen a different shirt – perhaps something low-cut, perhaps another color.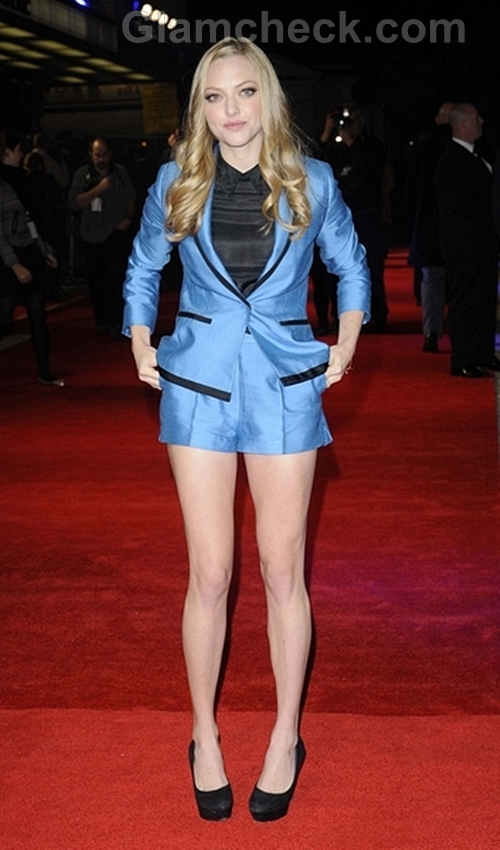 There are only two good things about this ensemble – the blue is a gorgeous color for the green-eyed blonde and the shorts show off her totally awesome legs. Otherwise, it's a tacky choice for this otherwise stylish 25 year old. We know the androgynous look is in right now and it seems that's what she was aiming for. But this is a rather poor attempt in our book.
She accessorized the outfit with black pumps by Sergio Rossi and a ring on her right hand. Her long blonde hair left loose with a side parting and curls at the ends while her makeup was mostly natural except for mascaraed eyes and subtly shimmery pink lips.
Some small changes to this outfit would have made it quite a hit. If you are planning on going with the androgynous look anytime soon, make sure your clothes are tailored to your size and that they are ironed out well. Want to see the androgynous look done right? Check out Evan Rachel Wood, Penelope Cruz, and Olivia Newton John.
Image: P R Photos