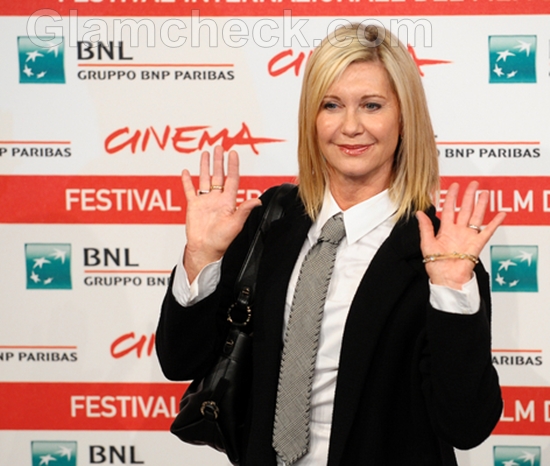 Singer/actress Olivia Newton-John can still be quite the fashion icon. The 63-year-old sported the androgynous look at the 6th annual Rome International Film Festival at a photocall for A Few Best Men. The photocall was held at the Auditorium Parco Della Musica in Rome, Italy on October 28.
The androgynous look was a smart fashion choice for this Grammy Award winner. She wore a white, full-sleeved shirt with black leggings and a striped black and white tie. A nifty long black blazer over the untucked shirt made her look sharp and confident. She actually looks lovelier today than she did over 30 years ago when she rose to fame with her portrayal of leather-clad Sandy Olsson in the classic coming-of-age film Grease.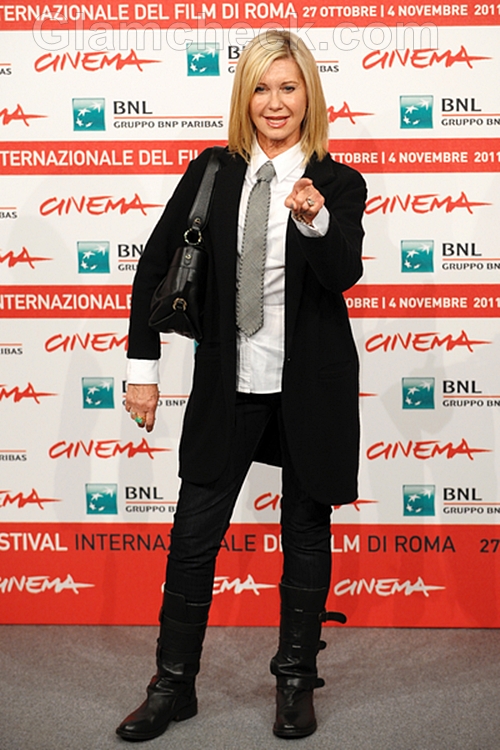 Olivia carried a large black handbag in keeping with the color scheme of the rest of her outfit. She also wore a very sexy pair of black motorcycle boots that stopped a few inches below the knee that gave the outfit a slightly rugged 'don't mess with me' aura.
The Aussie star chose some pieces of hand jewelry to accessorize her outfit. She wore two rings on her right hand, one with a pretty aquamarine-colored stone, while a gold bracelet hung loosely on her left wrist.
To complement her look, Olivia left her shoulder-length blond hair loose. It was parted at the side and straightened, but the ends had gentle flicks that made the do appear casual. Her hairdo was an appropriate choice for the ensemble as it gave the look a feminine edge without being overwhelming.
Get The Look
The androgynous look has been quite popular this season, most recently sported by Hollywood hotties AnnaLynne McCord, Evan Rachel Wood and Lena Headey. Contrary to popular belief, this look does not have to be very severe and masculine. As Olivia shows us, you can look beautiful and feminine if you have the right hair, makeup and accessories. This look works well on all body types and is a trendy alternative to a gown for a formal event.
Olivia's hairstyle works well with casual and semi-formal outfits. You can wear it to work or a day time event. It does not need much maintenance or touchups either so you can choose this hairstyle for days when you are in no mood to fuss with your appearance.
What we can learn from Olivia is that the choice of accessories can usually make or break an ensemble. It is not always possible to have accessories at hand which suit a particular outfit, and it's not very economical either. The key is to buy some generic accessories that will go well with most of the clothes in your wardrobe.
Themed outfits though will require specific pieces of jewelry which will need to be bought in keeping with the color scheme and style of your look. For example, a Bohemian look will call for certain accessories that you may not be able to pair with your regular look.
Image: P R Photos