Young, charming, sexy and with a fashion sense and superb acting skills – this would perhaps be the best way to introduce Evan Rachel Wood, who is an integral part of the HBO vampire series" True Blood". At the recent premiere of the season 4 of this show, Evan surprised everyone with her uber cool get up.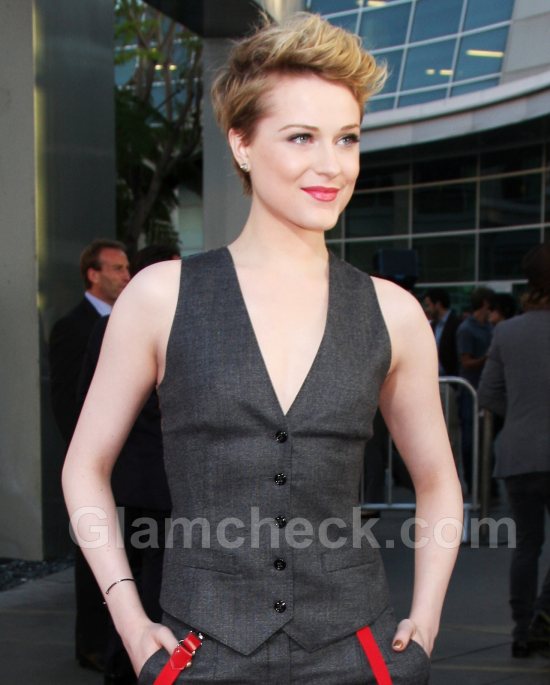 Evan Rachel Wood : Androgynous look at True Blood Premiere
Hitherto seen in her blonde long hair, Evan chopped off her hair into a pixie cut for the premiere and stole everyone's heart with the super cool new hairdo. She gelled her front bangs to have a 'stood up' look, which was haute and causal both, at the same time.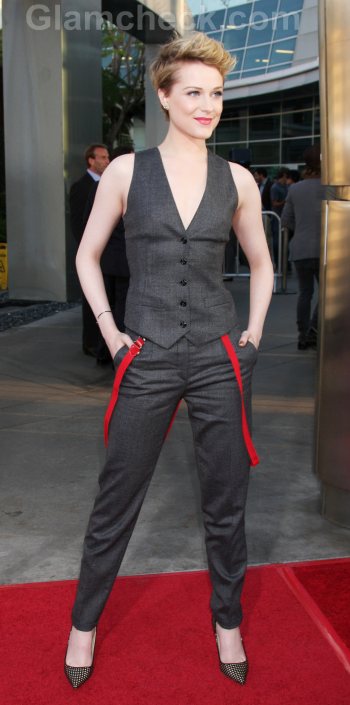 Evan Rachel Wood matched her super sexy hairstyle with her ensemble as well. At an event, where women tend to outdo each other by wearing trendy gowns and dresses, Evan managed to pull off a completely different look – an androgynous one.
She wore Dolce & Gabbana vest and cropped pant suit. The grey vest had a great fitting, with a plunging V neckline. To add some drama to the vest, it had an animal print back. The slim fitted crop trousers in grey again skimmed Evan's body curves. Bright red suspenders added just the right dose of glamour to the otherwise mundane pant.
Evan did not accessorize heavily, which worked for her as she did let her ensemble and her hairstyle do all the talking. She wore a thin bracelet and ear studs. Her black and gold pointed toe pumps did justice to her chic, androgynous look.
Evan's makeup was equally flawless – red lips and well defined eyes and shimmering eye shadow was all that she opted for.
A great, unconventional look and a look I am sure we will see much of in street fashion very soon!
Image: Shutterstock