The road to good health always seems to be a very tough one full of brambles and hardship. You have to find the time to exercise and plan your meals, sleep well, avoid oily or fatty foods, take supplements go for health checkups, maybe cut out dessert! But it does not always have to be so hard. Sometimes, you can achieve better health by doing something as simple as sipping on a hot cuppa. Now wouldn't that be something? The fact is that all teas are good for health in one way or another. But when you add herbs and spices to your tea or opt for simple herbal teas, you will get more health benefits than you can count. It is not possible to drink a hundred different kinds of tea to reap all the benefits. So you have to be smart and pick one that has the most to offer. Ginger tea is undoubtedly one of the most potent herbal teas when it comes to health benefits.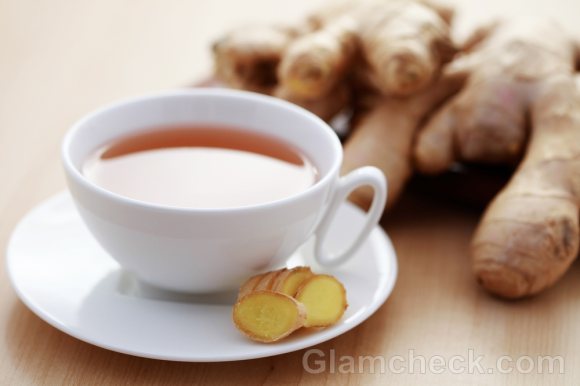 There are many health benefits of ginger. And getting your daily does through ginger tea is one of the best ways to get the health benefits of this wonder herb. You probably already know that ginger tea is spicy and warming – a great alternative to coffee on a cold day. But ginger tea benefits are more far-reaching than that. Let's take a look at some of the ginger tea benefits experienced by most folks who drink this beverage on a regular basis.
Benefits of Ginger Tea
Gets Rid of Nausea
One of the well-known ginger tea benefits is that it combats nausea. Even if you do not drink ginger tea  on a regular basis, you can still relieve nausea with just a couple of cups. Since ginger tea is quite safe and has no serious side-effects, it is recommended for morning sickness in pregnant women, and for those who suffer nausea after chemotherapy or surgery. Nausea caused by motion sickness can also be alleviated with ginger tea. Ginger has indeed been used to battle nausea for centuries and is till today considered the best remedy for the uncomfortable condition. Many people report that ginger tea also helps reduce or eliminate the dizziness that sometimes accompanies nausea.
Calms The Digestive System
Ayurveda in particular recommends the ginger tea benefits that aid digestion. Ginger tea will soothe an upset stomach. Taken on a daily basis, ginger tea can also improve your metabolism and regulate your bowels. Ginger tea benefits also extend to solving digestion problems like diarrhea and flatulence. Ginger tea can help to relieve intestinal gas. Certain digestive problems such as colitis can be safely cured with regular intake of ginger tea. The ginger tea benefits on the digestive system are enough to make most of us junk-food-eaters drink a cup every now and then.
Combats Menstrual Cramps
Do you regularly suffer from period cramps? Brew yourself a cup of ginger tea to soothe your muscle spasms. The same properties in ginger tea that calm the digestive system and act as anti-inflammatory agents are responsible for alleviating cramps during your period.
Cures The Common Cold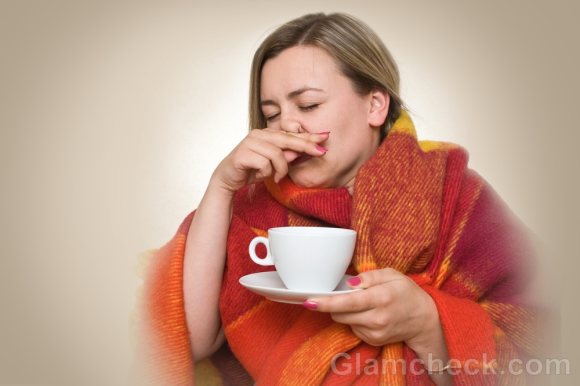 You read that right. Pharmaceutical drugs can only relieve you of the symptoms of the common cold. Ginger tea, however, can actually cure you of it. In fact, people who regularly drink ginger tea are not affected by coughs and colds as much as their non-ginger-tea-drinking counterparts. Ginger tea has a warming effect on the respiratory tract and can almost instantly relieve you of a stuffy nose. The other symptoms will soon follow and you'll be back on your feet in no time. Another wonderful ginger tea benefit is that it can considerably reduce the discomfort experienced by asthma patients.
Cures Your Migraines Too
One of the ginger tea benefits that is a blessing to those afflicted is that it can soothe migraine headaches and perhaps even cure migraines altogether if taken regularly in sufficient quantities.
Gets Rid of Bad Breath
Ginger tea actually works better than peppermint to reduce bad breath or haliotosis. Since most bad breath is caused by bloating and problems with digestion, Ayurveda and Chinese medicine both recommend ginger tea to cure bad breath as the tea can regulate the functioning of the digestive system.
Relieves Pain
Instead of popping an aspirin the next time you have a headache, try having a couple of cups of hot ginger tea. If headaches are a common thing for you, then drink about 3 to 4 cups of ginger tea on a daily basis and you will notice that the frequency of your headaches is greatly reduced.
Even patients of arthritis can find pain relief with a few cups of ginger tea a day. Ginger itself has natural anti-inflammatory properties which can help to reduce the intensity of arthritic pains. The ginger tea will effectively reduce the swelling caused by arthritis. Even regular joint pain not caused by arthritis can be treated with regular intake of ginger tea.
Fights Infection
Ginger tea has anti-bacterial and anti-viral properties which will help your body stave off infections and protect you from nasty bugs that affect almost everyone at some point. Research has shown that regular intake of ginger tea can even protect you from urinary tract infections.
Strengthens Your Immune System
Ginger contains antioxidants, iron, calcium, potassium, protein, selenium, magnesium and a host of other vitamins and minerals that contribute to making it a true super-food. Since good nutrition is what builds your immune system, simply having a few cups of ginger tea a day will keep you from falling sick and will equip your body with the tools it needs to ward off sickness.
Keeps Major Diseases at Bay
Food can play a huge role in your general health. Ginger is one of those super-foods that you simply must include in your diet for overall better health. If none of the above reasons have convinced you of ginger tea benefits, maybe this will – ginger tea can reduce your risk of cardiovascular disease as well as high blood pressure. If you did not know already, these are both pretty serious health problems that could lead to reliance on heavy medication or surgery, and both health problems are responsible for a pretty high number of deaths each year in people of all ages. The blood-thinning properties of ginger tea in particular will help to reduce your blood pressure, and also reduce your risk for cardiovascular disease. Ginger tea is also known to lower LDL (low-density lipoprotein) or bad cholesterol. As you can see, ginger tea effectively gets rid of the major risk factors of high blood pressure and cardiovascular disease thus possibly preventing the development of these problems.
Another ginger tea benefit is that it may be able to prevent cancer as well because of its high levels of antioxidants. Studies have shown that ginger has over a dozen anti-oxidants that can even prevent existing cancer from spreading. Quite a feat for the humble root.
An Effective Stress-Buster
Just when you though there were no more ginger tea benefits, we bring you another one. A cup of hot ginger tea is the perfect pick-me-up for a hard day. Some people argue that it is not the ginger tea that relieves stress but the fact that you are sitting down and taking the time to have a cup of hot tea. However, people who actually drink ginger tea on a daily basis swear by the mood-enhancing properties of ginger tea. There's only one way to conclude this debate – it's time to go have a cup of ginger tea and decide for yourself.
How To Make Ginger Tea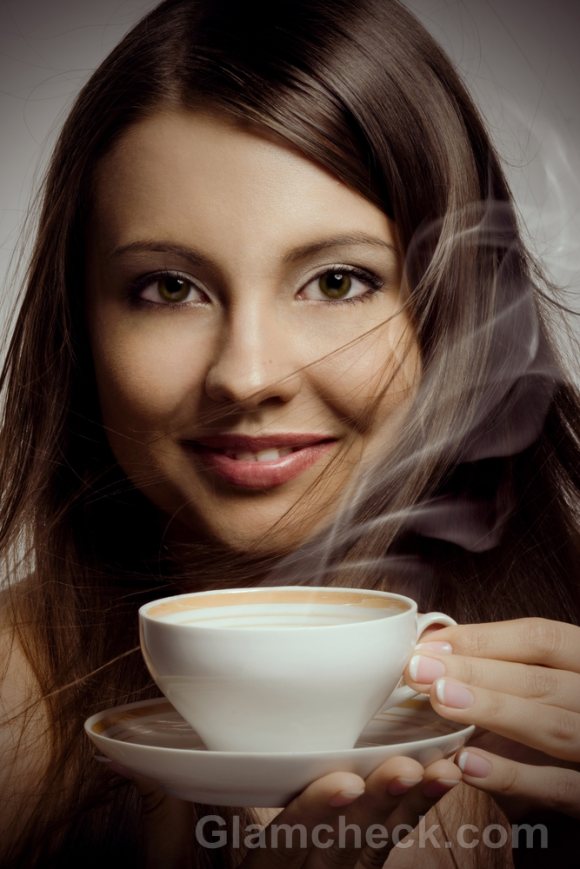 There are several recipes for ginger tea available. This is one of the simplest. You can make amendments to it or add other spices or herbs as per your preference. So let's go ahead and take a step by step look at how to make ginger tea so that you can start taking advantage of ginger tea benefits as simply and as quickly as possible.
Heat some water in a pan. The proportion will depend on how much ginger tea you want to make. One cup per person will do.
While the water boils, peel some ginger – about 2 inches – cut it into small pieces and grind or grate to a pulp. You can always put the whole piece of ginger in the water but the flavor will be better infused if you use the paste. Plus, some compounds in ginger are only released when the root is crushed.
Once the water is boiling, throw in the ginger.
Now let it just simmer for about 10 to 15 minutes. The longer you leave it in there, the stronger the flavor and thus the more potent the ginger tea benefits. The taste of ginger has quite a bite to it, so if you don't want to be surprised by the explosion of the strong flavor in your mouth, simply simmer for less time. You can tell from the smell of the boiling tea how strong the flavor will be.
Strain the brew. It is now ready to drink, but you may not find it palatable if this is your first time with ginger tea. No problem. There are several ways to make it tastier.
You can use honey or perhaps some lemon to add some flavoring to your ginger tea. If the ginger tea benefits you are looking for are medicinal such as to make a cold go away or to soothe a respiratory problem, do not add honey or sugar as this will just exacerbate the problem.
Instead of straining the tea after it has boiled sufficiently, add some regular black tea and milk to the concoction. Do not add milk too early on – only after the ginger has boiled – or it will cause the milk to spoil. Once milk has boiled, strain and enjoy. You can add sugar or honey to this delightful tea. Yum!
If you do not want to take the trouble to peel and grind the ginger into a pulp, you can simply use some ginger powder or ginger juice to replace the ginger paste. However, you will notice a marked difference in the taste, plus the ginger tea benefits will lose some of their potency when powder or commercial ginger juice is used. You can also use ginger paste, but the taste may be really off as vinegar is sometimes used as a natural preservative in commercial ginger paste. Another alternative is to buy tea already infused with ginger. You would usually get these in the form of tea bags – very convenient on rushed mornings, lazy days, and when you are traveling.
Since there are so many options to make ginger tea and get ginger tea benefits, you really have no excuse to ignore this miracle brew. So put that kettle to boil and sip your way to better health.
Image: Shutterstock