It is a wrong notion to believe that a person can get chapped lips only during the winter months. It is an affliction that can occur even during summers and the causes for this might be varied. It could range from dehydration, to using too much of air conditioner or using wrong lip products or being sun burnt – all of which dry the lips.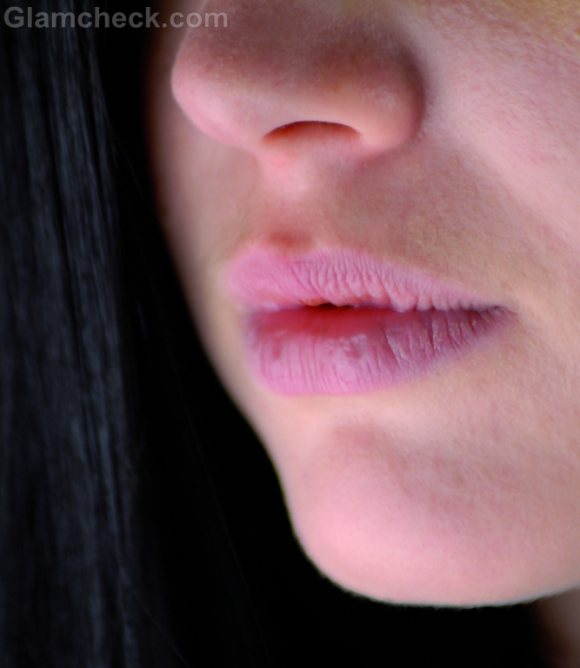 Home Remedies to Deal with Chapped Lips During Summers
However, whatever the reason may be, chapped lips are something that no one likes to have. Therefore, we bring you some home remedies to deal with chapped lips during summers.
Make use of the healing properties of natural products
Aloe Vera: It has many healing qualities, and it works wonders for chapped lips too. You can apply it, in its natural form, regularly on your cracked lips. It may not taste that great but at least it will cure your lips fast, and the result will be worth it.
Cucumber: Rubbing the slice of a cucumber on your lips will not only give a soothing effect but also help in healing the lips.
Honey: It is quite handy for effectively treating lips that are chapped. Use it regularly and nicely massage into your lips. You will get best results with organic honey.
Milk Cream: This has softening properties and keeps the lips smooth and supple while fighting chapped skin effectively, when applied regularly.
Lemon Juice: Apply lemon juice on your lips or rub your lips gently with the slice of a lemon if you have chapped lips. However, do note that it might cause a tingling sensation. Skip this step if have cracked or bleeding lips, because then it will cause pain.
Use oils, medicinal and beauty products which are easily available in the house or available over the counter
Boroline: It is an antiseptic cream which is quite popular in India. It is also my favourite product to resort to for fighting chapped lips. Regular application will get rid of overtly dried lips in a jiffy. In fact, while sleeping at night apply a heavy coat of boroline on your lips, by morning you will notice a remarked improvement.
Coconut Oil: Applying coconut oil on your lips three to four times daily, at regular intervals, can help in getting rid of flaking and chapped lips. It has good moisturizing qualities and you can also apply it before hitting the bed at night.
Castor Oil: Using it not only fights dry and flaky lips but also makes them smooth and pink.
Evion (Vitamin E Tablet): Prick the tablet, so that the liquid flows out. Massage this gently on your lips in order to fight flaky, dried and dead skin.
Ointment With 1% Hydrocortisone: Look for it at the drug store, while ensuring that the hydrocortisone content is not an iota more than one percent. Applying it on the lips can bring relief and cure chapped lips. However, it is more recommended for those who have chronic chapped lips.
Apply lip packs and exfoliaters
Rose Petal & Milk: Soak nicely washed rose petals in raw milk for a short period. After that, make a fine paste by mashing the petals. Apply this paste on your lips three – four times in the day to counter chapped lips.
Rose Petal & Glycerine: Add some drops of glycerine to crushed rose petals and make a paste of it. Apply this mixture on your lips before sleeping at night. It will moisturize your lips and help against dryness.
Salt Water Compress & Vaseline: Mix 1 teaspoon salt and a pint of cold water. Make a compress by soaking a piece of clean cloth in the water for a couple of minutes. Place this cold moist cloth over your lips for a few minutes. Wipe off the excess water when you remove the cloth from your lips. Next, apply a wax base lip balm or Vaseline, which is a sealing agent, on your lips. This will hold in the moisture. The procedure works against chapped lips when done at regular intervals.
Honey & Vaseline: A lip pack made of Vaseline and honey is quite helpful when applied to the lips for a duration of 10 to 15 minutes. Dip a cotton ball in warm water to gently remove the pack from your lips.
Castor Oil, Lemon Juice and Glycerine: Mix all of them together to make a smooth paste. Apply it on your lips and leave it overnight. Wipe off in the morning with a cotton ball dipped in warm water.
Honey & Sugar Exfoliater: Mix 1 teaspoon of honey and 2 teaspoons of sugar and mix well. Leave this concoction on your lips for a few minutes. After a while, gently rub it on the lips. This will help in getting rid of dry and flaky skin. In fact, you can exfoliate your lips by following this step before applying any of the above mentioned lip packs.
However, these remedies will not work adequately if you do not take care of the following.
DO
Drink a lot of water to keep your lips and body hydrated.
Use a lip balm that has sunscreen and apply it before stepping out of the house. In fact, apply it when you remain indoors too.
Apply a lip balm daily. Also keep in mind that petroleum jelly based products like Vaseline are not lip balms and using them alone won't help. It is not a soothing balm but a sealing agent which holds moisture in place. This is why many people find that their lips do not heal in spite of using Vaseline daily. It is better to use beeswax, shea butter or cocoa butter based lip balms and chapsticks.

Regularly exfoliate your lips after your bath. The lips become soft during this time and it is easy to buff them by rubbing gently with a towel or by using a soft toothbrush. This helps in removing the deposit of dead skin and flaky built up which leads to chapped lips.
DO NOT
Lick or bite your lips. This further dries the lips, makes the problem more serious and contributes to chapping.
Peel or pull out the dead and flaky skin from chapped lips. It will make the lips bleed and you will end up hurting yourself, not to mention making the condition of the lips worse.
Wear lipstick that causes an adverse reaction. This goes for any type of artificial lip product such as a certain type of balm, gloss or lip tint. Many a times, a new lip product may cause an allergy or contribute to chapped lips. So, you could identify if you have been getting more chapped lips after using a certain product. If that is the case, you should not use it again – even after your lips have healed.
Use a flavoured lip balm. They irritate the skin. Also, one tends to lick their lips more when flavoured balms are used.
With all these remedies, tips and advices we hope that your chapped lips woes are a thing of the past!
Shutterstock