You've probably noticed that any literature about preventing osteoporosis will include a line or two about avoiding high heels. Why is that? Is there a real connection between the two or is it just vague guesswork on the part of researchers and fear-mongers?
Studies do show that there is a higher incidence of osteoporosis in women who wear high-heeled shoes for years together because of the marked degeneration in the bones. Researchers are unable to identify what exactly increases the risk but they unanimously agree that there is one. They hypothesis that the connection may be as follows and ongoing research is proving their fears true.
What High Heels Do to Your Feet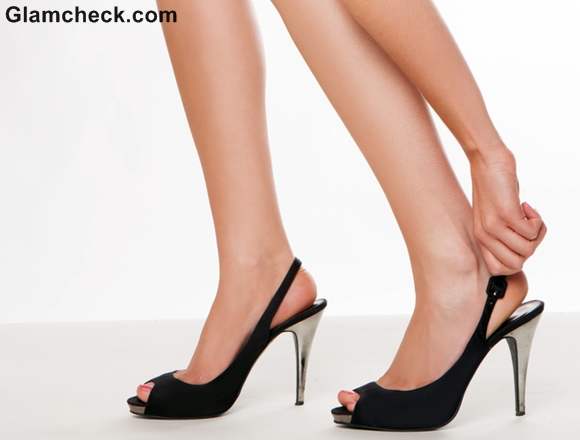 Relationship between High Heels and Osteoporosis
In high-heeled shoes, your feet are not flat on the ground but at a, usually, steep angle. The heels of your feet are at a level higher than your toes. The weight of your entire body is, in fact, pushing severely right into the bones of your toes (metatarsals).
High heels change your posture. In fact, this is the main reason that many women want to wear heels. They make you arch your back and push your bust forward which is deemed sexy. However, all this is actually changing the natural alignment of your bones which leads to your knees and lower back having to move into unnatural positions to accommodate your balance in heels. If they didn't, you'd fall flat on your face.
The above two actions in themselves are enough to make your bones more fragile but it gets worse.
Synovial fluid is a lubricant that exists in the joints of bones to reduce friction. If there were no synovial fluid, your joints would constantly rub against each other and start to erode. This would lead to pain, obviously, but it has two major implications when it comes to osteoporosis.
One is that your bones will quite literally get weaker because the constant friction will lead to loss of bone density. This is a high risk factor for osteoporosis. And two is that the lack of synovial fluid and the resulting problems can affect your balance, thus increasing your risk of a fall. Injuries to your bones can increase your risk of osteoporosis too.
Research has shown that there is a connection between prolonged high heel use and decrease in synovial fluid in the joints. The underlying cause is as yet undetermined but the statistics are undeniable.
How to Reduce your Risk
You can prevent osteoporosis by reducing the instances of risk factors in your life. There are plenty of ways to do this through diet and exercise but by far the simplest lifestyle change you can make is to not treat your heels like daily-wear footwear. Wear your heels occasionally in the true sense of the word i.e. wear them only on special occasions. If you must wear them every day to boost your confidence, well, that requires much deeper work in your personal growth and sense of self-worth, but in the interim go ahead and wear your heels while taking the following precautions.
Wear shorter heels, below two inches.
Avoid stiletto heels as these are deemed the worst by podiatrists and orthopedic surgeons. Opt for heels with a wider base such as wedges instead as they have been shown to reduce pressure on the knees.
Stretch your legs after you've gotten them out of your heels. Don't forget to stretch out your toes and calves too. This will help cramped muscles to elongate, improve blood circulation in the feet and help to get your bones back to their normal shape and alignment.
Massaging feet at the end of the day can also help.
Make use of an insole for some extra padding for your feet and bones.
Rotate your heels. Wear a 3-inch heel one day and a 2-inch one the next. This will prevent your legs from locking into a particular unnatural alignment from wearing the same heels every day.
Shutterstock