We love our flip flops. Fun, comfortable, laidback and convenient, they are the perfect accessory for summer and monsoon ensembles. Since they are dirt cheap and available in a gazillion colors, many of us inundate our foot cupboards with them. But could these fashionable must-haves be playing havoc with your health? According to experts, yes!
Apparently, flip flops mess with the natural alignment of your body and make you walk funny, even though you may not be aware of it since it is quite subtle. Not only do they ruin your gait they are also responsible for a host of other foot problems. Let's see what the podiatrists are saying and why you'd be wise to listen. First, let's cover why they change your gait.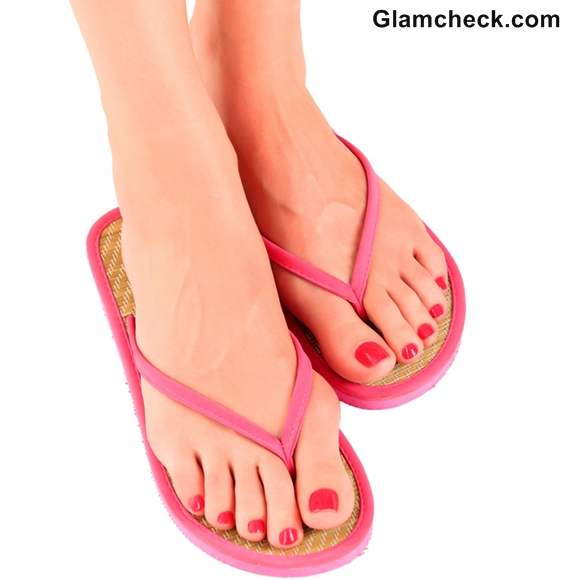 Flip Flops for health Ruining Your Gait
Normally, you'd lift your foot and land heel first followed by the ball and the toes would hit the ground last. However, when you wear flip flops, your toes are forced to make a squeezing motion to get a grip on the loosely-fitting sandals. This causes you to land toes first. Or you end up just dragging your feet and barely lifting your legs at all as you walk. These are unnatural walking strides which put pressure on the lower part of your legs, inevitably harming the upper parts of your legs as well. If flip flops are your go-to footwear and you wear them for several hours a day, you'll eventually start walking with that unnatural stride even when you are barefoot or wearing better shoes. Most of the other reasons that flip flops ruin your gait and foot health expand on this basic premise.
Non-existent Support for Your Feet
Let's face it, flip flops are nothing more than flat slabs of rubber with a strap or thong on top where your big toe can loosely slip in. They offer no support and are not designed to align to your foot's natural gait in any way.
Now many people say that this minimalist design of flip flops allows you to walk as naturally as possible since there are no heels or the toes are not squeezed in together like in a closed shoe. However, you'd be better off walking barefoot than in a pair of flip flops which do nothing more than give your feet something to worry about.
As your feet try to balance you and create angular strides, they have the additional task of keeping those flip flops on your feet. So rather than making walking easier on you, the sandals become an obstacle for your feet to constantly hurdle over. Now granted the hurdles are not so great that the wonderful machine that is your body cannot navigate them, but the continued task of managing this balance is quite a strain on the feet and legs which you ideally shouldn't be putting them through unless absolutely necessary. Think about it – if you hold your hands up to the side of you long enough, they'll start to hurt even though you aren't bearing any weight. It's the continued effort that causes the pain. The same concept applies to why flip flops are bad for your feet – the longer you wear them the more your feet have to strain to prevent injury and that's not doing them any favours. You are also more prone to ankle sprains if you wear flip flops all the time. So if your reason for wearing them is nothing more than vanity or laziness at shopping for better-suited daily footwear, ditch them immediately.
Heel and Foot Pain
You've probably noticed that flip flops are made of low-quality rubber which wears out very easily. Since they are cheap, we don't really mind much. But think about this. We've already seen that flip flops make you walk all wrong, deviating greatly from your natural stride. The soles of your flip flops will not wear out evenly. They'll wear out in the places where you apply more pressure which, just to reiterate, is not where you would normally put pressure while walking. This means there's going to be more of a wobble to your walk than ever, leading to even further misalignment causing pain in the heel, ankle, foot and sometimes even the calf.
Misaligned Joints
Flip flops create a major misalignment in everything below your hips. As mentioned before, the pressure on your toes and ankles to maintain a decent grip makes other parts of the leg fall out of alignment too. So from your lower back to your toes, there is trouble brewing with prolonged and recurring use of flip flops.
Causes Foot Injury
The reason that podiatrists are so vocal about the negative impact of flip flops is because they've seen it first-hand. More and more people who wear flip flops regularly are making grudging visits to the foot doctor's office for stress fractures, injuries to the tendon in the heel, and an inflammation called plantar fasciitis which is prevalent among flip flop wearers.
To wrap it up, flip flops are aesthetically cool but functionally unsatisfactory. You may think you're 'walking' in them but they alter your gait so much that what you're really doing is more of a 'shuffle'. Does this mean you have to throw out your vivacious collection? Maybe not. You can still wear your flip flops, but reduce how often you sport them. Wear them every day if you must but for fewer hours. Here are a few pointers to help you lessen the negative impact for when you do choose to wear them.
Since the flip flop market is quite competitive, you'll often find generic brands which are simply marked small, medium and large. This is not good enough. There is no one-size-fits-all concept when it comes to flip flops just like with any other shoes. Would you just wing it and buy a medium-sized pair of pumps? No, of course not. That would be a major fashion faux pas plus you'd probably fall down in them or struggle to get your feet in them in the first place. Flip flops are meant to be for casual wear but that doesn't mean you should pick them with casual judgment. The most important thing to ensure proper gait is to always buy a pair of flip flops (or any shoes) that are exactly your size. This will ensure that they fit you perfectly thus allowing you to get a better grip, which in turn gives you more control over maintaining the natural alignment of your body.
Buy flip flops with straps on the back or straps that tie around the ankles in a T or criss-cross shape. The straps help to keep the flip flops firmly on your feet so your toes don't have to work as much to maintain a grip on them. This still doesn't make flip flops the nicest choice for your feet, but it's a better option than the regular kind.
There are some shoe companies that recognise the flaws in flip flops and attempt to change the design of their footwear for better foot health. The modified footwear has moulded arches, thicker soles and often ankle-straps for better grip in addition to re-designed thongs that put less pressure on the toes.
Extra padding on the sole is always good. However, some podiatrists claim that cork provides more of a buffer than rubber so choose soles made of the former.
Shutterstock