The first drop of rain after months of scorching heat announces the arrival of monsoon, 'the season of rains' that seems to bring to life every particle on earth. In this season all young and old alike drench themselves in the rain to celebrate the end of summer season. This 'season of celebrations' brings smiles on the faces of everyone around and the sight is a treat to watch!
But with the joys that monsoon brings along with it, there's also a need to keep vigil on your health. If the soaring temperature of the summer season has many side effects; monsoons can also lead to severe health issues if not paid heed to. Health related problems see a rise during monsoon season, in the form of cold, flu, fever, dengue and a host of other viral infections. Having a hot cup of tea or avoiding going out there in the rain is not the way out, the changes in the weather conditions demand a little alteration in the life style.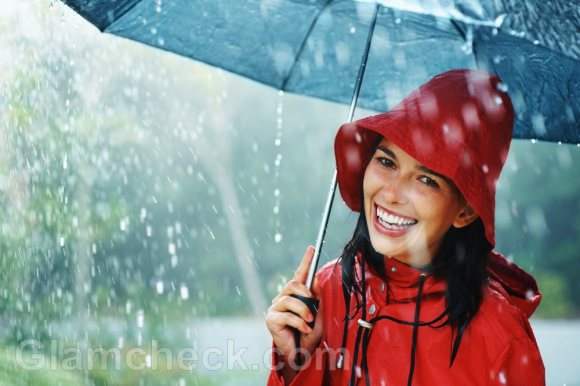 Below is the list of Do's and Don'ts that will make sure that you enjoy this monsoon season up to the hilt and at the same time stay healthy and blessed:
Do's
The following suggestions will help you stay away from diseases this monsoon season, as goes the saying –"prevention is better than cure":
Drink Boiled Water:

Since most of the monsoon diseases like dysentery, cholera are water borne, it is highly recommended that you drink boiled and purified water and drink a good quantity of it to remain hydrated during the day even if you don't feel thirsty. It is suggested to drink only those beverages that are made from boiled water and avoid adding ice to it. (Lemon water can be useful)

Intake of Green Veggies and Seasonal Fruits:

Try to make your diet full of green leafy vegetables and fruits. Green Veggies have a high amount of nutrients to keep you fit and fine, but the vegetables should be properly washed with warm water before consuming, especially if you are intending to make a salad. Intake of seasonal fruits like pomegranate, plums, litchi should be increased but avoid muskmelons and watermelons.
Maintain Good Personal Hygiene: Experts suggest that during monsoon it becomes all the more necessary to have a regular hand wash by a mild sanitizer before and after eating food to keep the diseases at bay. It can be followed with a light hand massage with Eucalyptus or thyme oil to disinfect the skin. Try to wear cotton and synthetic clothes and keep the nails clean to avoid falling prey to diseases.
Clean surroundings: Stagnant water and dirty surroundings are the breeding ground for mosquitoes during the rainy season. It is advised to air the rooms frequently (dry neem leaves can be used), change the water in the flower vases alternatively and mix a disinfectant in water to clean floors and washrooms of the home. For getting the aroma of a fresh natural scent, a tiny pouch of meshed cloves can be kept near the window or in the room.
Drink Herbal Tea: Herbal teas like ginger and lemon tea have antibacterial properties which act as a natural medication against various monsoon related diseases and keeps the body warm. So take two cups of this tea daily and get rid of toxins this rainy season.
Exercise Regularly: Although the rainy season makes it difficult for you to venture out for a stroll early morning, there is another alternative to keep the body fit. Simple indoor exercises like Yoga, some free hand exercises or a dance session in the morning can serve the purpose.
Skin Care: The humid and damp weather of the monsoon has a toll on the skin as it leads to fungal and bacterial infections. It is recommended to wash your face many times a day, apply a light moisturizer to rehydrate your face and arms and cleanse your skin regularly with an alcohol free toner as it opens up the blocked pores on your skin.
Eye Care: Eye infections like redness and watery discharge, conjunctivitis, dry eyes are a common problem during monsoon. The exposure to wind and dust should be minimized and safety glasses should be put on while moving outdoors. However if the problem persists a doctor should be immediately consulted.

Hair Care:

During monsoons the hair becomes sticky and the humidity makes sure that the hair looks very odd. A good oil massage two to three hours prior to a bath and avoiding tying up wet hair would make sure that the hair remains glowing. In addition soya, nut and milk products are hair friendly and should be included in your diet for a better hair care.
Don'ts
Stay away form the following things to stay fit and fine:
Say No to Oily and Street Foods: If you are a street food fan, try to avoid its intake during the monsoon season. Although pani puris, bhel puris and the like seem mouth watering, the food might contain bacteria which might lead to indigestion as the oily foods cant be digested by the body due to low digestion levels. "Courtesy: Humidity."

Avoid Eating too Many Mangoes:

Though being the King of the Fruits there is a reason to give a break to mango eating habit if you are a mango lover. Gorging too many mangoes during monsoon is the only reason to get too many pimples and boils on your skin.
Lowering the Intake of Diary Products: The diary products have a greater susceptibility of getting infected by germs. It is suggested to totally refuse unpasteurized diary products, raw eggs and to avoid cheese (which has not been refrigerated). Moreover the diary products which have become discolored should also not be consumed.
Don't Remain Wet for Too Long: After you have enjoyed the showers out there, it is advised that you immediately go for a shower, dry yourself up completely and wear clean cotton clothes to avoid falling prey to monsoon diseases.

Never Step out Barefoot:

  Even if you are thinking to step out barefoot in your lawn during monsoon season think twice. Make sure that you have put on a pair of slippers as dirty water can cause your foot leptospirosis and other fungal infections. After you come back home, don't forget to dry your feet with a clean towel.
Minimize the Intake of Seafood: It is recommended raw seafood and shell fish should be avoided. You should be even more careful while eating fish and prawns during this season as it is their breeding period, which otherwise may land you straight in a doctor's clinic for the treatment of a stomach infection.
Avoid Heavy Make Up: This advice is for all those ladies out there that they preferably should avoid a heavy make up this rainy season. Heavy make up blocks pores which in turn can lead to your skin becoming dry and sluggish. So the better way out is to wear a light make up or apply a water proof make up when necessary.
Monsoon is one of those seasons which brings joy on the faces of people and if you take a little time off your busy schedule to have a look at the above considerations it would prepare you well for the monsoon season. However, if the symptoms become prolonged and there are some serious health complications that interfere with your day to day life then make it a point to consult your doctor, the sooner the better as the above mentioned life style changes are among the least  of the efforts that you can put in to prevent diseases.
Image: Shutterstock.com