Boyfriend jeans and trousers are oversized jeans and trousers worn by women. Made immensely popular by the Hollywood hottie Katie Holmes, this is a trend which seems to be going really strong for Spring 2011, precisely for the reason that it looks super comfortable, roomy and airy!
So are these really borrowed from the boyfriend's wardrobe?

How to wear Boyfriend jeans
Not really. Due to the over-sized fit and as the term connotes, these seem to be borrowed from the wardrobe of the boyfriend!  However, these are meant and designed specifically for girls and are available at most online and regular stores.
How should these fit?
The fit of these jeans is relaxed, and while they sit low but are fitted at the waist, and are loose and relaxed all through the butt, thigh and leg area. Very often these are folded at the bottom into a loose cuff to further accentuate the casual air about them.
If you are not getting a pair of jeans which are classified as 'Boyfriend jeans', choose a relaxed fit in a size which is one bigger than your regular size. Ensure that while it fits at the waist, it sits a little lower than usual and the thigh and leg area are loose and roomier. Do not choose sizes which are bigger than one size as they may be too loose fitting and you may end up looking shabby.
What to wear with Boyfriend jeans?
As is the unspoken rule with most fashion items, team loose with fitting and vice versa. If you are wearing baggy, loose fitting boyfriend's jeans, team them with well fitting shirts, vests and tee shirts to present a relaxed, comfortable yet feminine look, which is carefully thought out and not at all shabby or masculine!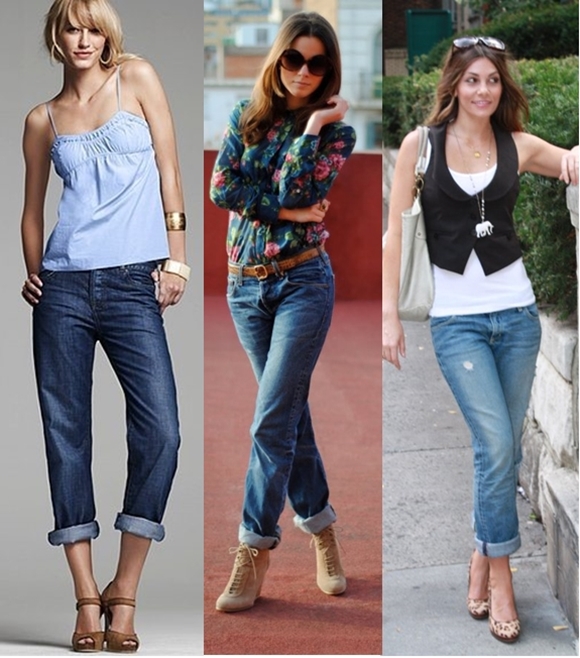 How to wear Boyfriend jeans
Boyfriend jeans are meant for casual wear and so pairing options should be accordingly kept in mind.
Rolling up the legs to form a cuff ( usually  3- 4inches wide) is common with boyfriend jeans. The rolled up jeans should sit just above your ankles, if you are proud to show off your ankles. On the other hand, if you do not want to show off your ankles, ensure that the rolled up cuffs sit just at your ankles.
Boyfriend jeans, like other jeans have many cuts – from bootleg, to flared and the good old straight. The best cut to go or is the straight cut – the look is simple yet, due to the relaxed fit, it is uniform and eye catching at the same time.
These jeans are very popular in their ripped avatar. If you prefer wearing ripped boyfriend jeans, try and keep the tops simple – solid color, not too many design features and straight cut. This will help streamline your total look. Do not have very ornate jewelery – a few casual pieces may look great, but again don't overdo it.
Belts are a good way to accessorize your boyfriend jeans / trouser and add a touch of casualness to the outfit too, apart from being functional and holding up you jeans. You could opt for single color leather belts or could try for colorful woven / printed belts as well.
As most of the jeans/ trousers are with rolled up legs, they show your ankles and feet off. Wearing interesting footwear therefore adds to the beauty of the outfit on the whole. You could opt for flat pumps, flip flops, gladiators or wedges, platforms. Extreme looks of stilettos, pointed kitten heels, sneakers and boots are best avoided with boyfriend jeans.
Boyfriend jeans look great on all types of bodies, as the fit is relaxed and casual and does not highlight any particular part of your body. Go grab your pair today and create your own look. Just remember, casual chic is the look to be achieved with this pair of jeans!