Eyewear has been around for a very long time. People have moved on from merely functional eyewear to glasses that say something personal about them. Now, it's all about making a fashion statement and that's exactly what we saw at The Milly Spring/Summer 2013 collection by designer Michelle Smith  showcased in New York on September during the Mercedes-Benz Fashion Week.
This year's collection had a sporty theme to it. The entire collection consisted of eye-catching colors and prints that were visible through a clever and artistic combination of cuts, styles and textures along with stylish accessories that helped create a sophisticated, youthful, glamorous collection.
And though we've seen a variety of accessories used for different collections, this year many fashion designers have showcased trendy eyewear which suggested that we should sit up and take notice and that's exactly what we did at this show.
Watch Out!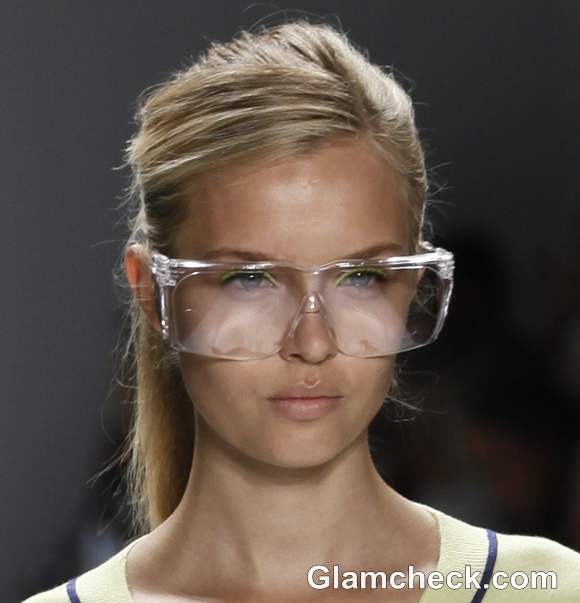 Style Pick Oversized Eyeglass Frames Milly S-S 2013
Timeless silhouettes that had an infusion of neon shades were teamed with a colourful range of clutches in colours of metallic silver, pink, white, red and black with shoes to match and eyewear that clearly stood out.  
Decoding 'The Look'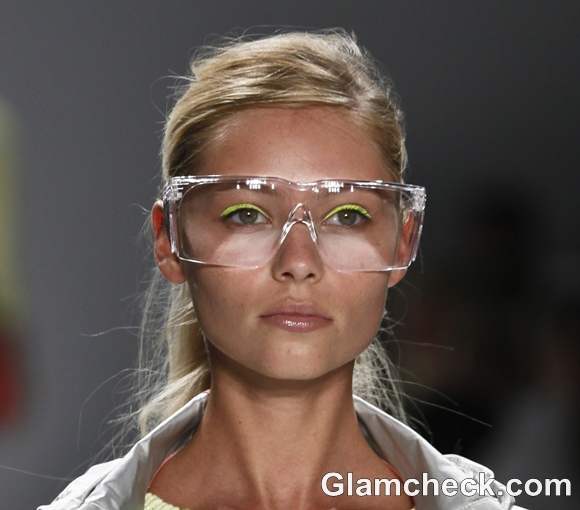 The oversized clear eyewear worn by the models could definitely be the next upcoming fashion trend. More and more people are realising the importance of eyewear as accessories be they in the form of chic sunglasses or in this case, oversized clear eyewear that reminds us of the protective glasses we once wore during chemistry class. As you can see, these glasses are far from being things of your past!
How to Look Good in Glasses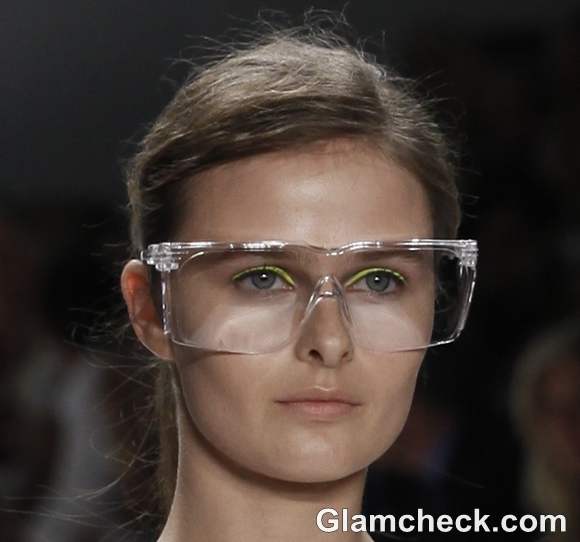 Style Pick Oversized Eyeglass Frames Milly Collection S-S 2013
Neon eye makeup is a great way to show off your eyes while wearing a pair of clear eyewear. Keep the rest of the your look as natural as possible and tie your hair off your face for maximum effect.
While wearing fashionable glasses, make sure the focus remains on them by not accessorizing too much.
You could also wear eyeglasses with colored rims or patterned frames. Make sure they don't clash with your clothes.
You could choose something minimal or something graphic and dramatic; the range of glasses available is endless.
'Nerd glasses' and oversized glasses are currently fashionable besides classic dark glasses.
Thick frames are great for when you don't wear makeup as they keep the focus on your eyes.
DIY: If you have prescription glasses, you could get the frames you like, knock out the lens in them and add your own instead.
Who's to say that only your eyes are the windows to your soul? Your glasses could say a lot about you too! So get ready to create a signature look with your glasses next summer.
Shutterstock