As, we smell spring we see a swarm of these delicate beauties all around and it definitely reminds us of Anna Sui and her love for nature. It goes without saying that Anna Sui used butterflies in her Spring summer 2012 collection also, as any of her collections would be incomplete without this playful element used in any form. We witnessed the mystical and fresh butterfly tattoos on the models feet at Ana Sui's Spring Summer 2012 collection presentation held during New York Fashion Week.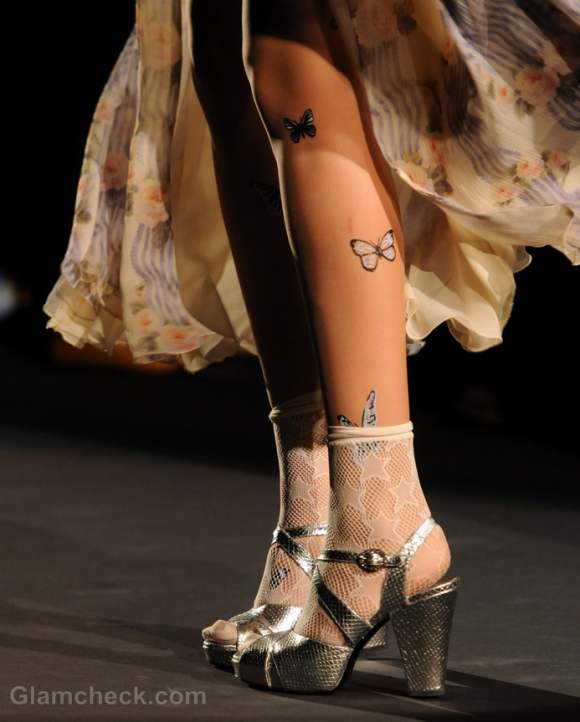 The eclectic vibe these butterfly tattoos give us, and their ability to lift up moods and souls makes it our "style pick of the day".
The collection's main inspiration came from fashion illustrator Antonio Lopez and his Paris influences of the seventies.  The dresses in the collection were a play of prints and cuts in a knock-out feminine look and the model's feet revealed those edgy tattoos. Ana Sui's collection was vintage-inspired and out of the box, as she does not believe in following the ordinary and hit up the butterfly element in a sophisticated, yet subtle way good enough to catch attention.
The collection had a glamorized 40's feel to it with retro being the dominant ingredient. Ana Sui as chirpy and pretty as the butterfly has loved this exquisite creature and has been using the element butterfly in her collections since 1992 in the form of prints, motifs, colors or accessories. The butterfly tattoos were small and big and spread out in different colors and motifs from the knee to the ankle. They were seen peeping through the netted ankle socks and the sheer stockings and left us wanting for more.
Why butterfly tattoos?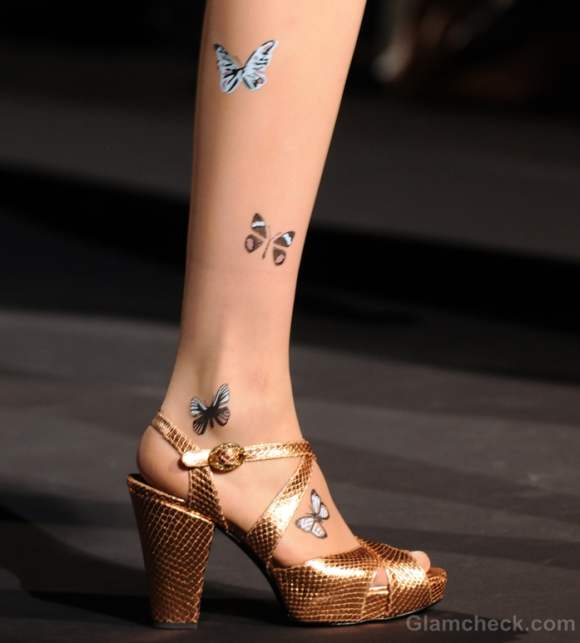 The butterfly tattoo occurs to us, as the most happening and wanted wish for every girl as it connotes mystery, feminism, freedom and life transformation. The butterfly is an ethereal creature which is nature's best creation with the colors and graceful patterns on it. Every girl can relate to a butterfly ink and this is an absolute style statement.
How to sport it?
Whether you like a permanent tattoo or a temporary one, be on the safer side and blindfolded choose a butterfly tattoo. Whether you wear it on your ankle or your back, neck or lower back butterfly tattoos look great everywhere and ooze out oomph with every outfit.
Wear them with dresses or jumpsuits or floral tops, you are sure to fit in spring well and have everyone's blood rise on the jealousy meter.
Image: Shutterstock