Rihanna at the American Music Awards 2013 stunned a lot of people with her wrapped and pinned hairstyle, but we are going to show you how the pop icon styled her Jean Paul Gaultier Couture ensemble.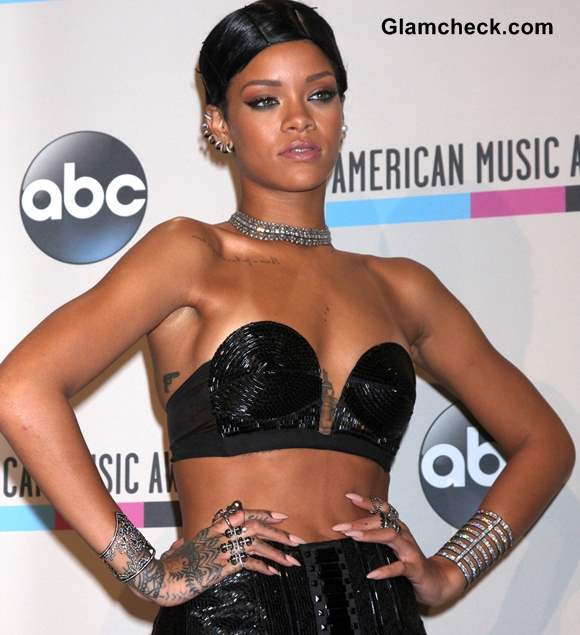 Rihanna in Silver Diamond Accessories and Graphic Tattoos at AMA 2013
She wore silver accessories to contrast it with her black outfit, and trust us, the diamonds were shining on like crazy against her dusky skin. Her jewellery included beaded rings on all the fingers by Lynn Ban, one of which was a spider ring on the index finger. A Repossi ear cuff was worn on one ear and the bracelet which was more like a thick cuff. Her other ear had multiple hoop earrings and her neck was adorned with a thin diamond studded choker bringing all the focus to her bralet.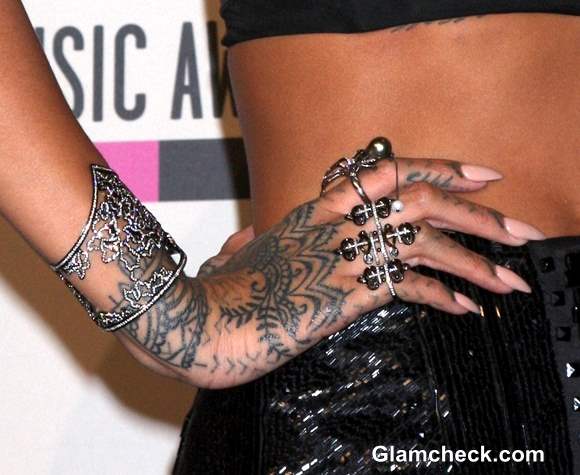 Rihanna Hand Tattoo at AMA 2013
She tried to pull of a very ghetto look and speaking of ghetto, how can one miss her tattoos? She has a total of 19 tattoos, we'll talk about a few seen here, her hand tattoo is a henna-style dragon claw which looks very tribal and covers her entire hand. The design is geometric and runs all the way till her wrist, with small hibiscuses. Coming to her fingers, she has a 'Love' tattoo on her right middle finger and a 'Shhh' tattooed on her other finger (The same as Lindsey Lohan and Lily Allen.)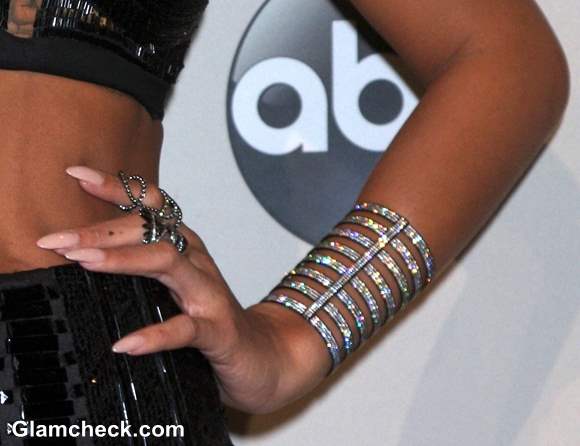 Rihanna Jewelry at AMA 2013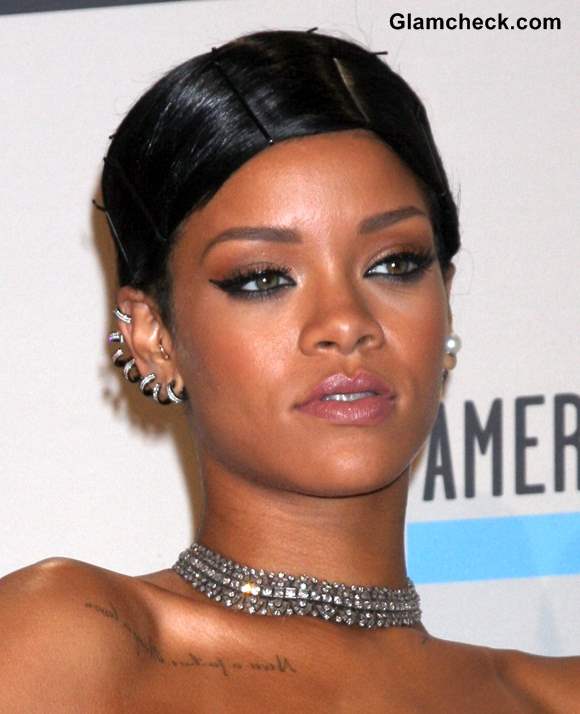 Rihanna at AMA 2013
Her 2009 tattoo included a gun tattooed below her right armpit. Then one of the biggest one is that of an Egyptian goddess, Isis, which is a tribute to her grandmother. Behind the ear, visible through her hairstyle here, is a Pisces sign. And the final one is a personal motto, "Never a failure, always a lesson", printed just below her right shoulder. Her body seems like a work of art, a wonderful piece of art!
Image: Shutterstock