The ever changing character of fashion is the factor making it dynamic. Fashion evolves with time sometimes going back to the past or by blending what already exists. Runway shows probably are the formal admission of this evolution of fashion and a point where the change is recorded.
Every part of your outfit has a role to play, aesthetically and functionally. Some more significant than others. One could still step out without your jewellery but stepping out without your footwear is a challenge one would never take! Shoes satisfy a fashion lover in irreplaceable ways which is why these hold an importance place at any fashion show!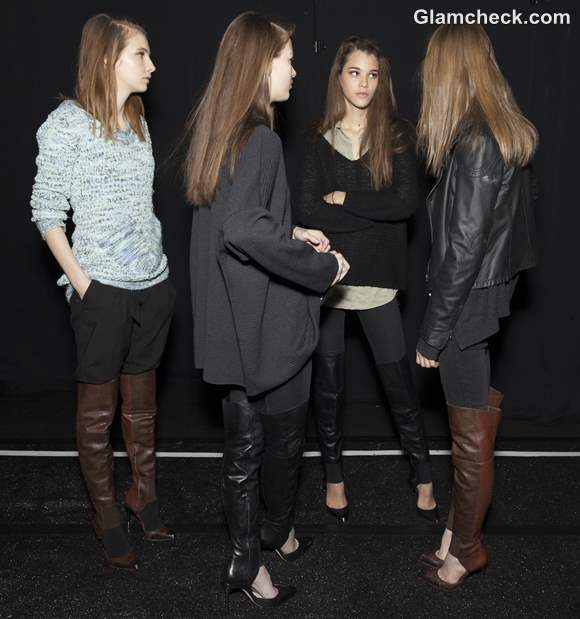 BCBC Max Azria Fall-Winter 2013  Boots
Fall/Winter is incomplete without boots. A good reason why BCBC Max Azria's Fall/Winter 2013 had featured them in a big way directing the trend for the season!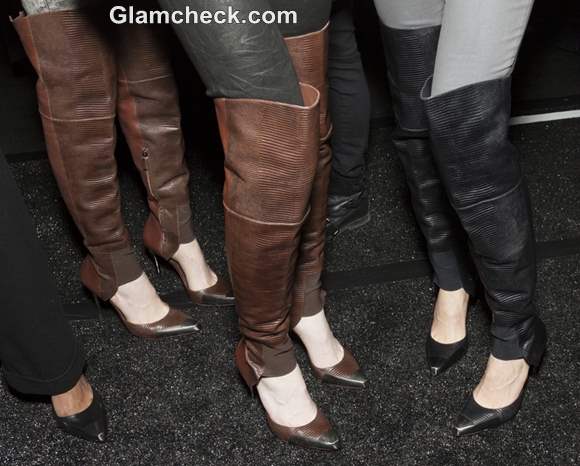 BCBC Max Azria Fall-Winter 2013 Stiletto Leather Boots
The BCBG Leather Boots
The Turkish inspired collection was a story of textures, layers and modern colors depicting the cities of Turkey. Overall the collection was an ultra- modern winter collection. BCBG Max Azria completed the collection with the finest footwear addition in the form of unique stiletto leather boots. The unique thigh high stiletto inspired boots . The boots look like pointed stilettos till the ankle and there onwards extend as striking thigh high boots. The sleek designed footwear ideally matched the modern aesthetics of the collection completing its story in the same lines.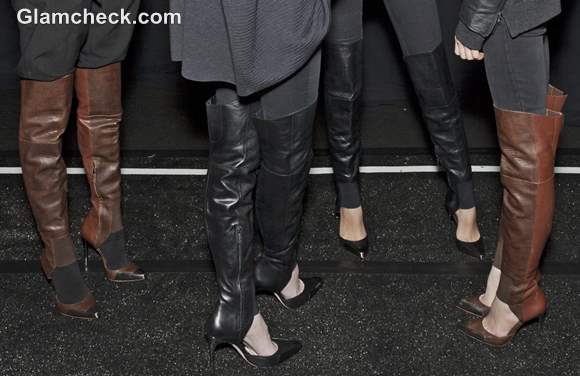 Footwear trends Fall-Winter 2013 Stiletto Leather Boots
The color scheme of the footwear was dark tan and black matching the likes of the collection and making it versatile befitting the ready to wear category.
Styling Tips:
The stilettos add a dressy streak to the footwear making it stylish winter pick! Wear these boots under a lot of bohemian layers or use these to add some edge to your simple silhouettes.
Maintenance: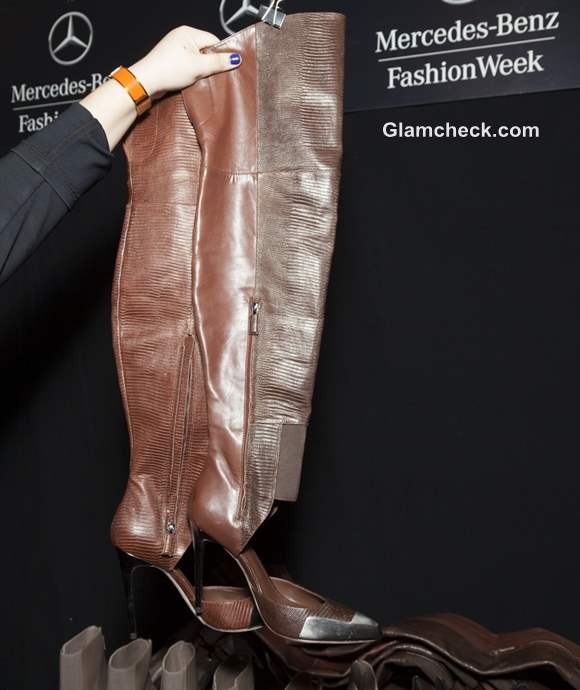 BCBG-MAX-AZRIA  Fall-Winter 2013 Stiletto Leather Boots
Though these impart a lot of style, the leather in the footwear also demands certain amount of care.
Keep these away from moisture and water and by keeping add some life to these by keeping the boots well- polished. Leather is prone to cracks, so store these in proper boxes.
P R Photos