Floral jeans, floral slacks and floral leggings have been making a stunning appearance on red carpet events and street wear looks for quite a few months now. And with phenomenal success. Floral bottoms are a practical and low-maintenance way to feminise your look and rank high on the style scale to boot. Check out Jaylen Barron as she sports the look at "The Way, Way Back" premiere as part of the Los Angeles Film Festival at the Regal Cinemas in Los Angeles, California on June 23.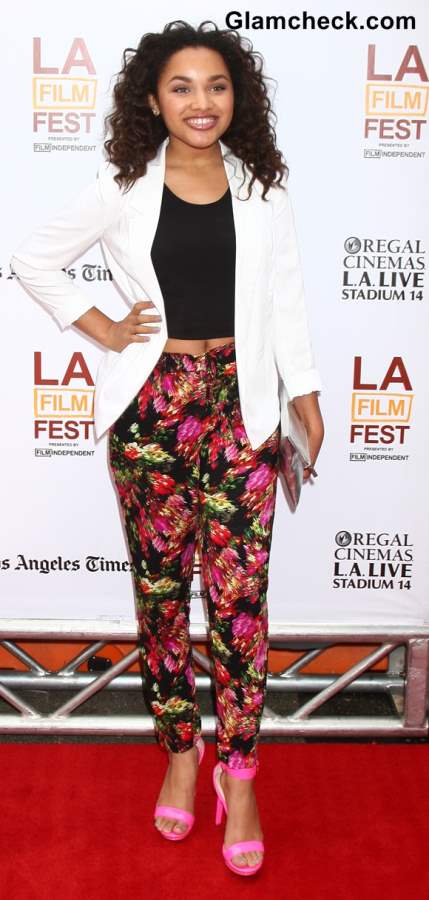 Wearing Floral Pants with White Blazer 2013
The Good Luck Charlie actress sported a pair of high-waist floral pants – bright pink and red blossoms against a black background – with a cropped black top. A crisp white blazer over that basic ensemble was what really injected it with sophistication and pizzazz. It's a little challenging finding the right color to pair with such vibrant bottoms, and white is a natural winner since it so effortlessly goes with everything. The fact that it is a blazer makes it all the more interesting since it takes her vibe from preppy casual to no-nonsense but flirty formal.
We love the other elements of her ensemble too – her silver clutch and her pink strappy heels make for the perfect accessories to balance out the multiple interpretations of her ensemble. With her hair styled in abundant curls, and a plum lippie and matching eye shadow complementing the hues on her printed pants, the young star makes quite a mark on the red carpet.
Get the Look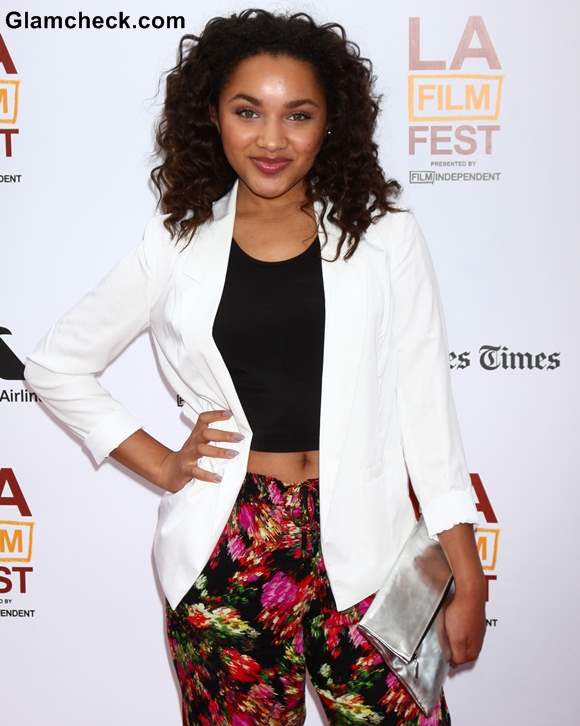 Wearing Floral Pants with White Blazer 2013 Jaylen Barron
Floral pants are an essential part of this look, so lay your hands on a pair or two to help you get started. Jaylen has chosen a darker pair but even a lighter one will look great with a white blazer if you style it right.
The next addition to the ensemble is obviously the white blazer. Find one without buttons or embellishments of any sort, something that fits you well, so that there is nothing like a bright button or an unsightly fit to mar a smooth, clean-cut visual.
Once you have these two pieces in place, putting together the rest of the ensemble is a breeze. If your floral bottoms have a darker overall hue, pick a solid top in the same color as the one dominant in the pants. Don't go with a cropped top if you have extra flesh around your tummy.
Finally, dress up the look with a pair of strappy heels, avoid boots and flats. Also steer clear of handbags or totes, choosing a smart clutch instead to complement the clean lines and the minimalistic vibe of the look. 
Shutterstock