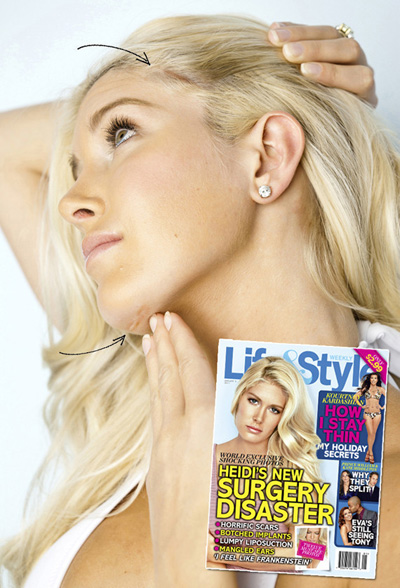 Heidi Montag had never even imagined that she would have to learn her lessons right this hard way. But once she underwent the knife, she got her won set of woes to share.
The knife had promised her a chiseled statue-like body. Unfortunately, this could not happen. Heidi talked to Life and Style about the horrifying aftermaths of the surgery that she underwent.
The implants are botched and the knives have left scars on her face and under her chin. The liposuction has left her body lumpy as well. The knife that chiseled her chin had promised her a reduced chin but provided her a 2-inch long scar under the chin. Heidi finds it " the most noticeable".  The brow lift has left 2 big bald spots along the hairline of the beauty. Now, she also has her ears pinned back, thanks to the two horrifying jagged lines behind her ears that have made it possible. The lipocustion has sucked the body fat all wrong and uneven. Lumpy legs, scary butt, cheek with scars, uneven breasts, a stretched mark across her chest, scar even in the nostril and what not.
What a sad tale!  A beauty cut by knife into nothing.