Women as a rule are more stressed out than men. They also have more hormonal problems than men. This fatal duo puts women at higher risk for sleeping disorders.
A sleeping disorder is no minor ailment or some wishy-washy, just-in-your-head thing that should be overlooked. You've surely experienced a time when you were unable to get a proper night's sleep for many days in a row due to some commitment or the other. Remember how excruciating it was and how your body and mind both ached to just go lie down in a dark, quiet room somewhere? Now imagine that scenario recurring over and over, every single day. That's what people with sleeping disorders have to deal with. There's no 'ah, when such and such thing is over I'll finally sleep properly again'. A sleeping disorder disrupts your sleep so drastically that it also disrupts your life. Here are some of the more common sleeping disorders that can affect women.
Types of Sleep Disorders in Women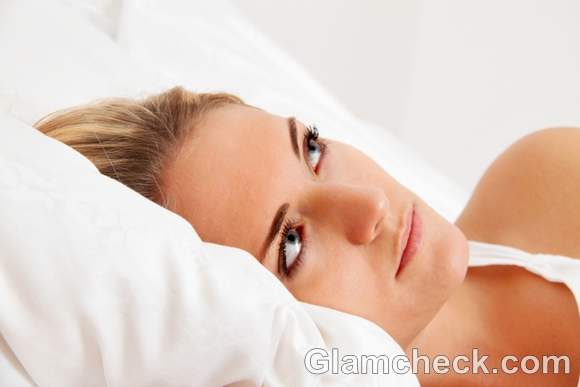 Insomnia
We've all experienced this the night before that big exam or the career-changing meeting. No amount of warm milk or walking around to tire yourself or listening to nature-sounds CDs will help you fall asleep. Insomnia is a stretched-out, more intense version of those sleepless nights. You may find it difficult to fall asleep, will wake up frequently in the middle of the night, may wake up before you've slept enough to feel refreshed, find it hard to go back to sleep when awoken, and may feel totally worn out even if you have slept all night. Insomnia can lead to more serious medical conditions, both physiological and psychological, but it can also be a symptom of a medical condition. So if you're facing many sleepless nights in a row, it's important to get help. Stress is a common cause of insomnia in women.
Narcolepsy
This is one of the more chronic sleep disorders in women. With this one, you are so overwhelmed by sleepiness several times a day that you cannot help but fall asleep. You have no control over when you will fall asleep so it can be pretty dangerous if you are, say, driving or walking down a flight of stairs. There is currently no cure for narcolepsy.
Sleep Apnea
Here, there is a regular pattern of disturbed breathing during sleep. Breathing ceases and begins many times during the night. This can be due to something as simple as the muscles relaxing in sleep or it can be a serious reason like the brain's inability to send the appropriate signals during sleep. This too is considered a chronic sleep disorder as it can lead to cardiovascular disease, hypertension and liver disease if not dealt with in time.
Restless Leg Syndrome
This sleeping disorder is characterized by an uncontrollable urge to move the legs during sleep. You may not even be aware that you are doing this, just like snorers do not know that they are snoring. This sleeping disorder is often linked to a high caffeine intake, smoking and stress.
Symptoms of Sleep Disorders in Women
The description of the sleeping disorders above should give you a fair idea of what to expect. If any of those scenarios sound familiar to you, see your doctor. Following are some of the accompanying symptoms of sleeping disorders.
Fatigue or very low levels of energy are common symptoms of sleep disorders. Because you are not sleeping, you are never really rested and your body and mind begin to unravel from the sheer stress of it.
Irritability and mood swings will occur too as not sleeping enough will have an impact on your nervous system and state of mind too.
Not sleeping will give you headaches. Not sleeping properly for long periods of time will give you some really intense ones that can have you seeing double.
Your focus will decrease considerably. You may make a lot of mistakes in tasks that you are actually skilled at.
You may feel dazed through the day, as if you are in a dream.
Lack of proper sleep affects the functioning of your digestive system. You may feel gassy, bloated, or experience a burning sensation down your throat and stomach.
Weight gain may occur. When you do not sleep enough your body automatically craves more food, especially carbohydrates. Those who sleep less or sleep badly eat proportionately more than those who sleep properly for 8 to 9 hours a night. The extra calories you take in will eventually result in weight gain.
Prevention and Treatment of Sleep Disorders in Women
The treatment for a sleeping disorder will depend on which sleeping disorder it is. See your doctor if you have any of the above symptoms and suspect that you have a sleeping disorder. Treatment may vary from using a sleeping aid for insomnia to having you hooked up to a machine while you sleep for sleep apnea. However, to treat any sleeping disorder, you actually need to make some lifestyle changes. Without those, any medical aid will only last for so long. Here are a few things you can do to lessen the intensity of your sleeping disorder, to enable permanent treatment, as well as prevent it from recurring.
Use your bedroom only for sleeping. Relegate that extra television set to the study or the kitchen. Don't bring your laptop or your work files to bed. When you use your bedroom only to sleep, your mind will get used to the scenario and will know when you enter the room that 'ah, it's time to amp down now.'
Make your bedroom sleep-friendly. Get extra heavy curtains on the windows to block out light and sound. Not possible? Wear ear plugs and an eye mask. Also try to make sure that the temperature in the room is just right for your comfort. Get a heater, a humidifier or an air cooler so that you can adjust the temperature according to your needs.
Have your last meal at least 3 hours before bed time. If this is not possible, then at least let your last meal be a light one consisting of maybe a soup or salad. If you eat a heavy meal too close to bedtime, your body will be utilising its resources to digest the food and you'll have a harder time falling asleep. What's more, the heavy meal before sleep can cause nausea, heartburn, flatulence or other digestive discomfort in the middle of the night thus keeping you awake.
Undress before bed. Don't sleep in the same clothes you've been in all day. This too will prepare your mind for sleep, in a way. Also try to sleep in as few clothes as possible if weather permits.
Try to take a bath before sleeping. It's wonderfully relaxing and if the water is warm it can help to soothe muscles tired from the trials of the day.
Avoid any kind of caffeine at least 8 hours before bed time. This includes tea, coffee and sodas. Also steer clear of foods high in processed sugars too close to bedtime.
Naps are good. Naps rejuvenate you post that mid-day slump and research shows that naps increase productivity. However, when you have a sleeping disorder, you have to watch out for how long you nap. Your naps should be no longer than 45 minutes. And try not to do them too close to bed time or they will interfere with your normal sleeping patterns.
Wake up at the same hour every day, even on holidays, no matter what time you get to bed. Sleep experts suggest that the time you wake up every day may be more helpful in treating sleeping disorders than the time you go to sleep. It can also help to regulate your body clock and may lead to better sleep overall.
Image: Shutterstock.com