Human pregnancy is divided into three trimesters, each one amounting to about 12 weeks or three months. And each trimester is characterised by unique changes in your body and in the development of your baby.
The pregnancy first trimester is usually a period of great joy, celebration and all-round excitement, especially if this is your first baby. To make sure that your pregnancy goes smoothly, make an appointment with your doctor as soon as possible so you can begin taking proper precautions straight away and the doctor can prescribe some prenatal vitamins.
Also, it would be a good idea to quit smoking and drinking, and start taking better care of your body by eating healthy, sleeping well, and exercising regularly. This should not be only during the pregnancy but throughout your life as well. After all, you'll be a mother soon. And you have to spend the rest of your life caring for your child. You can't do a good job of that unless you take care of yourself first.
Pregnancy Symptoms During The First Trimester
During the pregnancy first trimester, you may not notice many changes in your physical body. In fact, many women do not even notice that they are pregnant till about 6 weeks into the pregnancy. But you will experience several symptoms that indicate changes on a microscopic and hormonal level. You may not experience any symptoms at all. Every woman is different, so the range and intensity of symptoms will differ, as will the time she begins to experience them.
The following are the most common pregnancy first trimester symptoms experienced by the majority of pregnant women. These symptoms will usually last only for the duration of the first trimester of your pregnancy. After that, you will have plenty of other symptoms to deal with.
Nausea is caused by the upheaval of hormones that occurs in the beginning of pregnancy.
Morning sickness, a real misnomer since it does not just occur in the morning. You may throw up after you eat something, or are exposed to strong smells or even if you are stressed, at all times of the day or night.
Fatigue is quite normal in the early stages of the pregnancy first trimester, especially during the first six weeks. This is simply your body's way of ensuring that you get more rest. You'll feel exhausted all the time even if you have slept a good eight to ten hours at night.
Sore or tender breasts are normal during the first trimester of your pregnancy as your mammary glands undergo changes that will allow you to feed your baby when it is born.
Mood swings, another effect of raging hormonal changes last from the first trimester to the end of your pregnancy.
Aversion to foods that you may have previously enjoyed may occur right from the first trimester itself.
Cravings for strange combinations of foods like pickles and ice cream are common during the pregnancy first trimester.
Increase in the frequency of urination is common as the growing uterus puts pressure on the bladder. This should ease somewhat by the end of the first trimester as the uterus moves upwards.
Indigestion problems are rampant not just in the first trimester but throughout the pregnancy. This is mainly due to the extremely high levels of progesterone that are produced by your body during pregnancy, which causes the intestine's muscular contractions to slow down. This not only causes indigestion but also gas and heartburn. Your growing uterus also puts weight on the intestines and the rectum, thus causing constipation.
You will not gain considerable weight during the pregnancy first trimester. Your regular clothes will still fit and you won't really have to let them out or buy new ones till the fourth month or the second trimester of your pregnancy. However, your stomach will distend slightly from around the tenth week onwards.
You will also notice a change in your eating habits. Some women find that craving begin in the pregnancy first trimester itself, as does the need to eat for two. This is quite normal and you will find that you are eating almost twice as much as you did before you were pregnant. But make sure that you are eating healthy so you do not put on too much weight during your pregnancy. Getting the weight off afterward can be a pain in the neck, and near impossible for a busy mom with a new baby to take care of.
What To Watch Out For in The Pregnancy First Trimester?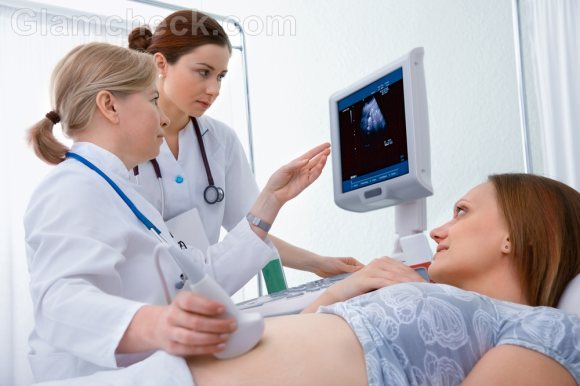 Miscarriages usually occur in the pregnancy first trimester. So it's important to be on the alert for any unusual symptoms.
Bloody discharge that lasts longer than two days. While some spotting is normal, it should be very light and not last more than a day or two. Any longer than that and you need to see your doctor.
Swelling of hands or feet. Some swelling is OK during the later stages of pregnancy, but not in the pregnancy first trimester.
Pain or burning sensation while urinating. This could indicate a urinary tract infection.
Excess vomiting is another pregnancy first trimester symptom that could indicate a problem. Some nausea and vomiting is ok. But if it gets so bad that you can eat or drink nothing without bringing it all back up within minutes, then it's time to see your doctor for a checkup.
Blurry vision and/or constant headaches
Fever. Usually a sign of an infection.
If you have a nagging feeling that something is wrong but are not experiencing any weird symptoms during your pregnancy first trimester, tell your doctor. It is not unusual for women to develop a strong connection with their bodies when they are pregnant and to have an intuition when something is going wrong. If you are hesitating about seeing a doctor based on no concrete evidence but your feelings, remember that it is better to call your doctor and find nothing wrong than to do nothing and have complications later.
What's Happening With Your Baby In The First Trimester
After fertilisation and implantation, your baby will develop from a ball of cells to a barely discernible human embryo in the first trimester. Your baby's eyes, ears, nose, respiratory system, nervous system, reproductive system, hands, feet, digestive system, and other vital organs will bud. Some of the organs will even have developed into miniature versions that will start functioning. The placenta and the umbilical chord will also start to develop, and they will form completely by the end of the first trimester.
Image : Shutterstock