Good oral hygiene is of utmost importance, both from the health as well as the cosmetic point of view. Everybody desires sparkly white teeth to flash that dashing smile. Teeth whitening is not something that is reserved exclusively for celebrities and those who face the paparazzi on a daily basis.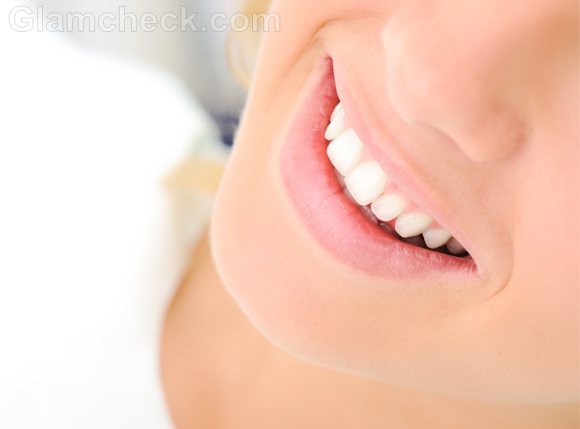 Teeth whitening tips can be of great help to almost everyone out here as discolored and stained teeth pull down the aesthetic appeal of a person and blotch up the first 'best' impression that everyone desires.
Causes of Teeth Discoloration and Staining
Tooth discoloration and staining are similar, but not the same. There is no perfect shade of white when it comes to teeth as there will be variations from one person to another and mild aberrations usually go unnoticed. With all the various items that go in and out of the mouth, it is only natural that the teeth pick up stains in the process. Brushing everyday takes care of the basic needs but certain hardened stains cannot be removed by brushing alone.
Some stains may be internal, that is, emanating from the tooth pulp at the time of tooth formation itself, without any external interference. This is mainly genetic, and there is not much we can do to prevent such staining. Teeth also discolor with age due to extensive wear and tear over the years.
Most of the stains are acquired and accumulated over time and is closely linked to one's eating habits and lifestyle. Smoking and tobacco chewing have deleterious effects on the teeth. If left untreated, these stains have the capacity to penetrate deep into the teeth, and can be very difficult to remove. Tannins in coffee, tea and other beverages are the culprits responsible for the dark brown staining seen on the teeth.
Quick Tips to Keep Them Clean
Brushing regularly, and carefully is the best prophylaxis.
Flossing the teeth regularly helps protect against plaque and tartar.
Stay away from all forms of tobacco – chewable and smoke. They cause extensive staining of the teeth.
Eat fruits and vegetable with high fibre content and drink lots of water to keep the oral cavity free from any left over food particles that might, over time, give rise to plaque and tartar.
Easy In-Home Teeth Whitening Tips
Visiting the dentist is always the best option but before doing that it makes sense to use items available in the house to take care of the teeth. The best teeth whitening tips are those which make use of everyday items at home. Some of the in-home teeth whitening tips are very simple and are also deliver quick results.
The Baking Soda and Common Salt treatment is one of the oldest and most preferred ways to keep the teeth sparkly white.
Hydrogen Peroxide can be mixed with baking powder and applied on to the teeth to remove stains.
Home made teeth whitening toothpaste : To prepare your own whitening toothpaste all that need to be done is this. Mix Hydrogen Peroxide and Baking Soda in a 1: 3 ratio. Glycerin should be added to this paste and mixed thoroughly till the required toothpaste like consistency is reached. Regular use of this concoction provides immense relief from stained teeth.
Brushing with apple cider vinegar is another great teeth whitening tip as it improve the color of teeth and removes surface stains.
Lemon juice in its concentrated natural form is a potent stain remover. This should not be used very regularly and should be used in moderation as it might cause damage to the outer enamel layer of the teeth resulting in tooth sensitivity and a whole lot of other problems. Strawberries and oranges have amazing teeth whitening properties as well.
Certain food items trigger increased secretion of saliva and help wash away any debris that might stick on to your teeth and cause trouble later. Apples, pears and celery are the most famous in this category.
Apart from the natural cures, several home teeth whitening systems are available in the market which are easy to use and are able to show visible results with proper and regular use.
The teeth whitening tips mentioned here are rather simple and non fussy. It is very affordable as well and should be incorporated in the regular oral care regimen to prevent any new staining or aggravation of any existing stains or discoloration.
Teeth Whitening Products in the Market
Most topical teeth whitening formulations are Hydrogen Peroxide based. Teeth whitening products are available in various forms – gels, pastes, solutions and strips. Most of the teeth whitening formulations are available over the counter in pharmacies and general stores.
A careful look at the ingredients as well as the how-to-use information is important before buying any of the products. The procedure and guidelines should be followed strictly as mentioned. Some of the more popular teeth whitening systems are listed here.
Whitening Toothpastes : Several oral care brands have come out with their own breed of teeth whitening products in which whitening toothpastes occupy a prime position. With regular use these toothpastes are successful in removing surface stains. Some of the commonly used ingredients in whitening toothpastes are hydrogen peroxide, baking soda and fluoride. These toothpastes have certain mild abrasives that help remove light stains on the surface.
Teeth Whitening Swabs : Using swabs to apply whitening solution on the teeth is an inexpensive way of keeping the teeth free from yellow stains. Many products in the market come with trial offers for their products. These have gained a lot of popularity mainly because of the fact that they are inexpensive and easy to use. There is no special technique involved here The swabs need to be dipped in the whitening powder of solution and directly applied on to the teeth. It is one of the quickest ways to get the teeth cleaned.
Teeth Whitening Strips : Whitening strips are available over the counter and are quite inexpensive. These strips, coated with peroxide, are placed on the teeth and have to be held in position for sometime for results. Comparatively, these are not all that easy to use and require little time and patience.
A Little Help From the Dentist
In-home teeth whitening products are available in plenty, but when the situation is beyond repair it is best to consult the dentist and get some expert advice and treatment.
Dental bleaching is one of the most common dental procedures to remove any discoloration or staining. Dentists also make use of laser as well as diodes to get rid of the stains. In the laser treatments, translucent gel is applied on the teeth and the laser is allowed pass through the gel and activate it. The activated gel then penetrates the tooth's enamel layer to remove superficial stains. Laser bleaching, though quick and effective, can be quite expensive.
Scaling is another very common procedure to remove hardened stains, plaque and tartar. Electric and sonic scalers are used by dentists these days to ensure effective and complete plaque removal.
Depending on the extent of damage the in-office or in-home treatments should be chosen. Regular visits to the dentist is necessary for proper assessment of oral health and hygeine. The simple teeth whitening tips should be incorporated into the daily routine to keep the teeth in sparkly, pristine and a picture perfect condition.