What is Brittle Nail?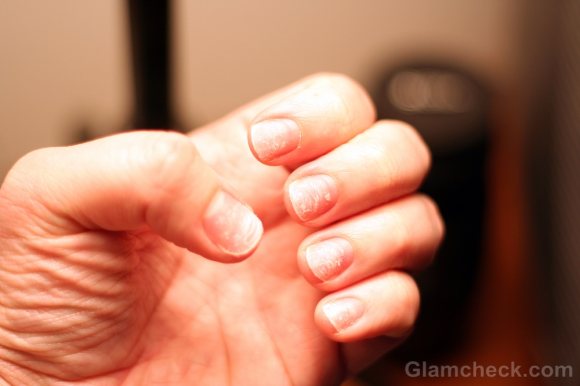 The problem of brittle and dry nails is faced by many women. Brittle nails refer to thin, weak nails which easily break, crack, split, tear, or peel, besides featuring slow growth. The common condition of brittle nails is usually not associated with a known cause. Various medical conditions can impinge on the shape and texture of the finger nails. Brittleness of nails, implying that the nails get chipped or cracked easily, may be a pragmatic sign of aging or even as a result of the long term exposure to moist conditions or use of nail polish. The term 'onychoschizia' implies splitting of fingernails and soft or brittle nails. However, natural medicine can, to some extent, help in strengthening the affected nails.
What leads to brittle nails?
The texture and shape of finger nails can be affected by numerous medical conditions. Very often, brittle nails are normally a result of aging, but may also come up as a result of certain diseases or medical conditions. The problem of brittle nails in women is commonly referred as Onychoschizia which includes brittle, splitting, and soft or thin nails.
Brittle nails can be an outcome of a basic medical condition, like Raynaud's disease, hypothyroidism (low thyroid function), or lung conditions. Other probable causes count skin diseases like psoriasis, alopecia areata, and lichen planus, in addition to endocrine disorders, Sjorgen's syndrome, tuberculosis, and malnutrition. Brittle nails can also be caused by selenium poisoning.
Some other common causes of brittle nails are explained below:
Brittle nails can be an outcome of eating disorders like anorexia nervosa. Anorexia refers to a medical condition characterized by a strong fear of gaining weight. Since people suffering from anorexia are obsessed with food and limit their nutrition intake extremely, they may not be able to maintain healthy nail cells. Generally, anorexia needs a combination of medical and psychological intervention for treatment, as per the US. If anorexia is a long-standing issue, the weakness caused to the nails might be permanent.
Part of vitamin B complex, Biotin, is helpful to the body in metabolism of amino acids required for the formation of healthy nails. Although cases of biotin deficiency are rare, not getting sufficient biotin in your daily diet can make the nails fragile and brittle. Biotin deficiency can be covered by taking supplements or biotin rich foods such as sardines, egg yolks, nuts, whole grains, and beans.              
One of the most common causes of brittle nails is counted in stress. Stress not only affects the physical and psychological health of an individual but also leads to certain dermatological problems like brittle nails, acne, hair loss etc. Brittle nails indicate an external signs of stress developing through picking nails or nervous nail biting when a person id under stress. Another sign of stress is indicated through rubbing of fingers over the thumb nail thus causing nail plate deformation and further brittle nails.
Vitamin deficiency is another common reason for brittle nails. Vitamins such as vitamin A, vitamin B, Vitamin C, vitamin E, inositol, folic acid, and biotin are necessary for mitigating the undesirable effects of free radicals, a detrimental by product of smoke, sunlight, and pollution on the nails.
Iron deficiency or anemia implies a health disorder developing through the lack of sufficient healthy red blood cells in the blood. These cells are the most important transporters of iron and oxygen into the various parts of your body. Therefore, iron deficiency can lead to fragile or brittle nails.
Aging can lead to slowed growth of nails as well as dull, yellowish, or brittle nails since the flow of natural oils and moisture towards the nail bed decreases. A deficiency of moisture or even excess moisture can make the brittle condition of your nails even worse. Detergents, dry heat, harsh chemicals like nail polish remover egg on brittle and cracked nails. Conversely, too much hand lotion or moisturizer and excessive time underwater makes the nails too soft to get torn.
Generally, the nails get dry in winters due to extreme hand washing to be healthful and also because of all the dry air generated from heaters surrounding you.
Frequent use of nail polish remover, especially the one containing acetone, can make the nails dry thus leading to brittle and fragile nails.
Chemotherapy or radiation treatment not only destroys fast increasing cancer cells but also affects normal and healthy cells in your body thus leading to numerous problems like yellow, fragile, and brittle nails.
Some other causes of brittle and fragile nails include malnutrition, low humidity environment, fungal nails, nail patella syndrome, and prolonged exposure to water.
How to identify brittle nails?
Generally, brittle nails are not related to a medical disease. The brittle condition of nails is one of the most common ones faced by almost 20% of the people. However, the problem of brittle nails is more common in women as compared to men. The most common sign of brittle nails is that they peel or break off in horizontal layers, beginning at the free end of the nails. Some other signs and symptoms of brittle nails include:
peeling at tips of the nail
easy breaking
slow growth of nails
How to treat brittle nails?
Care for brittle nails is quite easier than it seems to be. Everyday errands can produce effects on the nails' conditions. However, by keeping the following points in mind, the nails can be brought back to their condition very soon.
The main points of care for brittle nails include:
Water
Nails can be affected by even being dehydrated. The problem of brittle nails can, therefore, be dealt with through more water intake and rubbing olive oil or moisturizer on the nails.
Biotin
Years aback, it was discovered by researchers that Biotin is helpful in improving the brittle condition of nother ails. If you are facing the problem of brittle nails, taking Biotin rich diet or biotin supplements can be of great help. Suggested amount of Biotin supplement is 2.5 mg.
Nail polish remover
Every woman likes to have nail polish applied. But, be careful with what you are using to remove the nail polish. Numerous products include harsh chemicals like acetone which strips out the moisture from nails thus leaving them to get fragile and brittle. Therefore, try to use a nail polish remover that does not contain acetone so as to avoid worsening condition of your nails.
Protein
Proteins formed by amino acids are considered as the building blocks of the human body. These are highly important for they produce new cells and repair tissues. Protein intake will, undoubtedly, help in getting strong and healthy nails. Including some vegetables and beans on your plate is a good choice. Besides, adding some fish to the menu may also prove to be beneficial. Some good sources of protein include peanuts and lentils, in addition to cauliflower. Fish like salmon and mackerel contain fatty acids which can be used by the body to strengthen your nails.
EFAs (essential Fatty Acids)
As is well known, EFAs are important to be included in diet. However, most of us are unable to obtain ample amount and end up having the wrong types of fats. The EFAs, like those contained in fish oil, provide a wide range of health benefits like helping with hair, PMS, arthritis, and especially brittle nails.
Vitamin deficiencies
Other vitamins which, if deficient, may lead to brittle nails include iron, zinc, vitamin E, vitamin A, and selenium. The brittle and fragile condition of nails indicates poor diet and probably other health problems. It is, therefore, always a good choice to make your diet better by eating ample amount of vegetables in addition to multi vitamin or supplement especially for improving the strength of your nails.
Keep them moist
It is a well known fact that the nails become naturally hard and brittle every time they get dried out. To keep them moist, it is advisable to apply some moisturizer on the nails at least one or twice on a daily basis. However, applying some petroleum jelly, like Vaseline, can also help.
Avoid soaking
Fingernails have a tendency to absorb remarkable amount of water. It sounds to be helpful for brittle nails but it is actually not so. The nails expand on absorbing water, and the contract on getting dried. Increased repetitions of this cycle make the nails weaker. It is, therefore, recommended to keep your nails dry whenever possible.
Cover them up
One of the best methods for protecting brittle nails includes covering them with gloves every time you are working in rough environments, like in a mound of garden soils or in a sink full of hot, soapy water.
Treat them respectfully
Your nails are tough, but note that they are not purchased from a hardware store. They should, therefore, not be expected to do double duty like tools. Screwdrivers, scissors, tweezers, and staple removers were invented for a reason. Give your nails a break by using these tools. Lesser use and abuse of finger nails increases their probability of being stronger.
Regular trimming
As compared to short nails, the longer ones are more fragile and prone to breaking. This reason is sufficient to keep your nails short. To make the task easier, soak them in water for a few minutes and then trim them, or trim your nails right after taking a bath or shower.
Apply specialized products to nails
There are various products available to help you treat dry and brittle nails. Many of these products are same as a nail polish, entailing you to apply the product on the brittle nails to help treat them. 
Enjoy some elegance
Even if you don't like using rainbow colors, it is recommended to apply a little nail polish to make your nails strong besides helping them preserve their natural moisture.
Home remedies for brittle nails
Here are some effective brittle nails remedies to help you do away with this problem permanently.  These include:
Vegetable oil is helpful in retaining the lost moisture resulting from frequent exposure to water. You can apply vegetable oil on your nails by using a cotton swab. Massage this oil onto the nails and repeat this remedy 3-4 times daily. This oil helps by adding more moisture to brittle nails besides increasing blood circulation.
The tea tree oil can also help brittle condition of nails without producing any side effects.
Soaking painful ingrown nails in warm saline water can help ease the pain in addition to reducing swelling. Add one tablespoon of salt to a quart of water and soak your nails for 30 minutes. This remedy is helpful in trimming hard nails. Try to immerse the nails in the solution for approximately 5-10 minutes prior to the trimming process.
Put in one tablespoon of honey to only some drops of lemon juice and olive oil and apply it on your nails to treat brittle and fragile nails.
Using these remedies for brittle nails can be helpful in avoiding further injury and damage to your nails. It is important to ascertain that you take in healthy diet in addition to following an effective nail care regime so as to maintain the health and strength of your nails.
Image: Shutterstock