Try visualizing an appealing breakfast spread. Chances are that you include a tall glass of orange juice in there somewhere by the side of the toast, eggs or oatmeal. Orange juice is one of the most beloved beverages in the world. It may not be as popular as tea or coffee, but there are few who would say no to a glass of freshly-squeezed OJ.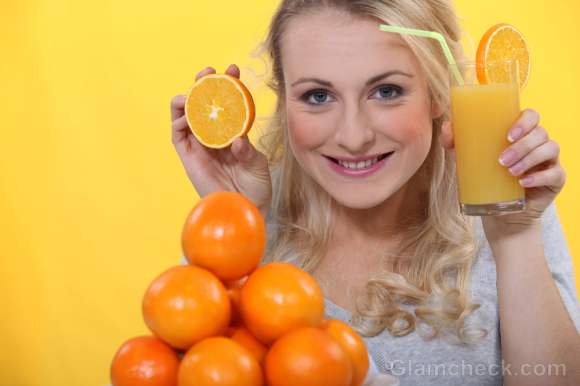 Orange juice is sweet, flavorful and refreshing. From the very young to the very old, everyone can enjoy health benefits of orange juice even with as little as 1 cup a day. You probably drink orange juice quite often without knowing how good it is for you. Let's take an in depth look at the benefits of orange juice so that the next time you're glugging down a glass of the stuff you will be aware of exactly how much you are improving your health.
Orange Juice Nutritional Information
Before we look at the benefits of orange juice, let's briefly cover what exactly in the orange juice makes all the wonderful benefits happen.
Antioxidants
Vitamin C
Calcium
Potassium
Folate
Protein
Thiamin
Vitamin A
Choline
Magnesium
Phosphorous
Orange juice has no cholesterol or sodium. Although it is high in sugar, it has negligible amounts of fat.
Health Benefits of Orange Juice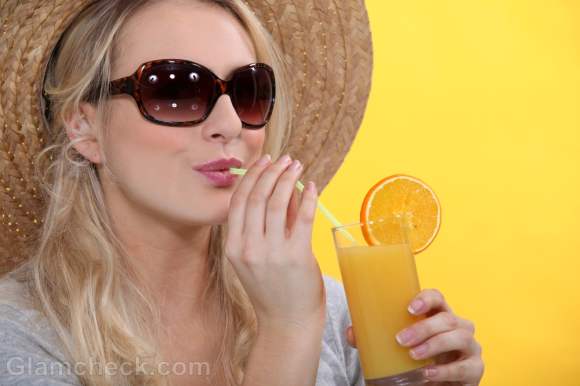 Before we get down to the benefits of orange juice, let's get one thing straight. It is not a miracle drink, of course. Orange juice will only work its magic if it is a part of a healthy diet and exercise routine. If you have a largely unhealthy lifestyle and think that you can gain the benefits of orange juice, you're just setting yourself up for disappointment. Get real. There is no quick fix for health problems. But if you are serious about getting your health on track and improving your body by taking practical steps with daily mindful decisions, then you will definitely gain the benefits of orange juice listed here.
Improves Immune System
One of the best benefits of orange juice is that it boosts your immune system in general. This means that your body will be better equipped to fight off common illness. You can bid those pesky flu bugs and colds goodbye simply by drinking a glass of orange juice everyday.
Lowers Blood Pressure
There are hundreds of studies which show that one of the main benefits of orange juice is its ability to significantly lower blood pressure in men and women of all ages. Orange juice increases and improves the flow of blood in the body. It also maintains the health of your arteries.
Lowers Cholesterol Levels
You will find that the benefits of orange juice are mostly about lowering your risk for several diseases and lowering the levels of all the bad stuff that makes you unhealthy. No surprise then that orange juice is a great addition to your diet if you are attempting to lower your bad cholesterol. It is recommended to have 3 cups of orange juice a day for at least a month before you will see a positive difference in your good and bad cholesterol levels.
Prevents Cardiovascular Disease
The vitamin C and abundance of minerals in orange juice makes it an essential food to keep heart disease at bay. The benefits of orange juice for the cardiovascular system are numerous, each as amazing as the last. The same benefits of orange juice that lower blood pressure do their part to keep your heart healthy.
May Prevent Cancer
The antioxidants in orange juice may serve to prevent cells from turning cancerous. The value of antioxidants is still debated by cancer researchers, but they do not refute the idea altogether. So if you are at high risk of cancer
Another of the wonderful benefits of orange juice is its ability to protect the cells from that damaging effects of free radicals.
Aids Healing
The folate in orange juice is vital in the creation of new cells. So it is extremely helpful in the                          healing process. This is why patients who have just had surgery are told to drink orange juice for at least six weeks after their procedure to take advantage of the healing benefits of orange juice.
Helps to Absorb Iron
The vitamin C in orange juice helps the body to better absorb iron. Without vitamin C, iron will just pass out of your system. So when you are taking iron tablets, you are also prescribed vitamin C tablets. But a better alternative to this is to get your vitamin C from the food you eat. Pregnant women and those suffering from anemia should take advantage of this most wondrous of benefits of orange juice.
Pain Relief
One of the benefits of orange juice is that it has anti-inflammatory properties. People who have arthritis have reported relief from excruciating pain if they include orange juice in their daily diet. It is thought that these anti-inflammatory benefits of orange juice may help to prevent the onset of arthritis too.
Good for Weight Loss
It is thought that a combination of the vitamin C and antioxidants in orange juice can help with weight loss. While it is true that both these compounds can help in losing weight, there is little scientific evidence to support this claim. But there are plenty of people who claim that orange juice has helped them achieve their weight loss goals.
This is one of the more highly debated benefits of orange juice and it may not work for everyone. Maybe it is just wishful thinking on the part of folks who claim to have lost weight after drinking orange juice. Or maybe orange juice does really help with weight loss but on a very small level. So while you are free to drink orange juice with the intention of losing weight, do not get your hopes too high.
How to Get The Best Benefits of Orange Juice
We've already seen the multiple benefits of orange juice. But that does not mean that all the orange juice on the shelves of the supermarket embody these health benefits. Let's see what type of orange juice you should be looking for to get the best benefits of orange juice.
Most of the orange juices available today are not natural. What this means is that although they may indeed be made from real oranges, there are plenty of other things in them too which have been added to change the taste or to prolong the shelf life. For example, natural orange juice is sweet, but it has a slightly tangy flavor which is not always appreciated. To mask this taste, manufacturers will add chemicals and extra flavoring which appeals to children or those with a sweet tooth. Orange juice is anyway quite high in sugar so that extra dose of artificial sugar is no good at all. You may as well go have a soda. Another example of how orange juice is not natural is that it is sure to contain preservatives since it has to last in that package for at least six months. And although preservatives are labeled 'food grade' they are chemical based and there is not enough research on how it can negatively affect your health.
So how do you avoid this? How can you get the benefits of orange juice if there's so much junk in the packaged version?
Choose Freshly Squeezed Over Packaged Orange Juice
The answer is simple. To get the best benefits of orange juice simply have freshly squeezed orange juice rather than the packaged kind. There are several economically-priced juicers available today. Plus, oranges are available all year round. You may find that this is a little more expensive than drinking packaged orange juice. But if you really want the best benefits of orange juice and you can afford it, then you should seriously consider switching to freshly squeezed orange juice as often as possible.
If Packaged, Choose the No-Sugar, All Natural Variety
While it is all fine and dandy to suggest drinking freshly squeezed orange juice to get the best benefits of orange juice, the fact remains that not all of us have the time or the money to be able to do this. And the harder something is to do, the less likely most of us are to stick to it in the long run.
Fortunately, there are healthier packaged juice options available today. To get the best benefits of orange juice with the packaged ones, look for orange juice which is 100% natural and which has no added sugar. There are some more expensive versions that use organically grown oranges and which use natural preservatives. Be warned though that this last will not last in your fridge as long as the commercial variety. Also try to look for orange juice with the pulp as this is considered healthier in addition to giving you extra fiber which will help with digestion.
Moderation is Key
Orange juice is not water so it should not be treated as such. A cup of it a day is enough to get the health benefits of orange juice. Orange juice is pretty high in calories too so do not drink too much of it or you'll soon be piling on the pounds. Drinking orange juice after exercise is one of the best ways of gaining the benefits of orange juice and negating the bad points. The high sugar content will replenish your exhausted cells and the calories will be burned away almost immediately. This is what makes it a great post-exercise snack. But again, a glass of it is more than enough. It is a fallacy to think that the more you drink the more benefits of orange juice you will get.
Other Orange Juice Information
Since orange juice has a high acidic content, too much of it can damage your teeth. To prevent this, you can either sip your orange juice through a straw so that it does not touch your teeth much or you can rinse your mouth out with water after you are done drinking it. Also, do not swirl the orange juice around in your mouth as this will just get it directly on your teeth.
The acidic content of orange juice means that you should avoid this beverage when you have an upset stomach or if you suffer from stomach ulcers.
Orange juice is one of the most convenient ways to get your daily dose of super-nutrition. Oranges are an easily available fruit. If you can't find oranges where you live or you are too busy to have freshly squeezed orange juice every day, you can fall back on the plethora of packaged and bottled orange juices in the market as long as they are 100% juice with no added sugar. So go down a glass of OJ and gain these great benefits of orange juice today.
Image: Shutterstock