Summer is just around the corner. The days are already hotter and you swear that you don't think you can tolerate the temperature going up even one more degree. Granted, the summer heat can get to the best of us. But summer is also one of the most beautiful seasons of the year and there are things you can do then which you cannot enjoy in other seasons. So don't let the heat put a damper on a summer of fun. Instead learn how to stay cool in hot weather so you can beat the heat and get your summer groove on.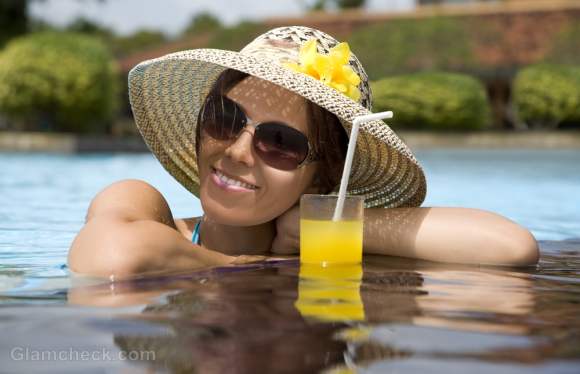 Here are some really simple ways in which you can stay cool in hot weather. If you keep them up through the summer months, there's no reason you have to bear the brunt of the excessive heat. Let's first take a look at some of the more obvious ways to stay cool and then cover some not-so-obvious cooling tips.
Stay Hydrated
With water, not with colas and juices although the latter is an OK alternative if you are bored of plain water. However, nothing beats a couple of litres of plain water when it comes to providing your cells and organs with moisture. If you remain hydrated from within, your body will do a better job at regulating surface (skin) temperatures too. Have a hard time getting your daily recommended water intake? Try drinking just one cup of water every hour. That will sufficiently hydrate your body and you won't keep wondering how much water you need.
Change your Diet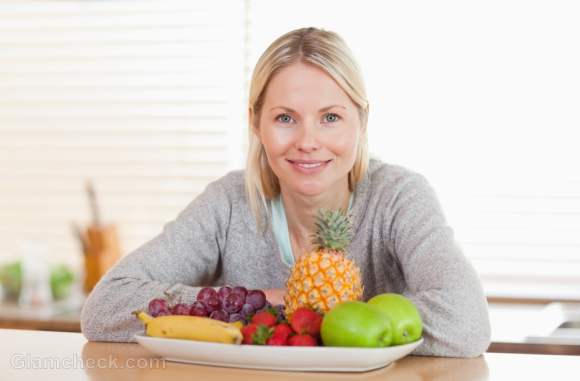 You can't and shouldn't eat the same foods in the summer as you would in the winter. In winter you eat high-calorie foods that heat up the body. If you try sticking to that diet in hot weather, you'll be breaking out in pimples all over your body or suffering some pretty serious digestion issues.
The summer calls for salads, all-fruit meals, juices, smoothies and soups. You can roast or bake meat or veggies instead of stewing or frying them. This will preserve the flavor and it is also a lighter variation for your body to deal with in hot weather.
If your meals are too heavy, your body will spend most of its time digesting the food, which will make you sluggish and tired and probably more hot. So steer clear of food that you know is bad for you if you want to stay cool in hot weather.
Also try to avoid both alcohol and caffeine as they are extremely dehydrating.
Exercise at Cooler Times of the Day
The summer can bring out the couch potato in you. You may be tempted to not exercise at all. Or you may be a fitness freak and exercise too much. Both options are not recommended if you want to stay cool in hot weather. Since your metabolism is slower in the summer, it is imperative that you exercise so that you do not put on weight. But exercising too much can lead to over-exhaustion and extreme dehydration. So here's what you should do to exercise if you want to stay cool in hot weather.
Change the time of day that you exercise. Early morning or late in the evening are two of the best times of the day to exercise in hot weather.
If you cannot change the timing, then at least reduce the amount of time you spend exercising. For example, you can jog for twenty minutes instead of thirty.
Another alternative is to reduce the intensity of exercise. For example, you can switch to walking instead of jogging during the hotter months. Why not try swimming? You burn calories and stay cool at the same time.
Always remember to drink water before and after you exercise as well as sipping water during your workouts.
Change your Clothing Style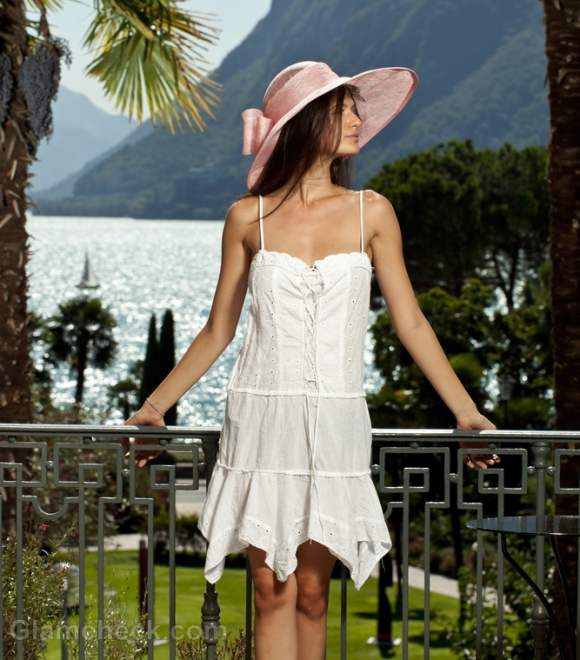 Wear natural fabrics like cotton to stay cool in hot weather. Synthetic fabrics do not help to cool you at all and many of them prevent your skin from breathing. Cotton is one of the lightest and most absorbent materials that will help you to stay cool in hot weather.
Avoid wearing clothes that are too tight. Choose flowy, loose and comfortable clothing.
Also remember to choose lighter colors over darker ones. White in particular does an excellent job of bouncing the heat off you so it is very effecting in helping you to stay cool in hot weather. Darker shades like black will trap the heat and bake you like a hot potato. Avoid black altogether in the hot weather, unless you have a sexy, stringy black bikini that needs showing off.
Wear a hat or a bandana when you step out in the sun. This will prevent the sun from directly hitting your head which will help you keep cool in the long run.
Hot weather has great potential for a wardrobe change because there are more fun summer looks than winter or monsoon looks. You can revamp your entire wardrobe for the summer months, filling it with sarongs, scarves, hats, bandanas, shorts, flip flops, tank tops and flowy dresses. Make sure they are all made from breathable materials which will make you look great and will allow you to stay cool in hot weather.
Change Your Hairdo
If you leave your hair loose, it will cover your neck and you're going to feel hot. So the key is to keep your neck cool by wearing cooling summer updos. A sleek or messy topknot or a high ponytail should do the trick. But don't be limited by these because there are dozens of updos that are great for summer. Or if you have the face for it, you can try cutting your hair really short too.
Another summer hair care tip is to avoid using heating tools like curlers, straighteners and blow dryers. These not only dry out your hair in hot weather but will prevent you from staying cool.
Put Your Perfume in the Fridge
That's right. Refrigerate your perfume. Not your deodorants, your perfume. Then, when you spritz it on, the cold perfume will instantly cool your skin which will help you stay cool. Plus, refrigerating perfume will preserve its fragrance for much longer.
You can also store your other cosmetics in the fridge. This does them no harm and will have you feeling cool when you groom or wear your makeup.
Cooling Tips
Get yourself a bottle with a spray nozzle and fill it with water. Leave it in the fridge. Now whenever you feel too hot, all you have to do is spray some of this cold water on your face to quickly refresh. Do this especially when you return home from a hot day out.
You know how we advised you to cover your head if you want to stay cool in hot weather? Well, here's a way to get even cooler. Dampen the hat, scarf or bandana you are wearing with ice cold water and then wear it. If your head is cool, your body will be too.
Don't have air-conditioning? No problem. So many public places nowadays have air-conditioning to attract more customers that you can spend all day at malls, cinemas, libraries or museums and never get bored.
Eat chilli. Sound crazy? This cooling tip is backed by science. The same chemicals that give chilli their heat will increase your body temperature too. This will cause you to sweat and sweat helps you to cool down. So try this spicy way to stay cool in hot weather the next time you're cursing the heat. If you don't have full peppers, just sprinkle some chilli powder on raw mangoes, guavas or bananas for a hot snack that will eventually cool you down.
Take a hot shower. This will increase blood circulation so you will end up feeling refreshed. But if you get red, patchy skin when you take a hot shower in the summer then down a glass of cold water before your bath. This will help to regulate body temperature and you'll avoid the patchy skin.
Keep the back of your neck cool. We already saw one way of doing this – by keeping the hair off it. But you can also dampen a bandana or scarf and apply it like a compress to the back of the neck for an instant refresher. You can even tie an ice pack to the back of your head to stay cool.
Wear a wet T-shirt and sit under or in front of a fan. This is an economical and timeless way to stay cool in hot weather. You can re-wet the shirt as many times as you need. But make sure that the water you use to wet your shirt is lukewarm and not cold. Cold water will shock your system and you can catch a cold even in the summer.
Run your extremities through cold water when your body heats up too much. Dampen hair and run hands and feet through water. This will instantly cool you down.
Fill a small tub with cold water and soak your feet in it. Relax with a good book or take a nap while the water naturally keeps you cool. The reason this tip and the last one work to help you stay cool in hot weather is that your body radiates internal heat from the extremities i.e. the head, hands and feet. So by cooling any one or all of them, you effectively cool the whole body.
If it's really, really hot and you want to cool down all over, you can fill your bath tub with cold water and soak in it till you have cooled down enough for your liking. The colder the water, the longer you'll stay cool once you step out.
Plan out your clothes for the next day and leave them in your freezer overnight. The next day, your attire will literally be cool and help you to beat the heat for a few hours at least.
Put a bottle of water in your freezer till it's completely iced. Carry this around with you all day. As the ice melts, you'll have instant cool water which you can sip on to stay cool in hot weather.
Place a couple of slices of cold cucumber over your hot, tired eyes. This will help you relax but will also cool down one of the most delicate parts of the body – the eyes.
Use Some Common Sense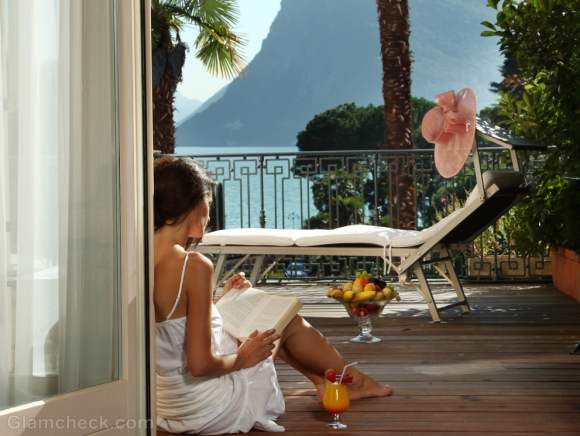 If it's too hot, stay indoors. Or at least try to avoid outdoor activities that will put you in direct sunlight.
Don't wear foundation in hot weather as this will just make your face hot and oily. If you must wear foundation, select products which have a high water content. There are now plenty of summer products which have over 50% water specifically so you can stay cool in hot weather and look your best.
You feel lazy in the summer for a reason. The body typically wants you to stay still more often because it has to work harder to keep your system working in optimal condition. So the more you rest, the better your body's own heat-regulating system will work, which will help you to stay cool n hot weather.
Wear the least you possible can without making yourself or others uncomfortable.
Wear sunscreen at all times, whether or not you are going to go outside. This will not help you to stay cool in hot weather, per se. But it will prevent you from getting sun burn, and sun burn can really heat things up. Keep your skin safe so that it can take care of you.
Your house can get very hot because concrete tends to trap heat. So it can literally feel like you are in an oven. A simple way to counteract this is to regularly splash water on the patio, on the outside walls of your house and even on the floors in rooms that are particularly hot. When the walls and floor are cooler, the surrounding air will get cooler too.
Stay in the shade as much as possible. Carry around a pretty summer-pattern umbrella to protect you from the sun's harsh, hot rays.
Even in your home, draw the curtains as much as possible so the heat from the outside cannot get in.
Finally, think cool thoughts. Your mind plays just as big a role in how you feel as the physical stuff around you. So stay calm, don't stress out, fantasise about snow-capped mountains and skiing.
If none of these staying cool tips work for you, then there's only one thing left to do. Move to Siberia!
Have a fun summer.
Image: Shutterstock