Summers bring with them sun burn and skin tan. This sunburn can leave our skin dull and patchy. The SW rays contained in the sunlight (UVA and UVB) can prove harmful for your skin. The UVA rays can lead to sunburns while UVB rays lead to premature aging of your skin. However, it is no more a matter of worry as there are numerous options to prevent the skin from getting tanned and burned by applying correct sunscreen as per your skin type. The use of a perfect sunscreen crème or lotion helps in preventing UV rays from affecting your skin. But, if not applied properly or uniformly or not in right quantity, it is no use applying a sunscreen.
There are numerous users who choose for crèmes and lotions which are made from a technology that makes it easier to apply a sunscreen. Well, it is not a difficult task to select the correct sunscreen for your skin type. It is advisable to go for sunscreens that provide protection against UVA as well as UVB rays. To obtain best results, it is imperative to apply the sunscreen evenly and in ample amount. This would help in providing uniform protection irrespective of the season, latitude, and moment of the day. However, there does not exist any standardized protection for UVA but there are recommendations for sunscreens containing ample amount of zinc oxide and camisole.
Choosing the correct sunscreen for summers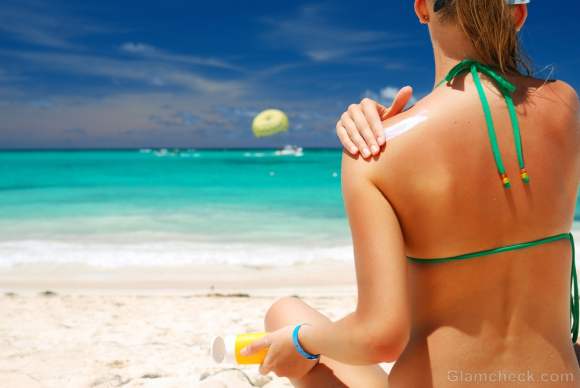 The key purpose of applying a sunscreen is protecting your skin from the UV rays. You may have on hand sunscreens in their physical forms like film screens or sun glasses, and in the chemical form as well, such as crèmes, lotions, and sprays that are applied to absorb the harmful UV light thus converting it to heat. These sunscreens are applied on the areas which are exposed to the sun. While selecting sunscreen, it is important to check for the following requirements with utmost care:
Make sure that it provide adequate protection
It should not be too heavy on the skin
It should suit the skin type
Some other things to be looked for in an effective sunscreen are explained below for your reference. Let's have a look at them.
SPF Levels
Well, sunscreens are selected depending on the SPF (Sun Protection Factor) value mentioned on the label. However, there is great confusion about the working of a sunscreen and its apt usage. A higher SPF number indicates a better protection from the detrimental UVB rays. A sunscreen's SPF number determines the time duration for which you can stay out in the sun without a burn. For instance, if your skin takes 15 minutes to get burned, you should opt for a sunscreen with SPF 15 that would allow you to stay 15times, i.e. 225 minutes or 4hrs 15minutes, longer in the sun without a burn.
Maximum protection can, however, be obtained by using a sunscreen with SPF 15 or even higher. SPF levels in sunscreens are obtainable ranging from SPF 2 – SPF 60. However, it is not necessary that highest SPF level would provide maximum protection. The protection provided by an SPF 50 is only 1-2% more than that provided by an SPF 30.
Although the selection of SPF level is an individual choice, it is, however, recommendable to use no less than SPF 15 daily. Your skin is exposed to UV rays to a great extent every day, whether it is sitting on a window seat occasionally or driving a car.
UV A and B Protection
UV light is featured as the most damaging component of sunrays. This UV light can be categorized into two categories depending on their wavelengths:
UVA light – With a wavelength vitiating 320-400nm, this light constitutes 95% of the UV light and is sufficiently strong to affect the skin's lower layer. Moreover, it causes maximum damage to skin through pre-cancerous changes, sun burns, and aging signs. The level of these rays stays constant throughout.
UVB light – With a wavelength vitiating 290-320nm, this UV light cannot strongly penetrate the skin and only affects the outer layers of the skin. although these rays are helpful in formation of Vitamin D in the body, but levels exceeding the optimal requirements can be a cause for skin cancer.
Daily use of sunscreen provides protection against sunburn as well as skin cancer. Also, it helps avoid premature aging of skin. Well, to make the best choice, it is really imperative to know the protection facts while selecting an effective sunscreen.
In the initial stages, when sunscreens were introduced, UVB rays were taken as the primary cause of sunburn and premature aging. These sunscreens were, however, effective against UVB rays only thus providing a fake sense of security among those who were incited to prolong their stay out in the sun after the application of these sunscreens. This increased stay led to increased exposure to the harmful UVA light. As per recent studies, UVA rays have shown up to be a more potent cause for skin cancer and sunburn as compared to UVB rays. Therefore, it is important to go for a sunscreen which provides ample protection from UVA as well as UVB rays.
The UV A or B protection provided by the sunscreen is indicated on the label. While making a choice, look for "UVA/UVB" protectant indication or mentions "broad spectrum protectant" to block UVA as well as UVB light rays.
Water Resistant vs. Water Proof
If you are a swimmer and looking for a sunscreen, go for either a water resistant or water proof sunscreen. A water proof sunscreen provides protection for about 80minutes. Conversely, a water resistant sunscreen offers protection for 40minutes only.
Skin Type
While selecting a sunscreen, check for the skin type to be dry or oily. This would help you decide with the choice of physical sunscreen to reflect the sunrays or even a chemical sunscreen to neutralize the sunrays. You can also go for a sunscreen which functions individually or one incorporated in a moisturizer or a foundation.
Also, sunscreens that contain tretinoin are not suitable for dry skin. Instead it is better to go for a sunscreen that forms a combination of tretinoin and a moisturizer in a crème base. Besides, it is also imperative to check for the chemicals included in the sunscreen to be suitable for your skin. if you experience any kind of rashes or pimples after applying sunscreen on your skin, stop using it and go for a better one that suits your skin type.4
Formulations
The different formulations that can be opted for according to your skin type are:
Being the most emblematic formulations, these are likely to be most suitable for dry skin types for these are really hydrating. On the other hand, lotions, being less thick, spread easily and are also less greasy. This makes them suitable for oily to combination skin types.
For those with an oily skin, gels can prove to be an effective alternative. However, you should use these gels with caution during workouts as gels with an alcohol base can result in stinging/burning sensation in the eyes. You can instead go for gels which are water based.
Stick sunscreens are apt for small area application. These are generally petroleum or wax based and are likely to last longer. Moreover, these also have lesser issues with extended exposure to water.
Sunscreens, these days, are also available in the form of sprays and it seems quite reasonable to correlate.
Besides the aforesaid formulations, sunscreens are also available in other forms like powders and some other make-up products which featured listed SPF. However, these cannot be used individually but in combination with other sun screen products like a lotion.
Checking the effectiveness of your sunscreen
The effectiveness of your sunscreen can be checked by going through the list of ingredients. The basic measure scale for a sunscreen is the SPF value that indicates the protective value of the sunscreen. However, the SPF number is not a complete measure for the effectiveness of your sunscreen. This is accrued to two reasons. Firstly, the entire photo damage takes place long before the occurrence of visible symptoms of sunburn. Secondly, sunburn is primarily the result of harmful UVB light. Moreover, this value also does not indicate towards skin protection from UVA light leading to skin cancer and premature aging.
UVA light is categorized into two sections – UVA I and UVA II. Any sunscreens providing protection against UVB light are also protective against UVA II light. Adding more, there are three ingredients which are approved for providing protection against the most damaging light – UVA I. These ingredients include zinc oxide, titanium oxide, and avobenzone. Avobenzone provides protection by absorbing the radiations from the UV light. Titanium oxide and zinc oxide stay on the skin surface thus reflecting the UV radiations.
Studies have proved that sunscreens with avobenzone show up to be most effective and even more if they also include titanium oxide.
So, wrapping up, I would say that opt for a sunscreen that provides an effective SPF protection and also carries UVA fighting components such as avobenzone. Besides, proper application is also important. A combination of an effective sunscreen and its proper application can help you with protecting your skin from harmful sunrays.
Image: Shutterstock