Forget the oily skin and sweaty armpits, those can be managed. The worst thing about summer is how tough it is to sleep comfortably during the loooong, hot months. As it is, summer is a draining season and you don't have much energy for even your regular routine. Having to run your errands or go to work in the heat is bad enough without adding lack of sleep to the equation.
You have surely experienced uncomfortable, sweaty, sleepless summer nights. Beautiful as they are, summer nights are the toughest to get through. There are more mosquitoes and a variety of new insects that come out to play, every surface of the house and bed are warm to the touch, and the heat is so fierce that you wake up several times in the night from dehydration, often drenched to the skin.
Is there a way to get a good night's sleep in the summer? Or is it just something you have to man up and deal with for a few weeks? Those living in climates where summer lasts just a month or two can afford not to look for ways to sleep comfortably during summers. However, those living in tropical climates have to deal with summer nights for over four months of the year, with pretty warm weather the rest of the year as well. For the latter, finding a way to get some uninterrupted shut-eye when the sun goes down is imperative.
The reason sleeping in the summer is so damn uncomfortable is because of the life-sapping heat. Duh.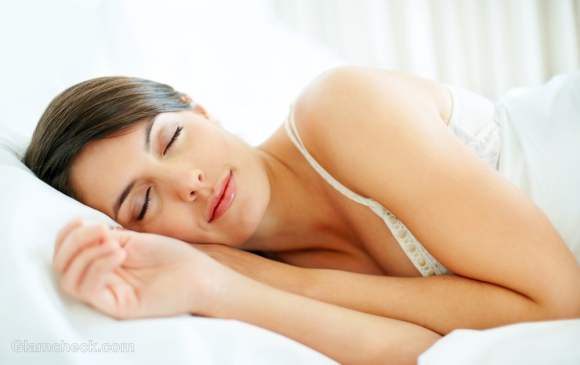 So our tips on how to sleep comfortably during summers will mostly involve ways in which you can reduce the temperature of the room and your body when you sleep. Fortunately, there are several ways of accomplishing this. We recommend using more than one method or as many of them in combination as possible and convenient so that you can get a better night's sleep during the hotter months. Don't worry – most of the methods here are super-economical. You'll only have to spend money as a last resort.
Sleep in the Nude…
…or at least in your underwear. This is a guaranteed way to sleep better in any season. Clothes get in the way of your movements at night. During the summer, they can just stick to your skin and not allow it to breathe when you are sleeping. This is easily avoidable with a simple solution – take your clothes off before hitting the sack. Too shy? You'll get over it after just one night of sleeping in the buff. The next morning, you will realize how much easier it was to sleep because of how much cooler your body temperature was and you'll get over your body issues.
What's more, this is the most economical way to sleep comfortably during summers. You don't need anything. Literally!
Wear Fewer Clothes of the Right Kind
Sleeping in the nude is not always feasible. Maybe you share your room with other people. In that case, change the type of clothes you wear when you sleep. Strip down to your underwear if that is possible. Otherwise, wear slips, shorts, vests or T-shirts made of light cotton. Avoid synthetic fabrics in the summer. The cotton will help keep your skin cool by absorbing your sweat.
Sleep Outdoors
Although summers can be hot as a furnace, the nights get cooler (comparatively) and bring some welcome relief. However, you may not always feel the drop in temperature if you stay indoors. During the day, the blazing sun heats up your home and the concrete captures the heat. When the sun goes down, your concrete walls and ceiling are still giving out the heat of the day and it may be well into the night before it cools down enough for comfort. Your house becomes, quite literally, an oven and you are the dainty meat being cooked until tender.
Counter this by sleeping outside the house at night. The terrace, rooftop and balcony all make great places to put down a sleeping bag or a mattress for the night. If you have a back yard, you can camp out on nights it gets too hot.
Note though that mosquitoes and other insects will be raring to join you too. Not a pleasant prospect – escaping from the hassle of heat just to be be bitten to death. Apply a mosquito repellent, spray some insect killer or light up a mosquito coil to keep the creepy crawlies away.
Splash Water on Walls of Your Home
This will help to quickly cool the walls as they emit the heat from the day. Instead of taking several hours to cool down, it will take only an hour or so, even less if you turn the fans on.
Put Water on the Floor
This is an age-old way of cooling a room. Just before going to bed, pour water on your bedroom floor. This in itself will considerably bring down the temperature. However, the idea is to keep you cool while you sleep, which is why your next move is to turn on the ceiling fan, but not too high. As the water cools the air near the floor, the fan will spread it around and generally lower the temperature of the rest of the room too.
An alternative to this method is to put a bucket of cool water on a high stool directly under the fan. The fan will effectively spread the cooling air the rises from the  bucket to the rest of the room. Want ultra cool air? Fill the bucket with ice.
Sleep on the Floor
Bedding can get warm during the day, even if it is cotton. You may notice that your floor tiles are not as warm as the walls. So why not take advantage and make it your bed for the night? Throw down a pillow and let the cool floor lower your surface temperature. On a really hot night, throw water on the floor an hour before you go to bed. The water will dry up pretty quickly, but not before doubling the coolness of the floor. Another reason that this works to help you to sleep comfortably during summers is because heat rises upwards. So the lower you are in a room, the cooler it will be. By this logic, even sleeping in the rooms on the lower floors of your house will help you to sleep comfortably during summers.
Other Ways to Cool Your Room
Villagers in India still have the most effective ways to cool down a room and sleep comfortably during summers. One of their methods involves patting down their floors and walls with cow dung, a very cool idea since cow dung does not capture heat the way concrete does. We're not saying you should put cow dung on your bedroom floor (unless you want to), but you can coat the outside walls of your house with the stuff. It will keep your home cool from the outside and prevent the heat from coming in. Cow dung does not smell once it has dried and it is a natural, economical and eco-friendly way to beat the heat. You do not have to apply it to all the outer walls of your home, just the one corresponding to your bedroom.
If this idea has you scrunching up your nose, no problem. Here's another solution from the villages. Take a large empty gunny sack and soak it in water till it is dripping. Hang it in the doorways and windows which receive the best breeze. The air will filter through the soaked gunny sacks, cool along the way, and what will reach you will be sweet, cold air that will have you sleeping like a baby. If there is no breezy doorway or window, then simply place a fan behind the gunny sack so it is pointing directly at you on the other side.
You do not have to use a gunny sack. Even a towel will do. But make sure it has a low thread count so that the air can get through to you. If your curtains are made of thin material like light cotton or muslin, you can soak them in water and hang them back up with similar results.
Turn the Fan On
This is an obvious one, no? Summer nights can be very still. This can make you feel even hotter. If the fan is on, it helps to evaporate the sweat from your skin and move the air around the room. Here's a tip for you – turning the fan to a lower setting than a higher one will cool you down better.
Open the Windows
Since the air is cooler at night, you'll get a draft of cold air if you leave all your windows opened when you sleep.
Get an Air Conditioner
The heat can get pretty intense in the summer and a fan may come nowhere near making the room more comfortable to sleep in. Leaving the window open may not be an option for you if you live on the ground floor or in an area which has a lot of break-ins. Safety first.
Consider installing an air conditioner just for the summer months. You can rent one, buy secondhand or you can install a new one and use it just during the summer months if you are worried about electricity bills. There's no need to cool the entire house, just the room that you are sleeping in. Don't think of it as a luxury. Think of it as an investment in yourself and your health. Sleeping well is a huge part of staying healthy. If the heat is unbearable and you really can't take it, then get an air conditioner so you can get your full eight hours without waking up a dozen times a night.
Chill Out
Mentally, we mean. Have you noticed how when you are angry or extremely stressed out, you feel warmer and your clothes seem tighter? This is not your imagination. When you are emotionally distraught, your body temperature actually does rise. So if you go to bed at night brooding about the the back-stabber at work who you'd like to throttle or the trouble your kids got into at school or worrying about your mortgage or even just having furious thoughts about how hot it is, you are just making things worse for yourself. Take deep breaths when you lie down. Close your eyes and try to empty your mind of stressful thoughts. Breathe slowly. The slower you breathe, the less energy your body needs to work and thus the less heat it will generate. Lower the temperature on your internal air conditioning system. Your thoughts control the settings. Cool down mentally and you will probably get a better night's sleep.
Increase Water Intake During the Day
Sweating is a way for your body to naturally cool your insides. You can reduce night-time sweats by hydrating yourself better throughout the day as well as by eating light, cooling foods as opposed to heavy, hot meals. Drink enough water during the day. If you cannot drink plain water, try fresh fruit juices without added sugar, lemonade or coconut water. Avoid caffeine at least six hours before bed as caffeine increases your heart rate, which increases your body temperature and we want to avoid that.
Have your last meal for the day at least four hours before you go to bed. Your metabolism gets a little sluggish in the heat and if you eat your meal too late, your body will expend its energies in digesting the food really slowly. This process puts a strain on your body's resources in the summer and it will increase your body temperature while it's happening. So if you eat too late or even if you have a very heavy meal a few hours before bed, your body will still be digesting your food and you will end up feeling heavier, sweatier and thus hotter.
Most meals during summer need to be lighter anyway. If you cannot manage on lighter meals throughout the day at least replace your last meal of the day with soups, salads, juices or steamed/baked/grilled foods. These simple changes in your diet will do wonders in helping you sleep comfortably during summers.
Summer Sleep & Your Bedding
Change your Bed Sheets
The regular bed sheets that we use to cover our mattresses are made from thick materials that can get hot pretty quickly and keep you quite warm through the night. Replace your regular bed sheets with ones made from light materials, preferably cotton. These are more cooling in general and will also absorb your sweat, thus helping you to reduce your body temperature while you sleep.
Put your Bed Sheets & Pillow Cases in the Freezer
Leave them in there all day. Do not forget to put them in freezer bags or your bed will smell like meat or frozen dinners or whatever else is in your freezer.
Get a Bamboo Mat
These never get hot, they're really cheap and they last for ages. Just place it on the floor and fall asleep. A good alternative if you want to try the floor for the summer but cannot bring yourself to sleep on the bare ground.
Use a Hammock
One of the advantages of sleeping in a hammock – apart from that it's great fun – is that it allows the air to circulate all around you unlike a bed which traps your body heat under you.
Place a wet towel on your bed
The towel should be large enough to cover the length of your body. Wet the towel in cold water and wring it out till the dripping stops. Or you can toss it into the washing machine for a spin cycle so that it will wring out most of the water for you. Place this damp towel on your bed and sleep on it.
Cool your Extremities
If you cool your hands, feet, head and neck, the rest of your body automatically gets cooler too. Here are some ideas for how you can accomplish this.
Take a damp hand towel and lie down on it so your face is on it. Or you can tie it around your forehead.
Place a damp towel or cloth on your neck. As your neck cools, your whole body will cool down too.
The same principle applies to your feet as well. Wear a pair of damp, not dripping, socks at night. It will cool your entire body.
Wet your hair before you sleep. Leave it as damp as possible. This will keep you cool until your hair dries and allow you to sleep comfortably during summers.
Take a Shower Before Bed Time
Nothing like a blast of cold water to wake you up in the morning. A little known fact is that a cold shower in the summer can help you to sleep too. The logic is simple. As you already know, the reason most of us have trouble sleeping in the summer is because of the intense heat. The are two broad categories of things you can do to sleep comfortably during summers – one is to make the environment cooler and two is to reduce your own body temperature. A cold shower does the latter. Once the shock from a cold water bath wears off, your body will regulate its temperature then send a signal to the brain that you are now at a comfortable temperature for sleep. So you may feel wide awake right after your cold shower, but in about half an hour you'll be pining for your bed.
Some people find that taking a hot shower helps them better in the summer. This too has its benefits. The hot shower will make you sweat and that in itself will reduce your body temperature. However, if you live in a place with high humidity, a hot shower will backfire. It will just increase the humidity and stickiness and you won't be comfortable enough to fall asleep.
So should you take a hot shower or a cold one? Only you can answer this question. Try out both and see which works better for you.
Move to a Part of the City/Town that's Cooler
OK, this may not seem like the most economical or viable option but we're sure that it is feasible for some folks out there. All cities have their cool and warm spots depending on several factors like tree cover, height of buildings, traffic, proximity to factories or plants, etc. If you know someone who has a house in the cooler part of town, perhaps you can rent it for the summer. Maybe you can move in with a friend for a few nights a week when you know you'll need to sleep well like right before a big meeting at work. If you can afford it, buy a second house for the summer which is on the outskirts of the town/city where you live (it's usually cooler there since there are fewer people, less traffic and less construction). You may think this is going to far, but you can't put a price on a good night's sleep.
Finally, if you cannot sleep comfortably during summers even after trying all our suggestions, then take a vacation and go to some place cooler for a few months.
Image: Shutterstock