What is Hyper-pigmentation?
Hyper-pigmentation can be delineated as accumulated pigmentation in any body part or tissue, counting the skin as well. Hyper-pigmentation is a skin problem characterized by visibility of distinctively sized dark patches on skin, which might result from hormonal imbalance, injuries, UV rays from sun, skin type, natural pigmentation with growing age, acne, or certain medications. Basically, the protective ability of the skin decreases with growing age thus leading to hyper-pigmentation resulting from any of these causes. The treatment of hyper-pigmentation, however, depends upon the cause of the problem, your visual goals, as well as the skin type.
Treating Hyper-pigmentation
When you initially consult your dermatologist, the first attempts may include treating or fading the effects of discoloration through mild treatments like chemical peels, skin lighteners, or micro-dermabrasion.  However, if these treatments do not show desirable results, you might require taking up laser treatment for hyper-pigmentation. Eventually, the laser treatment produces results similar to those provided by micro-dermabrasion or chemical peel. Akin to the mild treatments, laser treatment also involves stripping away the layers of pigmented skin. Moreover, laser treatment is comparatively more defined as the doctor has full control over the laser intensity as well as the degree of penetration. 
There are different laser therapies available for treatment of hyper-pigmentation disorders. Here are some of them mentioned to add to your info. In essence, there are just two types of laser treatment for hyper-pigmentation – Lasers and IPL (Intense Pulsed Light). Both these treatments involve removing undesired pigment. IPL, however, emanate light of a particular wavelength. Both the treatments feature certain pros and cons, depending upon the kind of hyper-pigmentation experienced by you.
Generally, laser treatment is helpful in treatment of congealed age spots and discrete lesions. IPL may be, however, a better choice in cases featuring discoloration over wider areas. According to discoloration type which is being dealt with, you might require one or more treatments. For instance, age spots show a quick response while birthmarks generally call for repeated zapping.
Another laser treatment for hyper-pigmentation is laser resurfacing. If you are facing extensive or deep scarring as a result of hyper-pigmentation, as sometimes occurs from post-inflammatory hyper-pigmentation, it might become essential for doctor to carry out a more intense laser therapy, also referred as carbon dioxide resurfacing. This technique of treating hyper-pigmentation involves deep penetration into the skin to remove multiple layers instead of removing only the outer layers of the skin. Besides, the recovery period is also a little longer as compared to the usual laser treatment. It may take as long as three weeks or even longer to recover from the treatment. The treatment could, however, be convoyed with redness which may last for some months.
Benefits of Laser Treatment for Hyper-pigmentation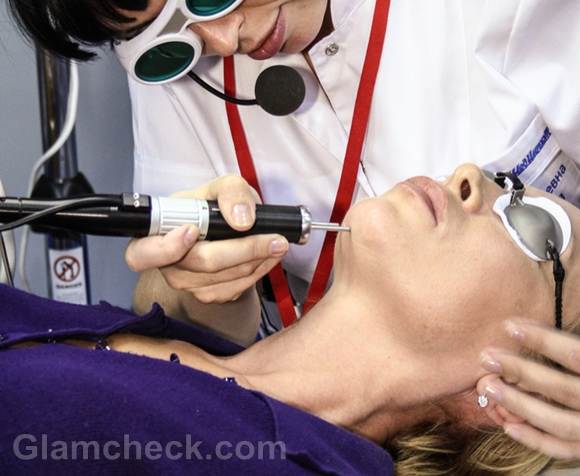 The laser treatment techniques for hyper-pigmentation involve the use of highly developed precision technology. An intensive light beam is generated to target the affected area. Additionally, this light beam is infused with energy, attached to the laser generator, coming from additional technology. The red blood cells carrying oxygen, technically known as oxy-hemoglobin, absorb this light thus leading to decomposition and dissolution of the pigmentation. This dissolution of pigmentation results from the heating of undesired cells while keeping the healthy cells intact.
Laser treatment performs two vital functions:
Removal of existing pigmentation which is the cause of the unwanted spots on skin.
Ceasing the formation of fresh melanin in the affected area.
The main benefit of laser treatment is, however, getting smoother, more evenly-toned, and younger looking skin. Generally, laser treatment is used to treat the face. However, it can also be used to treat the epidermal consequences of exposure to sun on other body parts like shoulders, arms, chest, back, as well as the back side of hands.
Additionally, some of the most important benefits of laser treatment for hyper-pigmentation include:
Reduced levels of pain
Decreased inflammation
Better tissue regeneration
Improved nerve repair and regeneration
Better vasodilatation and microcirculation
To look at the wider side of benefits of laser treatment for hyper-pigmentation, it can be said that the risks have been outweighed. It has been observed that laser treatment helps in evading drugs as well as invasive surgeries. Moreover, it is more convenient, safe, and quicker if performed through a licensed and skilled surgeon.
Adding further, modern lasers are quite effective in focusing at the smaller areas of skin. Also, stronger energy from laser is emitted to increase the production of collagen thus limiting the risk of scar formation. Laser treatment for hyper-pigmentation involves the use of lasers featured with a range of emitted lights. The use of light range, however, depends completely upon the extent of your skin condition.
Ultimately, laser treatment for hyper-pigmentation is affected, to a great extent, by the correct diagnosis, certified and experienced professionals to perform the procedure and an appropriate follow up. While going for laser treatment for hyper-pigmentation, your emotional inclination and patience also play an important role. Through a balanced approach, it becomes essential to consider these aspects before you begin with the rejuvenation program.
Risks and precautions of Laser Treatment for Hyper-pigmentation
Just like any other treatment option, laser treatment for hyper-pigmentation also features certain risks and side effects. the best way to handle these side effects and risks is to be well acquainted about the treatment procedure before you step into it. As a matter of fact, risk possibilities are comparatively lesser in laser treatments performed at reputed clinics by a licensed practitioner. However, there might still be some temporary adverse effects that may harm your skin.
The most common side effects resulting from laser treatment for hyper-pigmentation include:
The skin can get burnt if the laser parameters are not properly set. This may happen as a result of excessively high laser temperature that penetrates into the melanin of the skin. Burning of skin might occur as a side effect of the prolonged exposure during the treatment procedure.
To avoid this problem, make sure you get the treatment done from a good clinic where patient's skin type and the hair color before the laser beam intensity is decided. It is really important to be treated with proper technology and this is possible only if the clinic you're going to uses best equipments in accordance with the skin type.
Hypo and hyper skin pigmentation
These form the next two most common side effects resulting from laser treatment for hyper-pigmentation. As in case with hypo-pigmentation, depletion in the melanin content is there and in hyper-pigmentation the melanin content is excessively high. These conditions are the basic cause of the spots appearing distinctively on your skin as a lighter or darker tone than the natural tone. This may be the result of sun exposure before or after the treatment procedure. If the skin gets tanned because of sun exposure prior to the commencement of the treatment procedure, it becomes complicated for the doctor to now the actual skin tone and thus the required intensity of the laser. This may lead to wrong decisions with the laser intensity thus harming the skin. Conversely, if the skin gets exposed to the sun immediately after treatment, it may adversely affect your skin for the skin is raw at that time.
The simplest way to evade the side effects of laser treatment for hyper-pigmentation is to avoid sun exposure for a minimum of two weeks before and after the treatment procedure. If, however, this is not possible, ensure using a sunscreen with SPF 30 or even higher. Moreover, ensure a liberal application over the exposed skin. besides, for even better protection, try covering maximum part of your skin with proper cotton clothing.
Above all, it is wise to get the treatment done from a reputed clinic to mitigate the chances of any adverse effects. Consult a qualified and experienced practitioner as well as a reputed clinic with latest and best equipments for the treatment. It is, however, equally important to follow the possible precautions prior to and following the treatment procedure. Try staying away from sun, include use of moisturizers, sunscreens, and mild cleansers in your skin care regime, and avoid using chemicals that may cause allergy.
With apt care, the side effects of laser treatment for hyper-pigmentation can be mitigated thus leading you towards having a healthy skin even after the treatment is complete. After all, you are the first one to keep your skin safe.
Image: Shutterstock