Breast cancer is pervading through the population faster than doctors can detect it to bring it under control. Unfortunately, this epidemic of the modern age is inevitable with the lifestyles we call 'normal' today. You should ideally be getting a full medical checkup once a year, once in six months if you know you are at high risk for certain diseases. These regular checkups will help your doctor to keep tabs on your breast health and recommend any changes or medication needed to make you stronger.
What about the time in between checkups? Cancer will not wait to invade your body at a convenient time. The damage can begin anytime, and it's a well-known fact that the later it is detected the lower the chances of full recovery. So why not learn how to safeguard your health by learning how to detect for yourself what the doctors will be looking for.
Now there are a host of tests that are done to diagnose breast cancer but they all begin on the basis of just one – a simple breast examination. This requires no machines, needles or blood. This is literally a hands-on way of examining your breasts to feel for any changes that may indicate a growth.
What you are looking For with Your Breast Examination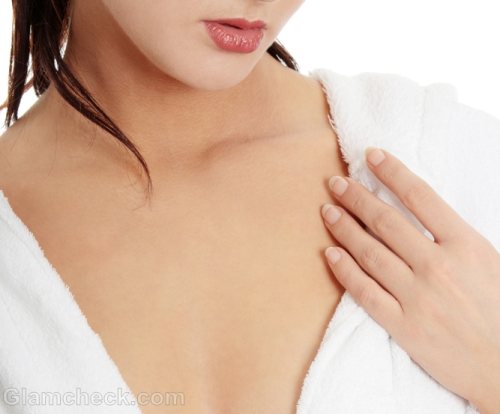 When performing a breast examination, your main goal is to detect any changes in your breasts. However, to understand changes you first have to know how your breasts normally feel. Only then will you be able to tell if something is abnormal. Now you may think this is a funny idea – after all, don't all breasts feel the same? Not quite. In the same way that there are breasts of various sizes and shapes, your breasts will feel different from that of someone else. Doctors who perform hundreds of breast examinations every month know this and they thus advise women to not be alarmed if they, say, feel their breasts are lumpy the first time they touch them.
So your first step before you begin a breast examination is to observe your breasts in the mirror and also to touch them so that you get a feel for them. Some women have naturally lumpy breasts and if you are one of them you will get to know where the lumpiness is more and where it is less. Also look at the shape and size of your breasts, where the curves are more pronounced and where less.
Once you know what is normal for you, following are some signs to look out for which indicate that something is not quite as it should be.
Lumps, folds or creases which you know we're not there before. You should watch out for new dimples too.
A distortion in the appearance of your nipple or areola, that's the portion of skin around your nipples which is darker in color than your skin.
Any change in the appearance of your breasts – perhaps one is hanging lower than the other or one suddenly looks more rounded or swollen than it was earlier.
Fluid excretion from the nipple even when you are not pregnant or breast-feeding.
Areas of the breast that feels painful or hot.
A change in the shape or feel of one breast which does not exist in the other. Note that all women have one breast which is larger than the other so it is not this difference that we are talking about. This is where knowing what your breasts normally look and feel like comes in handy.
Conducting a Breast Exam at Home
Performing a breast examination yourself can be a little awkward at first. You may feel shy about looking at your body so candidly and yes, many women are even shy about touching their bodies intimately. That's OK. Remind yourself that you are doing this for the sake of your health. In time, your regular breast self-examinations will make you more comfortable with your body.
The first time you are performing a breast examination at home, try to do it when all other members of your household are out. This will help you to feel less self-conscious if you are shy.
You want to be as thorough as possible when doing your breast examination which is why there will be three phases to it. The first will be with a mirror, the second lying down and the third in the shower
Performing a Breast Examination At Home: In the Mirror
Always begin by checking for any visual changes. Leave your hands by your side and scrutinize your breasts. Turn to the right, then the left. Do you see anything different from the last time you checked? Next, lift your arms up high and check again for any changes. Finally, lower your arms to shoulder height and bring your palms together in front of you. Turn from side to side to check for changes on the sides of your breasts and also near your armpits as there are several nodes there that are susceptible to cancerous growths.
Performing a Breast Examination At Home: Lying Down
Lie down on a bed with a pillow under the shoulder that corresponds to the breast you will be examining first. So if you are checking your left breast first, place a pillow under your left shoulder so that your upper chest is slightly elevated. For the purpose of this guide, we'll continue under the presumption that you are starting with the left side.
Raise your left hand and tuck it under your head.
Use the first three fingers of your right hand, outstretched and close together, to put slight pressure on your breast with the pads of your fingers, not the tips.
Begin from the top of your breast and move in a circle. Use gentle but firm pressure to make small circular motions as you progress in a clockwise direction.
When you are done with the areas around your breast, examine around your nipples in the same way.
Repeat steps 2 to 5 with your right breast.
Performing a Breast Examination At Home: In the Shower
When your hands are wet and soapy, it allows you to glide them over your breasts much more smoothly and you will be more attuned to any changes.
Raise your left arm and place your left hand behind your head.
Use the same technique outlined in the previous section to check for changes.
Repeat with right breast.
Final Tips
It takes time to develop the skill of performing a thorough breast examination so don't be frustrated if you do not understand it the first time or if you feel that it is pointless. Just keep at it and see your doctor for tips on how to do it right. A practical demonstration is always more helpful than the written word.
When performing your breast examination lying down, you can use hand lotion to give you a smoother feel.
Perform your breast examination at approximately the same time each month. Your breasts change shape through the month and you will notice for yourself heaviness before your period. Conducting your breast exam at different times of the month can make you confused about the results. By performing it at the same time, you are ensuring that your body is in the same condition as the last time you performed the breast examination and your readings will be more accurate.
Women who are pregnant or those undergoing menopause in particular should perform their breast examinations on the exact day as they did in the previous month. This is because their bodies are undergoing even more changes than other women because of the massive hormonal changes and they should be doing everything possible to eliminate the possibilities of changes caused by that and doing the exam on the EXACT day each month is one way to do so.
You are never too young to start performing a breast examination. The last few decades has seen a spurt in breast cancer in women younger than 20. So you may as well take precautionary measures instead of dismissing the idea altogether on the basis that you are too young.
If you are over 40 years of age or have risk factors for breast cancer, you should make breast examination a part of life but you should also get checked professionally twice a year, more often if you have other medical conditions as cancer perpetuates more efficiently in a sick body than in a healthy one.
Although a breast examination is a very serious topic, we will leave you with this encouraging thought – most changes in appearance or lumps that are detected by a breast examination turn out to NOT be cancer. They are usually growths that can occur because of stress and which go away on their own after the stressful period has passed or tumors which are non-cancerous and have developed for reasons other than the dreaded disease. So if you do notice changes in your breasts, do not be needlessly alarmed. An appointment with your doctor is a must to evaluate the change but rest assured that in over 95% of the cases it turns out to be a manageable thing.
Image: Shutterstock