With the onset of the summers women are rapidly changing their wardrobe and including clothes which show off their arms and legs. But altering their preexisting style brings forth a new set of challenge: the task of converting flabby limbs into beautifully toned arms. Those wondering about how to get toned arms before the summer season bids farewell and winter begins to approach, need not worry because attaining well crafted and toned arms for women is not really that big a deal. One just needs to be well focused and mentally prepared to take up the challenge of getting back one's toned arms with sincere efforts.
No Mindlessly Weight Loss for Toned Arms:
There is a general misconception about losing weight and achieving toned arms. By just losing one's weight pound after pound one will only achieve sagging arms that dangle without any firmness of muscles because toned arms require the right amount of muscles under the layers of the skin. Moreover when the skin is not supported by muscles and fat it tends to age rapidly. The skin needs its daily nourishment and it can only get it from its muscle attachment. Mindless dieting will only take one thus far. While one is planning on cutting down on the calories one must keep in mind that too less might result in sagging and shapeless muscles. But much to one's relief, the women who seem to have been perpetually wondering about how to get toned arms at a short notice will not have to wait much longer because getting toned arms for women is not that difficult as it may seem.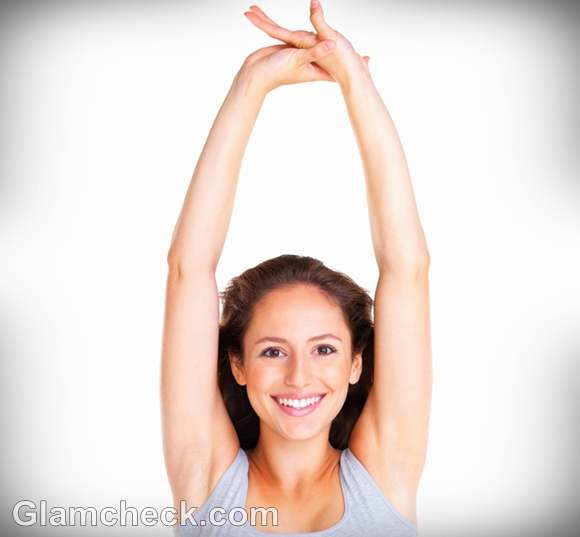 Read on to find out how to get toned arms quickly, but before going into that one has to at first know a little about how ones arms are built.
The Three Arms Muscles:
The human arm is built of three kinds of muscles namely
The Biceps: Between the shoulder and the elbow right at the front is situated the bicep. This is the muscle that tends to swell up when one takes heavy weights. Getting well toned arms has a lot to do with exercising with light weight dumbbells regularly.
The Triceps: The triceps are located just beneath the biceps between the shoulder and the elbow. This is the most important place to consider while aiming at getting toned arms because the women who are wondering about how to get toned arms are actually worrying about flabby triceps. This is the place where the most amount of fat accumulates so women need to keep this part well worked out in order to get toned arms.
The Brachioradialis: This set of muscle is located between the wrist and the elbow and it is used during various movements of the arms.
Now know about the quickest ways to get well toned arms for women
Easy on the Diet:
As mentioned earlier one should not hurry with weight loss. Crash dieting is no good in the long run because it only results in sagging arms and legs muscles. In order to get well toned arms visit a good dietician and follow the diet charts. Do not go on a liquid diet without consulting an expert. Getting toned arms for women are only possible when the body is well nourished enough to produce muscles. Do not go on a diet without planning a proper exercising routine because with no exercise the body will lose out on toned muscles as well. The muscles will refrain from growing in the extra space which is caused by the vacuum created by melting fat. As a result, instead of well toned arms women will have wrinkled and loose skin hanging from their arms.
The Right Kind of Food:
In order to get well toned arms one must consume the right kind of food which is rich in Vitamins, minerals and fatty acids. Have lots of fruits and green leafy vegetables every single day. Incorporate a good amount of fruits and vegetables in the diet and turn this into the major portion of one's serving. The plate must be dominated with vegetables and fruits because it supports the growth of muscles required for toned arms. Apart from that one must also include sea fishes for a good supply of fatty acids so gorge on grilled mackerels and salmons. Only when one eats the right kind of food will one have proper elasticity and strength of muscles.
Cardio Exercise:
Try to include cardio exercises in the workout and cut down on high calorie junk foods. However before beginning the cardio sessions consult a proper trainer and find out how much one can endure because cardio exercises change according to one's age, sex and weight.
Get the Dumbbells Out:
The dumbbells can be a savior for the ones who are wondering how to get toned arms. Sit upright on a chair and hold the dumbbells firmly in your hands. Now bend the forearms towards the body and then take it away from the body. Do a set of ten arm bends three times in a row.
Swimming:
Swimming is indeed a great way to tone up one's arms muscles. Ask the trainer for the right kind of swimming styles that aim directly at shaping and chiseling ones arms. Usually the most common kind of strokes like the breast stroke, the butterfly stroke, the front crawl, the back stroke and the free style allow heavy exercising of arm muscles resulting in its consequent firming and toning.  Each one of these strokes are designed to work on specific parts of one's arms and so a combination of all of them together will result in an overall fat reduction in the arm's flabbiness and thereby provide one's limbs with an appearance of beauty, shape, flexibility and fitness.
Sports:
Always say yes to all kinds of sports especially the ones that use a racket like squash, badminton and lawn tennis. The power and force that is needed to hit the target object with the racket helps in the overall working out of arms muscles and it is a great way to get toned and slender looking arms. Sports like volleyball, basket ball, baseball and cricket are also encouraged, however since these games are usually dominated by men women could use the other options as well.
Put on the Dancing Shoes:
If every other option seems like a drab then sign up for dance classes. They take out the boredom associated with exercising and allow one to have toned arms without worrying about it a lot.
Having well toned arms is one thing and building masculine muscles like a weight lifter is another. So learn to draw the line and refrain from over doing anything. By just following a healthy lifestyle and inculcating these fun filled exercises in one's daily routine, a person is sure to be the proud possessor of well toned and slender arms that are fit for flaunting this summer season.
Image: Shutterstock.com