The plant is known as "Queen of Herbs"; has innumerable health benefits, is a gourmet's delight and holds immense religious significance. Keeping in view its enormous medicinal value, it wouldn't be wrong to call it a wonder herb and there would be no doubt in saying that if there would have been an 'eight wonder', to be included form the plant kingdom, it would undoubtedly be the 'Basil (Tulsi)' plant. If you are health conscious and looking forward for a multipurpose natural herb, your search ends here!
Know the Plant and its Religious Importance:
Basil (Scientific name, Ocimum Sanctum) commonly known in India as Tulsi, is unquestionably the best medicinal herb ever known and has a vast sacred value attached to it. Three varieties of the plant are known – Krishna Tulsi, Rama Tulsi and Vana Tulsi- all of which have a distinctive chemistry which is highly complex and rich in nutrients like iron, vitamin C, potassium, vitamin A and calcium. The plant contains hundreds of beneficial compounds known as phyto-chemicals which have antibacterial, antioxidant, adaptogenic and immunity enhancing properties. It is being revered in India since ancient times and is being worshipped in every household. Women water it every morning and evening, light lamps near it and pray for the safety of their family. It is believed that the plant would protect the family from any evil eye and bring in good luck. Recent researches have confirmed that keeping the plant at home, can guard the family against day to day infections and its pollens contain a specific fragrance that can keep the serpents away. No wonder then its sacred implication surely follows from its role as a 'healing herb'.
Health Benefits of Basil (Tulsi):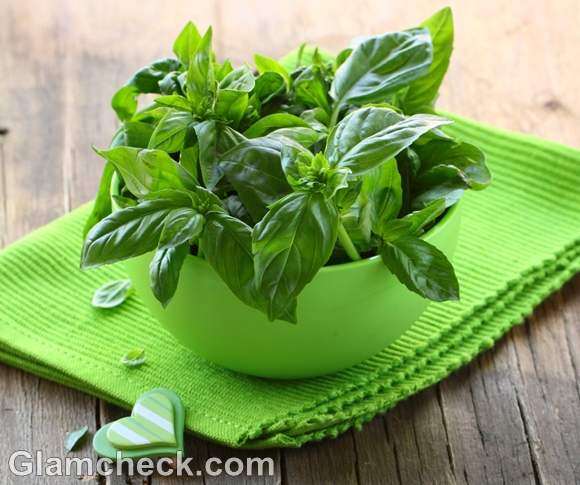 One can never fall short of words when enumerating the health benefits of Basil (Tulsi). Its use has the potential of having a zero side effect on your health in the long run. The list of heath benefits would clear to you why the plant needs is worshipped:
For Your Heart:
The plant is a very good source of beta carotene which later on gets converted into vitamin A. Cells which form the lining of various organs including blood cells are protected by its intake and it also helps reduce cholesterol levels from the blood. It also contains magnesium that strengthens heart muscles and relaxes the blood vessels. As a result the chances of a heart attack are minimized.
As a Digestive Tonic:
Tulsi oil can strengthen stomach and improve digestion. It also has carminative properties which are used for treating flatulence, acidity, stomach cramps and constipation. If your tummy is feeling sour after the meals, make sure to chew a few leaves of basil as it helps the body to absorb food and also prevents the formation of ulcers.
Relief from Cold and Fever:
Basil oil has the miraculous power to treat fever, common cold and influenza. Its essential oil has antispasmodic properties that can be used in the case of whooping cough. The cure can be made at home by boiling pieces of six to seven basil leaves and  five to four cloves in a glass of water, wait till the solution reduces to half and drink it hot. You can't ask for any better cure than this!
DNA and Bacterial Protection:
Flavonoids (Vicenin and Orientin) are an active component of basil that can safeguard white blood cells and chromosomes from radiation. Studies have also shown that the volatile oils of basil can also protect against a range of redundant bacterial growth like Escherichia Coli.
Cure from Respiratory Disorders:
Infection and congestion in lungs caused by asthma, bronchitis, sinus infections can be cured by the compounds like camphene, vitamin C, eugenol and cineole present in the essential oils of Tulsi. Lung damage caused by smoking, tuberculosis can also be healed by Tulsi.
Stress Relieving Agent:
Tulsi oil has a refreshing property and is used to treat symptoms of anxiety and depression. It is also used nowadays in aromatherapy due to its refreshing nature. Munch around 10-12 leaves of Tulsi leaves a day as it aids the supply of excess oxygen to the brain and helps ease stress. Moreover boiling Tulsi leaves in water, adding honey to it and drinking this solution before sleeping assists in a sound sleep.
Treats the Skin:
Tulsi leaves can help the ladies get rid of pimples, acne and blackheads, so why to spend a lot of money out there in the parlors! Grind Tulsi leaves with around a tablespoon of lemon juice and apply the paste two times a day on the affected areas of your face to get a glowing skin. Its oil can also be used to massage the skin to improve the latter's tone.
Eye Care:
Wash your eyes daily with a few Tulsi leaves soaked in water early morning and in the evening. This prevents various bacterial, fungal infections like conjunctivitis, boils from attacking your eyes. Moreover making a habit of its regular consumption protects your eyes from the harm caused by free radicals like glaucoma, cataract and vision defects.
Curing Infections:
Tulsi oil has anti bacterial and analgesic properties which can be used to treat cuts, wounds, scars, burns and bladder infections. It anti-inflammatory power loosens up the infection caused by any build-up and makes way for the healing process to take place quickly.
Best Medicine for Jaundice:
No other herb has the power to cure jaundice as effectively as Tusli. It is recommended that you have make a paste of  ten basil leaves and consume them with ten gram of jaggery and ten grams of radish juice every day (for one month) to treat jaundice.
Deals with Oral Problems:
If you are suffering from a foul breath or you can't get the proper taste sensation then basil comes to your rescue. Mouthwash with a solution of water, half a teaspoon of cinnamon powder and dried basil leaves to get that refreshing breath back and rub a combination of honey and basil leaves on your tongue for activating your taste buds.
Headaches:
There can't be a better way of treating headaches than applying a mixture of sandalwood and tulsi leaves on the forehead before sleeping. The results would be astonishing as you wake up feeling rejuvenated and with no harmful effects on your stomach.
Strengthens Kidneys:
The herb helps reduce the level of uric acid (leads to formation of kidney stones) in the blood, detoxifies urine and increases its flow. Drinking a glass of juice of tulsi leaves and honey can help in the faster elimination of kidney stones.
Anti-ageing Tonic:  
In Ayurveda, tulsi is considered as an anti aging and youth retaining tonic as it contains vitamin C and certain phyto-nutrients(which act as antioxidants) and prevents the harm done by free radicals on your body.
The countless benefits of Basil make one of the most human friendly wonder herbs on this planet. It is worthwhile planting Basil in your home to have a steady supply of fresh Basil leaves that can do a world of good for you and your family.
Image: Shutterstock.com