Breastfeeding has been recognized as the fourth trimester of the pregnancy period. The benefits of breastfeeding for babies are well known around the world. Well, besides benefitting the baby in numerous different ways, breastfeeding also provides equivalent benefits to the mother. For those who are not able to or opt not to breastfeed, they experience myriad consequences.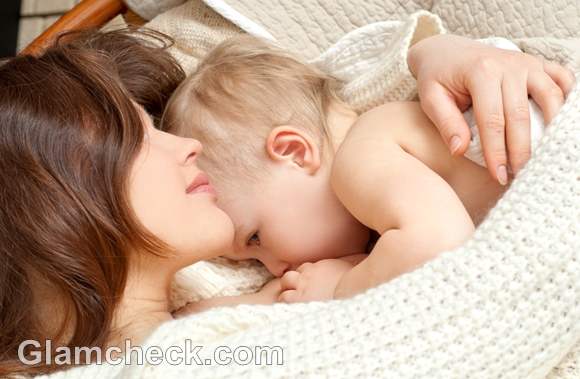 Breastfeeding plays an important role in keeping the mother's body fit and healthy. In addition to providing the physical benefits, breastfeeding also provides the mother with an emotional satisfaction to the mother. Above all, it is the nutrition and food source with all time availability for the baby. Plus, it is always clean as well as at the accurate temperature to meet the hygienic needs of nursing.
Let's have a look at the ways in which breastfeeding benefits the mother:
Reduced risk of postpartum hemorrhage
Feeding the baby directly after delivery helps in uterus contraction thus reducing the risk of postpartum hemorrhage.
Encourages postpartum weight loss
Breastfeeding helps with calorie exhaustion thus making it easier to lose pregnancy weight. As a matter of surprise, about 20calories are exhausted in producing 1 ounce of milk. Mothers involved in breastfeeding have shown considerably larger cutback in hip circumference as well as higher fat reductions by one month postpartum as contrasted to formula feeding mothers. Moreover, breastfeeding mothers have a tendency to return to their pre-pregnancy weight more quickly than those who don't breastfeed their babies.
Reduced risk of breast cancer
Mothers who choose for breastfeeding the child are 25% less susceptible to the risk of getting breast cancer. This cutback in risk of cancer comes in ratio to the collective time duration of breastfeeding. This implies that the risk of breast cancer goes on decreasing with higher duration of breastfeeding.
Reduced risk of ovarian and uterus cancer
This is another benefit provided to lactating mothers. The cancer-fighting effects of lactating come because of lower estrogen levels during the period. And, it has been proved through research studies that lower estrogen levels help in stimulating the uterus lining as well as breast tissue thus lowering the risk of developing cancer cells.
Reduces osteoporosis
Mothers who do not breast feed after delivery are at 4 times higher risk of developing osteoporosis as compared to lactating mothers. Moreover, they are also more susceptible to hip fractures in post-menopausal state.
Provides child spacing
As ovulation is delayed by breastfeeding, it becomes easier to practice child spacing naturally through longer durations of breastfeeding. The duration for which a woman remains infertile depends upon the nursing pattern of the baby as well as her individual baby.
More economical
Breastfeeding is a more economical nursing way as compared to formula feeding. The approximate cost of formula feed for about 12 months vitiates $1,000-$1,200. As proved by research studies, lactating mothers save about $400 during the very first year.
Improves emotional health
Besides providing physical and financial benefits to the mothers, breastfeeding also proffers emotional benefits. Studies have revealed that mothers involved in breastfeeding show lesser postpartum anxiety as well as depression as contrasted to formula feeding moms.
Improved heart health
Improved cardiovascular health is another benefit proffered by breastfeeding in very explicit ways. Research studies have proved that lactating mothers have shown lower risk rates for heart ailments, even after making adjustments with socio-demographic as well as lifestyle variables, BMI category and family history. Another research study revealed that aortic calcification, one of the major risk factors for heart ailments, was found in comparably larger quantities in mothers who opted not to breastfeed than those who did.
Breastfeeding is, therefore, the most natural physiology after pregnancy. While the nutrients contained in breast milk benefit the child to a large extent, breastfeeding continues to do good for the mother as well. There is no requirement of washing, sterilizing or preparing anything before breastfeeding. Above all, there is no need to be concerned about the temperature, cost, as well as level of hygiene of the breast milk. With everything moving fine, you can experience the real sense of satisfaction as well as achievement to observe your baby growing and developing into a healthy individual.
Image: Shutterstock.com