Many a fashionista has a daily tussle with herself over which of her precious heels will go best with the day's outfit. Should it be the thigh-high boots, the glorious new pumps or those sky-high stacked heels you bought on impulse? According to podiatrists, you ideally shouldn't be wearing any of them or indeed any heels at all because they can do some serious damage to your health.
You probably already have some idea that high heels have some kind of negative impact on health but you're not sure exactly what. You realize that there is some vague logic in the notion, but as long as you don't know what it is you have an excuse to keep on wearing your stilettos and your platforms.
No fashionista wants to hear that something she loves dearly and cannot do without is bad for her. Unfortunately, that's exactly the case with high heels. These fashion staples are doing you a world of harm in ways you do not even suspect. Health researchers have been saying for years that the more frequently you wear your high heels the higher your risk for certain foot and health problems. A study published earlier this year made a bold statement that high heels have a worse impact on health than even smoking! Bet that made you sit up and take notice.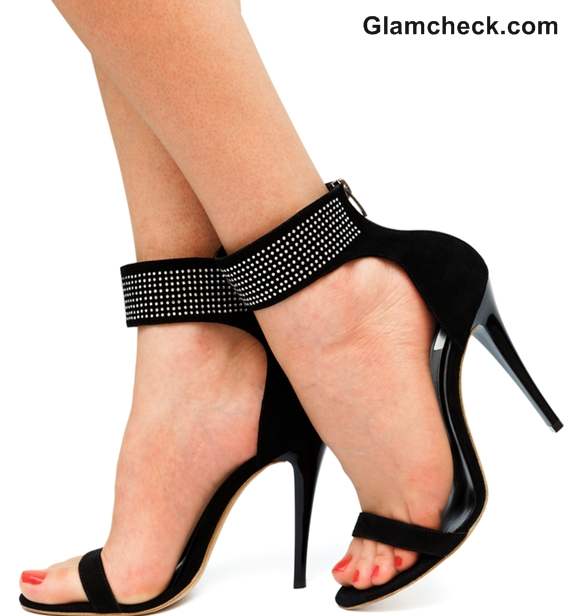 Are High Heels Bad for Health
So let's see what high heels do to your body and why health experts are so vocal about their disapproval of them. Then you can decide for yourself whether the look is worth the pain and the damage.
Make You Walk Unnaturally
When you wear high heels, your heel is usually elevated and you are forcefully on your toes, putting a lot of pressure on the front of the foot. We're not naturally meant to walk that way. Your body literally has to put itself through a balancing act for the whole time that you're wearing your heels. The lower half of it will tend to lean forward to align with your feet but the upper half will lean towards the back so that you don't fall flat on your face. Your body is an extremely efficient machine which adapts to what you put it through on a daily basis. Make heels a part of your life and you could be causing permanent damage to your body's alignment which lead to several problems.
Say Hello to a Host of Foot Problems
Have your feet ever ached terribly after they've been in heels for too long? That's their way of telling you that they don't like the shoes you've got on. But it's also a warning sign and a taste of what will be your future if you don't reduce your heel-wearing hours.
As we have seen, high heels mess up the natural alignment of your bones, affecting everything from the hips down and on the upper body too to some extent.
The way that heels are designed causes your feet to turn outward (duck-footed), another alignment that is not natural and which puts stress on your hip flexors. You may not be too concerned about it now but consistent stress on the hip flexors leads to tremendous back problems later in life.
Wearing heels increases your risk of sprains. Also, the intensity of a sprain is likely to be more pronounced when you are a high-heel aficionado even if you were not wearing them at the time of the sprain. Your bones, muscles and ligaments may change so much with consistent heel-wearing that they maintain their new, unnatural alignment at all times.
Knee problems are a common complaint among those who make heels a part of their lives. This is because the way that your lower body has to shift its weight forward puts pressure on your knees. Studies have shown that arthritis pain is more intense in the knees in women than in men, and worse in women who wore heels as opposed to those who did not.
Depending on the type of heels you wear, you may even experience nerve damage in your toes and heels. Even if your shoes are the right size, your toes especially may have to be smushed unnaturally to fit them in, thus causing the damage.
Your ankles are actually quite flexible and can conform to a range of movement. However, your high heels constrict their range of movement tremendously which again causes pain and a condition known as insertional Achilles tendonitis.
Since high-heeled shoes elevate your, well, heels, the new alignment compresses your calf muscles which contributes to the weight being focussed on the front of your foot. This increases your risk for a host of foot problems such as corns and bunions.
Pay attention to your toes when they are squeezed into your favorite pair of pumps. You will notice when you walk that they do a curling-in motion which you are so used to that you do not even notice it anymore. The toes do indeed curl in so that they can get a better grip on the shoes but also because they are being crushed forward if your heels are too high. If you wear heels over 3 inches very often, this could become a permanent condition called hammertoes where your toes will remain curled in even after you take your shoes off. This can be physically repugnant to look at and very painful too.
Hurt Your Back
Your back has to compensate for the change in alignment to your lower body. It has to change its own natural curvature to do this. That leads to the nerves in your spine being damaged leading to an extremely hellish condition called sciatica. The higher your heel, the more you put your back at risk for this painful health problem.
Increase Your Risk of Osteoporosis
As a woman, you are anyway at an increased risk of osteoporosis. Research shows that wearing heels can further increase your risk by increasing the probability of falling and causing injury to your bones.
Earlier Onset of Arthritis
Since high heels encourage misalignment of bones as well as repetitive friction on the knees, it can lead to the development of arthritis as early as your mid-30s.
Lessening the Impact of High Heels
Should you ditch high heels altogether? That would indeed be ideal. What with all the fashionable flat footwear out there nowadays chances are you wouldn't miss them much. However, not everyone wants to take that extreme step and if you fall into this category then read on to learn how you can lessen the negative impact of high heels.
If you wear heels only on special occasions then you can probably get away with it. Even then, try to go for heels which are less than an inch in height, an inch and a half if you absolutely must have the extra height.
Going cold turkey may not be the best thing for you if you've been wearing heels for several years. The muscles and bones in your legs may have changed so much by this time that you'll be doing more harm than good if you suddenly subject yourself to constantly wearing flat shoes. Alternate your footwear. Wear heels on most days and flats on the others. Try to go with shorter heels. Gradually increase the days you wear your flats or shorter heels. This will safely and gently get your legs used to the new alignment, and your mind used to the new look. The sooner you do this the better.
Look for heels that have more surface touching the ground like platforms or wedge heels. Avoid kitten heels and stilettos. The larger the heel (based on surface area, not height) the better the balance.
Wear the right shoe size. The fit should be snug without being constricting. Shoes that fit well naturally grip better so your feet will not have to work overtime to that end. This will prevent the successive problems that follow in the ankles, knees and hips.
Buy insoles and use these to better the grip.
Whether or not you decide to ditch your heels, take up yoga. Yoga is all about re-aligning your body to its natural form so it can help to repair some of the damage.
The longer you take to get your heel-wearing under control, the more you raise your risk for permanent, irreparable damage. Doctor's tell horror stories of how women in their late 70s who wore heels their whole life have no choice but to continue wearing them because flat shoes hurt too much. If you don't mind the eventual hardships you will have to face, stick with your heels. Otherwise, there's no time like now to make the change.
Shutterstock