If you're like most people, then losing weight is probably one of your recurring goals. Why recurring? Because any effective weight loss plan needs to have an exercise routine and most of us complain that we just do not have the time to do that. However, going to a gym or training for a marathon are not the only ways to burn off some extra calories. If you are a housewife or do your own household chores, then you have some amazing calorie-burning workouts built right into your day.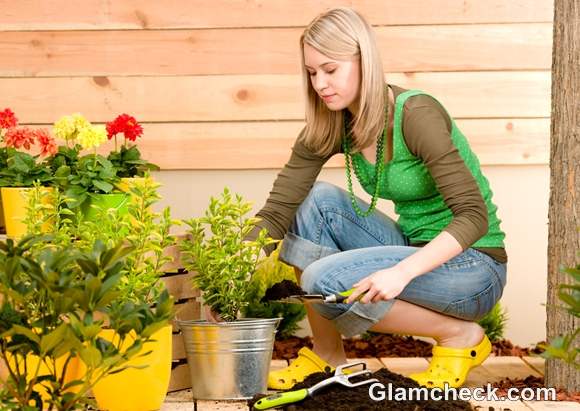 Calorie Burning Household Chores
You'll no longer have a reason to put off your weight loss goals because we're putting a hole in one of your biggest excuses. Check out some of these regular chores which will have you sweating off the extra weight.
Sweeping and Mopping the Floor
You probably hate nothing more than to sweep and mop your floors but you may change your mind when you realize what a great workout these universally-hated chores can be. Since you have to be on your feet and move the broom and mop around, these tasks work your upper and your lower body.
Tip: Do a thorough job of your sweeping and mopping to burn more calories. Move that sofa to catch the dust bunnies under it, get on your knees to reach those far corners below your bed, twist to get into that tricky corner behind the too-heavy TV cabinet. Incorporating a wider range of motion will allow you to work out parts of your muscles which may otherwise go neglected.
Scrubbing the Bathroom
Yes, cleaning the bathroom is a chore which no one does with pleasure. But remember that the more thorough you are the more calories you will burn. Work at those stains with a vengeance. Put your back into getting the icky black stuff off from around the gutter. Get on your knees and clean under the skin after you tackle those tough corners. Scrub that toilet like your mother-in-law will be inspecting it later. Phew, all that even sounds strenuous.
Tip: Wear gloves when cleaning the bathroom since the chemicals in most cleaning products can do some real damage to your skin and hair over time. Also try not to get too close to them since even inhaling the fumes has been shown to cause lung damage.
Gardening
Pulling out those weeds and digging holes for your new sapling is hard work. Anyone who tends a garden will attest not only to the immense joy, satisfaction and stress-relief that comes from maintaining it but also the sweat it results in thanks to the range of motion necessary for the multiple tasks of watering, weeding, digging and pruning.
Tip: Remember to wear a wide-brimmed hat and gloves to protect your skin from the sun. Also try to schedule in some digging as often as possible in different parts of your garden. Digging burns major calories but it is also good for the soil. Weeding too is quite the calorie-burning affair.
Mowing the Lawn
This only counts as a workout if you have one of those manual motors which you have to push across the grass. You're outdoors, walking thus letting you work your lower body, and pushing the mower with mostly the muscles in your shoulders and arms. So it's literally a full-body workout.
Tip: Wear a hat to protect your face from the sun. Also wear gloves so that the constant contact with the mower does not cause calluses on your hands. If you get uncomfortable during your chores, you are more likely to stop them midway thus affecting the number of calories you burn. Remember that a sustained effort is the key to burning off those extra pounds.
Cooking
Most people consider cooking a passive activity since it involves supposedly very little physical activity. However, cooking is a skilled chore which calls for chopping, whisking, stirring, kneading, tossing – often over a hot oven or stove. These little things all add to make for a very interesting workout that doesn't feel like exercise at all. Did you know that people who fidget a lot tend to be on the lighter side than people who don't? That's because they move a lot more, even if it is something as minute as tapping their fingers against a table or crossing and uncrossing their legs over and over. Since they keep on doing these little things, it burns off calories. The same idea applies to cooking too. Just make sure that you keep your snacking to minimum while you're preparing those gourmet meals or all your efforts will be in vain.
Tip: Cooking methods that require a lot of hand movements like kneading or whisking burn more calories. Why not try your hand at making chapattis? The kneading and rolling will give you a great upper body workout.
Washing the Car
Many people would disagree with this one, but again it's how good a job you do which will decide whether or not this becomes a calorie-burning chore. Do you just lightly dust at the windows or do you really get in there until every bit of your car is sparkling? If it's the latter, then you can bet that you're saying goodbye to some unwanted calories.
Tip: To burn a few more calories, get into the car and clean the floors and seats. You'd be surprised by how dirty it gets in there, especially if you or your kids snack in there a lot. Good for you that your disgust will lead to a great workout.
Shovelling Snow
If you live where it snows a lot, then you have a serious calorie blaster right at your fingertips. Shovelling snow burns hundreds of calories per hour and does a great job of toning your muscles too. Don't want to pack on the pounds during the long, cold months? Assign yourself to this strenuous task and you'll be the only one boasting a hot bod when the warmer months come around.
Tip: You can easily lose a toe or finger to frostbite if you don't cover up properly. Ensure that your outfit while shovelling is suited for the lower temperatures outside.
Ironing
Of course, ironing a top or two at a time won't make much of a difference so don't think that you're done exercising for the day if you get the wrinkles out of one measly little shirt in the morning. But if you do your laundry once a week and have a whole pile of clothes to iron, then this is definitely a calorie-burning household chore. It is also guaranteed to give you some envious muscle tone in your shoulders and arms.
Tip: Linen is a tough fabric to iron which means a harder workout. So how about tackling those bed sheets?
Washing the Windows
Depending on how many windows you have in your home, washing them could prove to be quite exhausting.
Tip: If your windows are just high enough to require you to stand on your toes, then don't use a ladder or stool. The stretching motion of having to reach them will tone your sides and help you get rid of those love handles.
Know that ALL household chores burn calories. These are just the major ones. If you undertake several small household chores on the same day you'll be putting yourself through quite the fitness routine. So give your maid a day off twice a week, or better still, don't hire one at all. You'll fatten your purse and thin out your waistline all at the same time.
Shutterstock