Looking good is a big part of modern life. From what you wear to the condition of your skin, every little detail counts. But it's not just about being superficial. Looking good makes you feel good about yourself, and that allows you to be more confident at both work and play, which ultimately translates to a more productive and satisfactory life experience.
A detox diet helps you to achieve your goal of looking your best. When you think detox, you think weight loss. While this is true – and a huge reason that many people go on a detox plan – it is not the only advantage. Let's take a look at a few types of detox diets around and then briefly cover what you can gain from embarking on one yourself.
Types of Detox Diets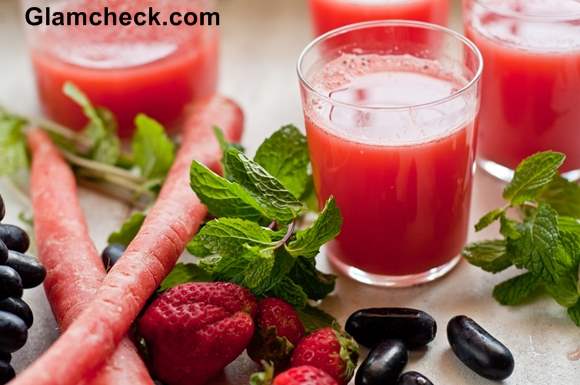 Detox Diets – Types, Pros & Cons
There are many types of detox diets but you will notice that they all have one thing in common i.e. they limit the types or number of foods you can put into your body for the duration of the plan. Most of them also eliminate sugar, sodas, meat, salt, dairy, caffeine, oil and alcohol. Different people have different levels of tolerance and sustaining a detox diet indeed requires a level of will power. It helps to have options so that you can decide for yourself which one works best for you. You may find that you thrive on one while another makes you feel awful. Trial and error is usually the most accurate way to decide. A consultation with a nutritionist, doctor or health care practitioner wouldn't hurt either.
The Raw Food Diet
This detox diet is so popular and well-received that some people – who call themselves raw foodists – have made a lifestyle out of it. As the name suggests, you can only eat raw foods for the duration of the detox, preferably only fruits and vegetables although there are some variations of this diet that allow raw meat and raw eggs. For the detox, stick to the raw stuff from the plant kingdom only. The raw food movement has been going on for so long that there are now hundreds of raw food versions of regular foods available which are made from raw and totally pure ingredients (usually vegan). If you have a raw food community near you, a raw food restaurant in your town, or an alternative lifestyle and health store, you'll most likely have a good time with the raw food detox because there is so much to learn in addition to eating healthier.
The Mono Fruit Diet
You can thank the raw foodists for this one too. While eating only raw foods is a great form of detox, you can give your system an even bigger break and heighten the efficiency of the diet's cleansing properties if you give your body only one type of food through the day. For example, eating only figs on Monday, then only apples on Tuesday, moving over to only grape fruit on Wednesday, and so on.
The Liquid Diet
This is a pretty self-explanatory one. The liquid detox diet is made up of freshly-squeezed fruit and vegetable juice, herbal teas and water.
The Master Cleanse
Several celebrities swear by this detox diet. The Master Cleanse goes a step further than the liquid diet by allowing only a special type of lemonade for the duration of the detox. The lemonade – made of fresh lemons, maple syrup and a sprinkling of cayenne pepper – can be drunk as much as possible throughout the day. No other liquids except for plain water and herbal teas are allowed.
Pros of a Detox Diet
The primary advantage of any detox diet is that it helps to eliminate pollutants from the body. When your body has less food to contend with, it can then move on to the very important task of beginning to get rid of years worth of pollutants in your body.
You will notice for the duration of the detox that you are somehow more alert.
After the first day, you will very likely also notice that your energy levels are surprisingly high.
 Weight loss is an obvious advantage of detox diets. During the detox, your digestive system can work on trying to get rid of years of sludge which can be stuck in your intestines and colon. So eventually, you will notice better digestion and there is often improved metabolism as well if the detox diet is adhered to properly and you go into it and come out of it as per the individual plan.
If you have dull skin or suffer from acne, you will notice a marked improvement post the detox diet.
Cons of Detox Diets
There are no 'cons' per se if you plan your detox diet right and if you ease into it and ease out of it. As long as you are getting sufficient calories and hydrating well, a detox diet should not affect you negatively in any way. However, because most of us are actually quite unfit, live stressful lives, have unhealthy habits and are surrounded by pollution, even a well-planned detox diet can bring on some side-effects which can put people off. The following are the most common.
Weakness
Nausea
Fatigue
Constipation
Dehydration
Cramps
Also note that if you are heavily addicted to caffeine, alcohol or indeed even processed foods or a high-fat diet, you will feel negative symptoms more severely. That is why it is always a good idea to check with your doctor if a certain type of detox diet is right for you and then consult a nutritionist to ensure that you do not cause any long-term harm to your body while on the detox diet.
Note of Caution: You should not go on a detox diet if you are a child or teenager, pregnant, breastfeeding, sick, have been sick for a long time and are still in recovery, on medication, or if your doctor has strongly advised against it.
Shutterstock