Depending on who you talk to, the haters or the hardcore enthusiasts, you'll hear a lot of things said about organic foods, each contradicting the other and ending up confusing you no end. It's always a good idea to read everything out there about organic food, but take it all with a pinch of salt.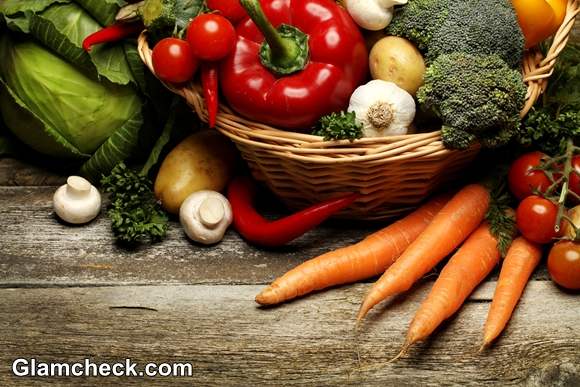 Myths about Organic Food
There may be some truth to some of the things being said. Or perhaps something is being represented out of context and distorted to appear to be true. Even your own research will lead you to as many myths as truths. Some myths are easy to see through, while others even the best scientists with oodles of data at their fingertips cannot validate or refute. Here are some that fall into the former category.
Myth: Organic Food Tastes Better
Fact: Not really. Organic food will taste just the same as food that is grown through prevalent methods. You won't be able to tell the difference. But there is some logic behind this myth.
Since it is not genetically manipulated to have a very long shelf-life, organic food tends to be sold very soon after it is harvested. When food is fresher, it naturally tastes better. As for GM (genetically modified) foods, they are often made to last longer on a genetic level. Plus, they are flown from far off places before they get into a department store and eventually in your kitchen. Obviously, it is quite some time after harvesting that this food is actually eaten. Taste naturally diminishes the longer you wait post-harvest. Which is exactly why GM foods sometimes lack that kick that makes organic meals more sumptuous.
However, if you ate both organic and GM foods right after they were plucked off the tree, you'd never guess which was which. That being said, there are certainly some foods which taste better organic. A study done with apples, in particular, showed the majority of the test subjects who ate both organic and non-organic apple samples were immediately able to tell the difference (the organic ones tasted better). Strawberries too taste better if they are organic.
Myth: Organic Food Doesn't Taste that Good
Fact: No prizes for guessing which side perpetuated this one. At some point in the past, organic was associated with the word tasteless. The reason why this myth prevailed is probably because so many people start out an organic lifestyle without knowing what they're getting into.
When you just start out eating organic, there's a whole lot you have to figure out apart from where to buy organic and how not to go broke doing it. Chances are that you are keen on adopting healthier habits too, which is perhaps what led to your decision of going organic. You may decide along with going organic to turn vegetarian or go vegan or ban processed/junk foods from your diet – this is actually very, very common.
As with anything new, it's hard in the beginning. You may not know how to cook veggies so that they taste good. Your knowledge of herbs and spices may not be sufficient to come up with a delicious meal. Plus, your mind will constantly be preoccupied with many of your earlier unhealthy food choices like fast food or meat (in case you've turned vegetarian) out of nothing but pure habit. Obviously, if your mind and tongue are preoccupied only with taste, and you are unable to satisfy that very primal need through nothing but lack of knowledge, you will end up believing that organic food is bland or does not satisfy you simply because you do not know how to make it more appealing or are unaware of the variety of options that are available.
Once you learn, you will discover that there is no dearth of great-tasting options when it comes to organic foods. And if you are at the same time banning junk food from your life, your palate will naturally become more refined which means that everything you eat will end up tasting better too.
Myth: Since it's Organic, I Don't Have to Wash It
Fact: It's natural to assume that since organic foods are cleaner there's no need to run them under a tap before cooking them or eating them. The truth is that even organic foods have some level of herbal pesticides on them which could impact your health if ingested. Plus, no matter how few pesticides there are, the food has travelled a long way before making its way to your kitchen. Dirty hands and unclean surfaces have come in contact with your food, and god alone knows what kind of invisible germs are making their home in that very food without you knowing it. So don't take a chance – wash your veggies and grains before cooking. This simple step has the potential to be the difference between a healthy meal and one that makes you sick.
Myth: Organic and Natural are the Same Thing
Fact: In an ideal world, this statement would be true. However, in today's marketing-gimmick-laden scenario, you have to really look into what a product is saying to get at the truth behind it.
Natural may (and often does) simply mean that no processed components exist in the said food. For example, you may come across a granola bar that claims to be natural but nowhere on the packet does it say 'organic'. This could simply mean that the bar was not made in a processing plant, that it does not have preservatives, and that natural ingredients were used instead of chemicals. As for the ingredients themselves, there is no guarantee that they are from organic sources.
When a food is organic, there is a whole world of meaning behind it – no pesticides are used the seeds/poultry/meat/eggs are not genetically modified or fed GM foods or hormones; organic is usually (but not always) fair trade; it's usually (but not always) local too so you are reducing your carbon footprint.
As you can see, natural could pretty much mean anything while organic would have a more streamlined definition. The best you can do is look for foods that are marked 'Organic Certified'. Products marked so usually have to undergo stringent testing by the FDA before being awarded a certificate. Plus, there is an annual re-check as well as random checking to ensure that the organic status is being maintained. However, take even these labels with a pinch of salt since the FDA has some pretty loose standards when it comes to certifications and several unhealthy foods are often passed by that organization as fit for consumption. That being said, an FDA approved organic product is better than nothing since it means that the manufacturers will have had to pass some sort of testing which will ensure quality, at the very least. 
Shutterstock