The queen of spices – cardamom – has a delightful vanilla-like flavour with pungent woody undertones, making it the perfect spice for desserts and warming drinks like tea, but also in spicy curries and savoury recipes. Cardamom is also a very widely-used ingredient in ancient medicinal systems.
Let's take a look at a few ways in which this incredible spice, often referred to as a herb, can benefit your health.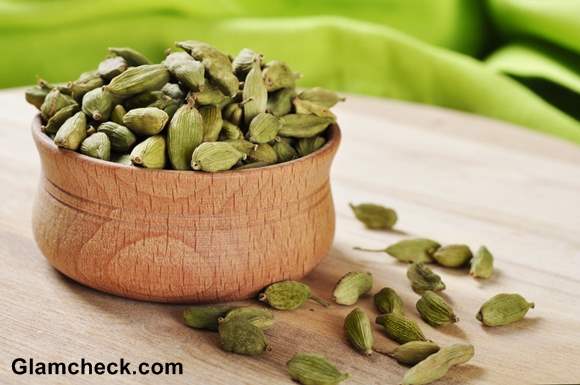 Cardamom Health Benefits
Offers Nutrition
Cardamom has plenty of stuff that science and your common sense will tell you are good for you – iron, potassium, manganese, magnesium, vitamins A and C, riboflavin, niacin, anti-oxidants, copper, zinc, thiamine and calcium.
A Digestive Wonder
Cardamom has mainly used to heal problems with the digestive system. And it's not something new; it's been an effective remedy for hundreds and hundreds of years. So whether you are constipated, have gas, acidity, menstrual cramps, nausea or are experiencing heartburn, cardamom tea will make a difference. Of course, the results will vary from person to person.
Bad Breath Remedy
Chewing on cardamom can effectively get rid of bad breath and keep your mouth smelling like the spice for several hours. Chew on just a little bit after a meal to get the double benefit of digestive help and a palate cleanser.
Detox
Speaking of cleansing, cardamom is one spice which does a pretty good job in that department, which is why it's so good for digestion. Cardamom helps your body to effectively get rid of waste that may be preventing your system from working at its best potential. Can you imagine what a thorough detox can do to your body? Clear skin, evacuation of toxins, an enhanced metabolism – these are only some of the benefits of a natural detox with cardamom, preferably in the form of a tea sans sugar and milk.
Decongestant
If you have a cold, sinus problems or a blockage in the nasal or throat passage, you will think of rubbing some kind of decongestant on your chest for relief. The active ingredient in these rubs is camphor, the smell of which clears up the blocked pathways and provides much-needed relief. Cardamom contains many essential oils, one of which is camphor. If you pour hot water on cardamom seeds, it will release the camphor within. So try a cup of steaming cardamom tea the next time you need to breathe easy.
Stress Reliever
Aromatherapy uses cardamom oil during massages or simply dabbed on to key points on the body in order to ease the mind and generally relieve stress. Ancient healing systems recommend cardamom tinctures as a cure for depression. Massaging with cardamom has the double benefit of releasing mental stress as well as making joint aches and pains disappear.
Other Common Health Benefits of Cardamom
Cardamom is thought to be a natural aphrodisiac and is recommended for impotence and sexual dysfunction.
It is also believed that the spice can improve the immune system by increasing its ability to fight off germs. That is why it is often said to prevent disease.
If you have a sore throat, cardamom tea can help to soothe it.
Ulcers in the mouth and stomach can both benefit from cardamom.
The best way to get cardamom health benefits is to imbibe a little bit each day or as often as possible. Several recipes call for the warming spice so you'll never lack for choice whether you want to make a main meal, a dessert or a tasty snack.
A very popular way to include more cardamom in the diet is by boiling it with your regular tea. Peel the pod, remove the seeds from within, crush them in a mortar and pestle or a food processor (you also get powdered cardamom if that's too much trouble for you). Boil the crushed/powdered cardamom in boiling water along with milk, sugar and regular tea to make a cup of a really tasty, warming, health-infusing beverage.
As with most spices, there are no side effects to taking cardamom in limited quantities unless you are allergic to it. However, pregnant women are sometimes advised to avoid cardamom so if you are expecting speak to your doctor before using cardamom in your food or drink.
Shutterstock