Hair loss is a frustrating and embarrassing problem which can mess with your self-esteem. Since your hair is something you have to look at and deal with on a daily basis, it is hardly likely that you can ignore this problem either. And if you thought that hair loss was just something that older folks past 40 had to worry about, think again. Many young people can suffer temporary hair loss when they are stressed out or under-nourished. But there are some hair loss conditions that just manifest for no rhyme or reason in children as young as a few months of age. Triangular alopecia is one such hair loss condition. But before we get into it, let's briefly cover what alopecia is.
What is Alopecia?
Alopecia is a Greek word that means 'loss of hair' or 'baldness'. This loss of hair can occur on the scalp or the body – it will be called alopecia in both cases. There are several types of alopecia, which are characterized on either the pattern of hair loss or the causes of it.
Androgenetic alopecia is the most widespread form of alopecia. This is seen in the common balding patterns in men and women.
Female androgenetic alopecia is the same as androgenetic alopecia, except that it affects women, and the balding patterns are slightly different than those that men suffer.
Trichotillomania is a hair loss problem that is actually a result of a compulsive disorder which causes the patient to pull out hair from various parts of the body, and sometimes even eat it.
Traction alopecia is caused by wearing hair in tight hairstyles that stress the roots.
And finally, there's triangular alopecia, which we'll take a closer look at now.
What is Triangular Alopecia?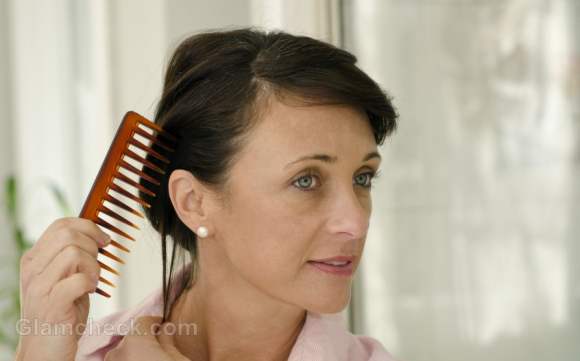 A form of permanent hair loss, triangular is also known as temporal triangular alopecia or congenital triangular alopecia. It is a type of hair loss that occurs in a patch of a triangular shape above either one or both the temples. The patches may be completely bald i.e. without any follicles at all, or they may have miniature hairs which never grow beyond a slight fuzz.
Triangular alopecia is a condition that begins in childhood and can even be present at birth. However, many parents do not notice that there is a hair loss problem till the child is 2 to 3 years old.
Causes of Triangular Alopecia
Unfortunately, the causes of triangular alopecia are poorly understood. Studies suggest that it may be genetic, but nothing else is known apart from this.
Treatment for Triangular Alopecia
Since hair loss from triangular alopecia is permanent, no medication or oils or change in lifestyle will help the hair grow back. The condition is unresponsive to other hair therapy treatments. The only treatment option is a hair transplant.
Hair loss is indeed a very troublesome condition. It can sometimes respond well to treatment. But some folks just have to learn to take the situation in their stride and accept it. Before you give up completely though, make sure that your try all the hair loss solutions that are out there which feel right for you. Make sure you consult a doctor or a hair expert before starting on any sort of treatment because you may inadvertently end up doing more damage to your hair if you do not know what you are getting into.
Image: Shutterstock