Infant hair is softer than ours and requires more care. However, many mommies feel unsure and clueless about how to care for it. Well, though it may seem daunting, we hope that our pointers will help you sail smoothly with infant hair care.
Facts about Infant Hair
However, before delving into daily hair care routine for infants let us first understand a few facts about their hair – this will make caring for it easier.
Infants go through hair loss:
Your baby might have been born with a head full of thick hair, however many a times this is temporary hair. Infants tend to shed their hair in the first 6 months – often, even becoming bald. This stage is called telogen, and is quite a normal occurrence in a baby's life, especially around 3-4 months owing to hormonal changes. Hence, you, as a mom, should not get paranoid about this development or think you are going wrong with the hair care.
Sometimes the hair loss also occurs due to the long intervals of time spent on the mattress. The friction of your baby's hair against it may create a patch of baldness, right behind the head. If the baldness is due to this, then you can care for it by adjusting her position a bit so that it prevents such an occurrence.
Hair growth in infants: 
The "shedding" is followed by a phase of new hair growth. You may find a change in the color and texture of the new hair, and it may look completely different from the first locks that your baby had. So, light golden brown can give way to black hair and straight locks may become curly. Some babies have a head full of hair by six months; others may reach that stage only at 2 years of age.
Daily Hair Care Routine for Infants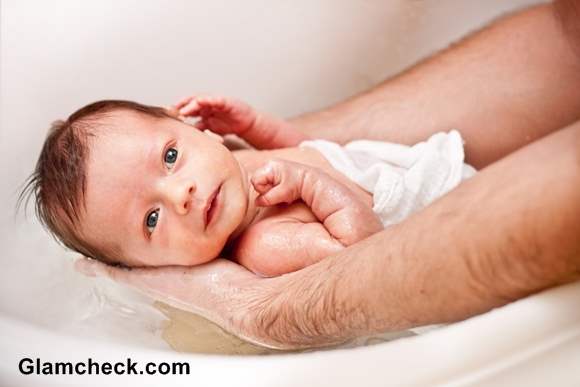 Daily Hair Care Routine for Infants
Now that you know more about the growing pattern of an infant's hair, let us look at the basics of daily hair care.
Washing the hair:
A newborn baby's hair doesn't have to be washed that frequently. To begin with, your baby will be spending more time at home than out on the streets so the chances of the hair getting dirty are far less. In fact, a hair wash twice a week is more than enough. Once your baby grows a bit, and is more of a toddler than an infant, then you can increase the hair washes to thrice a week.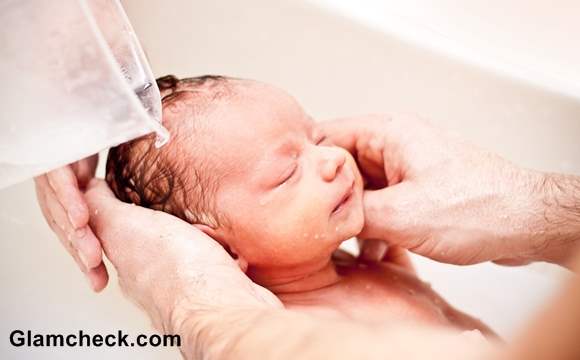 Washing Infants hair
When you shampoo, massage the scalp gently. Too much of a vigorous wash can create stress on the hair follicles and weaken them, which would lead to breakage or hair loss.
If your baby is very small then lay her on top your lap with the head on the side, while you sit on the bathtub sill or a small stool, and wash the hair this way. This will ensure that no suds get into the eye. Of course, you may get wet in the process, but you can always change out of your wet clothes later!
Combing:
You have to use a very gentle hand while combing their hair. If you have washed the hair, then it is best to comb when the hair is still wet because it is easier to detangle it. Instead of using a comb to detangle, use your fingers first to pull apart the knots smoothly. This will make the process easier and gentler. You can deftly work out the tangles with the fingers. Once you have managed to rid the hair of tangles, use a wide toothed comb. Don't use a brush on the tangles; this will just make it messier. If you have to use a brush then use a paddle one. When you start to comb, start from the end of the hair rather than the top, and work up. If you see that the tangles are too messy then use a leave in conditioner and untangle the hair before you wash it.
Fight off cradle cap:
Cradle cap is the term used for flaky and oily patches of skin on an infant's head. This is a very common condition amongst newborns. This can be warded off by washing the head or simply by gently combing off the dry flakes. In order to prevent further dryness you can use a lotion. However, do not use baby oil to combat this problem because that heightens the risk of getting cradle cap. Rubbing a little olive oil, before washing the hair, helps in loosening the flakes.
Oil the hair:
As mentioned above, gently massaging your baby's scalp with olive oil is good for the hair. It also strengthens the hair and moisturizes the scalp. You can also use jojoba oil and coconut oil too. However, like we said before, do not apply baby oil. 
Don't use hair products meant for adults:
What suits us may definitely not be right for your baby owing to the harsh ingredients they may contain. Therefore, stick to hair shampoos, oils and lotions specifically meant for infants. However, you can use Vaseline, apart from baby lotion, to moisturize the scalp and keep it healthy.
Tame the tuft:
We all know babies are prone to getting tufts of standing hair. Though it looks cute, many moms would rather like it tamed. For this, you can use a non toxic lotion or non alcoholic hair gel to keep it in place. 
Don't tie the hair too tightly:
You have to ensure that the hair pins, clips or elastics that you use to tie your baby's hair shouldn't be too tight on the head. This will cause discomfort to the baby and also pull out the hair. Also ensure that if you tie the baby's hair in ponytails etc, the hair shouldn't be held back too tight. In fact, avoid extremely small hair clips – these can choke your baby if she pulls one out and decides to put it in the mouth. Whatever you use shouldn't be small enough to get swallowed! Do remember, babies around 8-9 months can do this rather easily. So, take care.
Daily hair care for infants is definitely not as difficult as one might think! 
Also Read: 
Daily Hair Care Routine for Little Girls

Little girls are doll-like and they can look even cuter if their hair is well taken care of. Of course, […]
Shutterstock