Aromatic to the point of being titillating, nutmeg is a spice that is used mostly in baking or desserts (eggnog, anyone?), and also in several food recipes. It contains calcium, zinc, magnesium, all-important potassium, copper, manganese and iron, thus providing you with these essential minerals even in the smallest quantities. It also contains several essential oils including eugenol, elemecin, safrole, camphene, linalool, myristicin and terpeniol. These oils impart the aroma that nutmeg is famous for and also offer several health benefits which we'll now take a closer look at.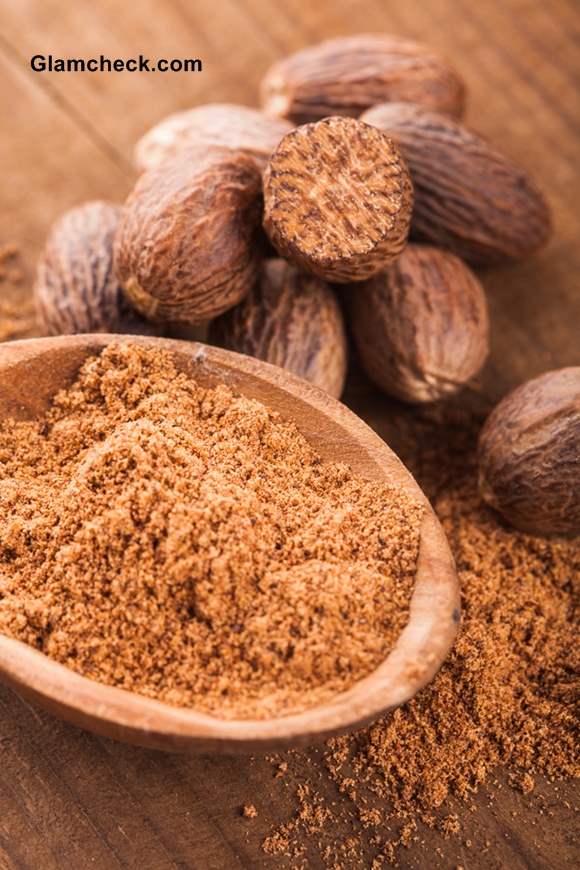 Nutmeg Health Benefits
A Tasty Sleep Aid
If you're having trouble sleeping at night, grate some nutmeg in your glass of warm milk. The aroma of nutmeg is calming, but the spice also has properties which will help you fall asleep. However, it takes a few hours (no less than four) to work so ensure that you take nutmeg well before bed time to help you fall right to sleep when it's time to turn in.
Get Smarter with Nutmeg
Well, not really. But if you're already working on ways to stimulate your mind and are looking for brain food to round off your efforts, then nutmeg is a good choice as it boost blood circulation to the brain. It may also be a preventive measure against Alzheimer's, a degenerative brain disease, although more research has yet to be done into that claim.
Better than Viagra?
Perhaps not. But nutmeg has been used as an aphrodisiac since ancient times. It is also touted as being able to rectify sexual dysfunction in men. The compound myristicin does the trick here since it is what the recreational drug Ecstasy is based on. That's also exactly why nutmeg is such a popular ingredient in ancient love potions.
Pain Management
The eugenol in nutmeg is known to help with toothache. You'll find it listed in the ingredients of certain toothpastes too, especially the non-commercial, herbal, vegan kind.
You'll find a solution to gum problems too with a little nutmeg incorporated into your diet every day.
The very same oil also provides relief from joint pain. Just rub some nutmeg oil into the affected area.
Chinese medicine prescribes nutmeg oil for many pain-related ailments including stomach ache, muscle pain and milder forms of arthritis.
Bad Breath Remedy
Bad breath is caused by an increase in the levels of bacteria in the mouth. Nutmeg has anti-bacterial properties that help alleviate bad breath by lowering bacteria levels. This is another reason that you'll find nutmeg in many Ayurvedic toothpastes.
A Digestive Aid Too
Ayurveda will often prescribe tea with spices boiled in to aid digestion as well as to impart several other health benefits. Nutmeg is one of the spices that is often infused into these healthful teas for that very purpose. Nutmeg is, in fact, an excellent remedy for several digestive problems including constipation and diarrhoea. It can also alleviate gas by stimulating the intestines. If you suffer from bloating, nutmeg can help there too but you should really look into ways to avoid bloating to keep the problem at bay in the long run.
Also Cleans your Liver and Kidneys
In its bid to improve your digestion, nutmeg will also do a good job of aiding in the natural cleansing process of your liver and kidneys. This detoxification will improve overall health too. If you have kidney stones or are at risk of developing them, nutmeg can help.
Good for Skin
By keeping your insides healthy, nutmeg will be helping your skin achieve a glow too. However, the spice can also aid on an external level. You can use the powder in your face pack or scrub to help you deal with pimples, blackheads and clogged pores. Nutmeg will also slough off dead skin cells, revealing smoother skin underneath. That's why it's a good idea to use it to lighten scars. Just mix a little nutmeg powder with honey, apply on affected area, and wash off after a few minutes.
A Word of Caution
Nutmeg is undoubtedly wonderful, but be sure to limit your use of this spice. You know that essential oil myristicin that we mentioned earlier? It's known to be toxic and also slightly hallucinogenic in very large quantities. Now what counts as 'large quantities' is still not certain, although some state that two tablespoons is the limit. Here are some other unpleasant side effects that you could encounter on having too high a dose of nutmeg.
Nausea
Vomiting
Dizziness
Palpitations
Constipation
Irregular heartbeat
Delusions
Change in personality
In rare cases, seizures
Nutmeg, even in small quantities, is known to be fatal to dogs so ensure that you keep the spice well away from your beloved pets.
Nutmeg can safely be used by pregnant women and children.
How to Use Nutmeg
Both nutmeg powder and nutmeg kernels are easily available. But which is better? The whole kernel is a much safer option. With the powder, you can never be sure whether you're getting pure nutmeg or some unwelcome adulterants. If you must buy powdered, ensure that the package is well sealed and that the brand you are buying from is reputed for authenticity.
Nutmeg is so flavourful that you needn't do more than grate it over whatever you want to add the flavour to. Grate as you need (rather than grating and storing) to get the most potent health benefits as well as the freshest aroma. If you decide that you need to grate your nutmeg beforehand (to save time or for convenience) ensure that you immediately transfer the powder to an airtight container and store that in a dry, dark, cool environment (not the fridge). 
Image: Shutterstock